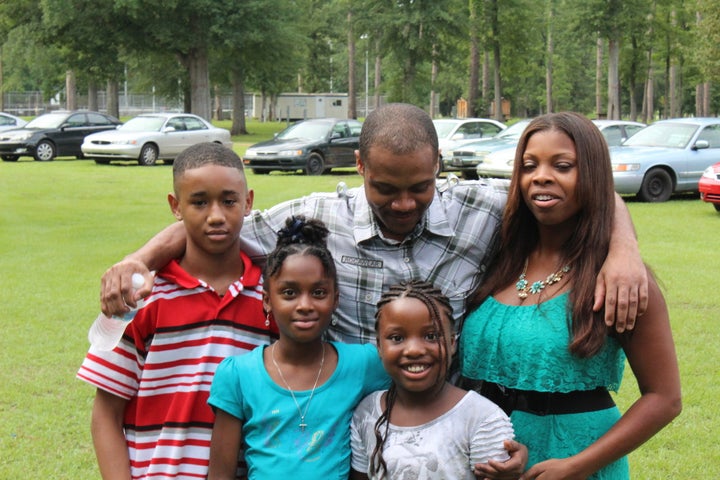 MONTICELLO, Miss. -- When Cory Maye rises up to speak before the 75 or so people who have gathered to welcome him home from prison, his eyes well up, his head drops, and he stammers. He rubs the bridge of his nose, and he cries. His chief lawyer, the burly and bearded Bob Evans, puts a beefy arm around Maye's shoulder and pulls him in.
"I think you've just said all there is to be said, son," Evans says.
Maye's friends, family and supporters cheer, applaud and cry between bites of cake, corn pudding and blueberry crunch. The party's being held at the Atwood Water Park, a collection of outdoor shelters, campsites and picnic areas along the Perl River. The site seems appropriate; it's a wet afternoon, with rain showers pausing only to let in the sweltering southern Mississippi humidity. But spirits are high. There's a feast on the table. It includes ribs that have been slow-cooking on a truck-towed smoker, chicken wings and sausages. And there's a smorgasbord of soul food, from fried chicken gizzards and baked beans to mac and cheese and slow-cooked raccoon. (It tastes a bit like pot roast.)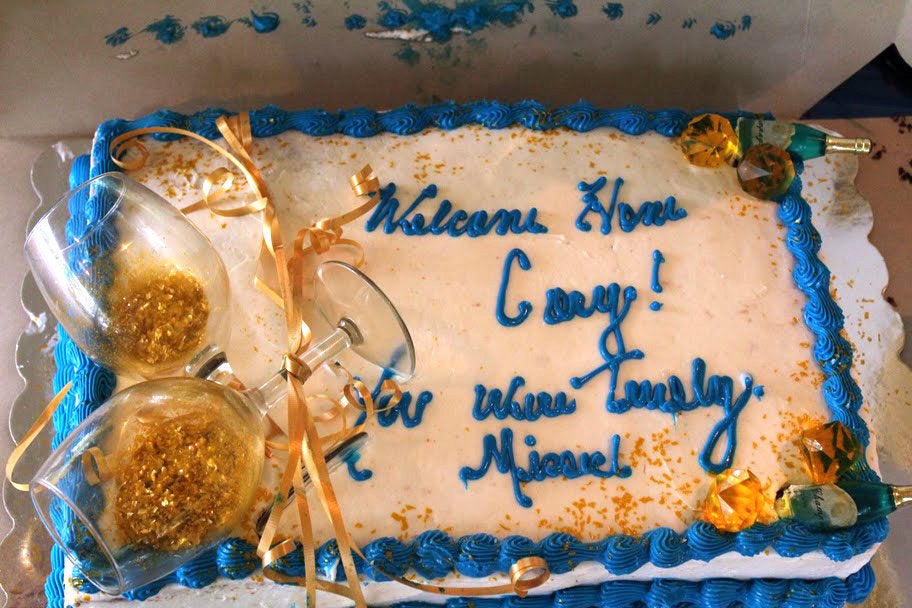 This party was a long time coming. Maye was arrested in 2001, the day after Christmas, for killing Prentiss, Mississippi, police officer Ron Jones during a botched drug raid on Maye's home. Maye, now 30, was convicted in 2004 of capital murder, or the intentional killing of a police officer. He was sentenced to death. Maye says he was asleep as the raid began at 12:30 a.m. and had no idea the men breaking into his home were police. The police say they announced themselves. Maye had no prior criminal record, and police found all of a marijuana roach in his apartment, which under other circumstances would bring a $100 fine.
The man who lived next door to Maye in that bright yellow duplex, Jamie Smith, already had drug charges pending against him and appears to have been the actual target of the police action that night. The police found a significant supply of drugs in Smith's apartment, though Smith has never been tried.
I first began reporting on Maye's case in 2005, after finding an Associated Press write-up of the case while researching a paper on SWAT teams I was writing for the Cato Institute. I wrote a post about the raid on my blog that night. It was soon picked up by Glenn Reynolds of Instapundit, and within a few days it had caught fire on blogs from across the political spectrum. Cory Maye was on death row at the time. Now, he takes his kids, and others, for rides on a four-wheeler. The mug shot of him in an orange jumpsuit -- for a long time one of the few images you could find of him in the press -- now fades to shots of him with his new fiance, catching up with acquaintances and clowning with his son Cory Maye Jr. He has a Facebook account now. At the party, he collects phone numbers and enters them into his new smartphone.
There have been other changes over the last 10 years. Maye's daughter Ta'corriana, the 18-month old baby who slept on his bed the night of the raid --- the child Maye says he was defending -- is now a playful, mischievous, camera-friendly 12-year-old. Bob Evans, who was fired as the Prentiss public defender for his decision to defend Maye, still has a criminal defense practice just across the street from the Lawrence County courthouse. But he's also now a member of the Mississippi legislature. Two of Maye's main defenders from D.C. law firm Covington & Burling, Abe Pafford and Ben Vernia, have since left to start their own practices. A third, Jessica Gabel, now teaches law at Georgia State University.
WATCH CORY MAYE'S FIRST VIDEO INTERVIEW AFTER BEING RELEASED FROM JAIL:
There are a lot of themes in Maye's story. It is a story about the drug war, about the death penalty, about race and class in the South. It's a story about the inadequacies of the criminal justice system, and it's a story about the conflict between a man's right to defend his home and a creeping tendency of police departments in America to serve routine search warrants by breaking down doors. But looking back over the last five-and-a-half years, here among Maye's party of aunts, uncles, cousins, brothers and sisters, the most poignant moments that come to mind all seem to revolve around family.
Pafford, for example, first read about Maye's case on the conservative website National Review Online. Pafford has a daughter the same age as Ta'corianna and immediately empathized with Maye after pondering what he'd have done if he had been in Maye's position the night of the raid. Evans says that the first thing he thought about upon hearing about the raid was his own son, who is Maye's age and went to school with Maye. That Evans has become a paternal figure for Maye becomes clear when you see the two interact. A half day before the warm embrace when Maye was at a loss for words, for example, I listened to Evans give Maye a fatherly berating for forgetting to call me back for a planned interview.
For the decade he was in prison, Dorothy Maye was torn between preserving his room for the day she hoped he'd be free, and watching his kids, her grandkids, ask questions, then break into tears, when they'd see their daddy's old bedroom. She is all hugs and smiles today. She's also celebrating her 60th birthday.
Maye's father, Robert Brown, was absent for much of his life, but he returned to his life in Maye's late teens. Brown then emerged shortly after the raid to take charge of Maye's defense. It was Brown who decided to eschew Evans, the public defender, and pool what money the family had to hire Rhonda Cooper, an African-American attorney in Jackson, who convinced Brown that in such a racially-charged case, the family needed a black attorney. Brown's intentions were good, and his instincts may have been right, but the decision backfired. Evans is one of the best defense attorneys in Mississippi. Cooper, who had no death penalty experience, made some critical mistakes and likely cost Maye an acquittal.
Then there's Cory Maye, the father. One of the more moving moments in this saga came during the 2006 hearing in Poplarville, when Mississippi Circuit Court Judge Michael Ewbanks threw out his death sentence. Until that hearing, Maye had been on death row and allowed only "no-contact" visits with his family. That means he could only interact with his kids behind a several-inch-thick plate of glass. No touching, no embracing. Just before that hearing began, Evans called Cory Jr. back to the witness room to see his dad, no glass between them this time. He leapt up, went back for his visit and emerged minutes later with a smile as big as his mouth would hold.
It was also at that hearing that Michelle Longino testified on Maye's behalf. Longino is the grandmother of Ta'corianna and was a character witness for Maye. That in itself is worth appreciating. Here was mother of the woman Maye got pregnant out of wedlock taking a witness stand to attest to what a great father he was to his kids. He cooked for them, she said. He brushed Ta'corianna's hair each morning, laid out her clothes and fed her. There was nothing he wouldn't do for those kids, she said.
In a 2008 interview with Reason.tv, Longino read from one of the cards Maye sent to his daughter on each birthday and on every major holiday. The card is filled with optimism -- it seemed like farfetched optimism at the time -- about how they'd go fishing, eat ice cream and watch TV together once he was free. Over the years, Ta'corianna's mother made efforts to make Cory less of an influence in her daughter's life. That too was an understandable instinct. Black men who kill white cops don't walk out of jail in Mississippi. But for Maye, it was crushing. The irony is heartbreaking. Perhaps it's not the most politically correct thing to write, but too many black kids in America simply don't have fathers. Here's a black man who was by all accounts a doting father. And while serving his punishment for defending his daughter from what he thought was a threat to her safety -- as any father would do -- he could only watch helplessly as she was slowly removed from his life.
But that's in the past now. This afternoon, Maye coaxes his Ta'corianna over from her friends to pose for photos, chides her for sassing, rinses her muddy hands with a hose. She is playful and giddy, casting glances at him all afternoon.
For the family of the late police officer Ron Jones, however, the past is ever-present. At that 2006 hearing in Poplarville, I remember watching Jones' mother press her thumbs to her forehead when hearing again about the details of her son's death. She then shook her head from side to side when Judge Ewbanks announced he was throwing out the death penalty. When Maye was permitted to plead guilty to manslaughter earlier last month, the plea that allowed him to be released, the Jones family wept. Jones also left behind two brothers, one of them a twin. Evans told me that after that hearing he apologized to Ron Jones, Sr., who also was the Prentiss police chief at the time his son was killed.
"I didn't apologize for representing Cory, because that was my job, and I believed and still believe he is innocent," Evans says. "But I apologized for the pain I caused them, intentionally or otherwise. I knew Ron like a son. And I was never unaware of the pain all of this was putting them through. And for that matter, neither was Cory."
Just a few months after that December 2001 raid, The New York Times mentioned Maye, Jones and Prentiss in a front-page story about how the drug trade was wreaking havoc on the poor and rural south. That article, in contrast with my own reporting, shows how drastically a journalist's own perspective can alter a story's narrative. Certainly there's no question that two families were devastated as the result of a drug raid gone wrong. But when I first came upon Maye's story, it immediately struck me as an example of collateral damage from the drug war, not of the drug trade. One family lost a young, likable son and brother forever; another family had a young, likable son, brother and father taken from them for a decade. And the pile of bodies resulting from the policy of sending cops barreling into private homes in the middle of the night to stop people from getting high has only grown since the night Cory Maye shot Ron Jones.
I found Maye's story while researching a paper about the overuse of SWAT teams and paramilitary search tactics. And so where the Times saw another cop killed by a drug dealer, I wondered why a guy who had no criminal record and no real drugs to speak of in his home would knowingly take on a team of raiding police officers, kill one of them, then surrender with bullets still remaining in his gun. It seemed much more like a series of mistakes resulting in a tragedy -- a tragedy compounded by Maye's subsequent conviction and death sentence.
This afternoon in Monticello, that tragedy has finally been met with some joy. Evans says a few words about Maye, his legal team and my work covering the case (and, of course, the newly minted politician would be remiss without also mentioning his reelection campaign). Evans then asks Pafford, Gabels, and me to say a few words. Cameras flash as Maye cuts into a cake welcoming him home. Maye's brother plays deejay and spins an old Michael Jackson song. Dancing breaks out.

Popular in the Community