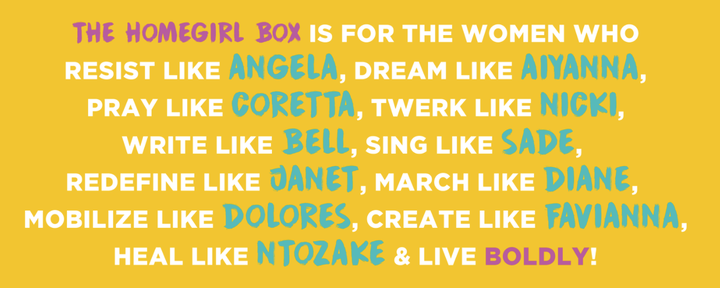 For HuffPost's #LoveTakesAction series, we're telling stories of how people are standing up to hate and supporting those most threatened now. Tell us what you stand up for, with #LoveTakesAction.
Part of the perks of being a woman of color are the unique bonds we form with one another.
As a homage to these sisterhoods, Brooklynites, social activists and best friends Mickey Ferrera and Brittany Brathwaite created The Homegirl Box. The quarterly gift box contains items inspired by revolutionary women of color like Frida Kahlo and Assata Shakur. Each box includes four to five clothing, beauty, decorative, health and wellness or home items as well as a staple herstory card which informs on the legacy of the historic women who inspired the box.
The box was created not only as a means of celebrating iconic women, but also as a means for women to remind their friends ― or themselves ― of their power and purpose.
"The love that homegirls show for each other and realness of how they show up is what we wanted to invoke with the naming of this box," the co-founders told The Huffington Post.
"It's a proclamation to homegirls - women who never called what they were doing (i.e sending flowers to someone's job or making sure someone is fed, checking in and sending affirmation of worth) sisterhood but it is ― and it's radical and transformative."
But the co-founders said the box serves more than one purpose.
"[It's meant to] to celebrate and acknowledge women business owners," they continued. (All of the box's items are from businesses owned by women).
"To tell other women in your life: I see all of you and I want you to stay fueled and ready for the revolution -whether that revolution is internal or fighting the racist heteronormative patriarchy or whatever; to help you get or stay inspired for the revolution," they said.
The inaugural Homegirl Box was named The Frida Box in honor of the legendary Mexican painter Frida Kahlo. It debuted as part of their soft launch in December and sold out in 24 hours.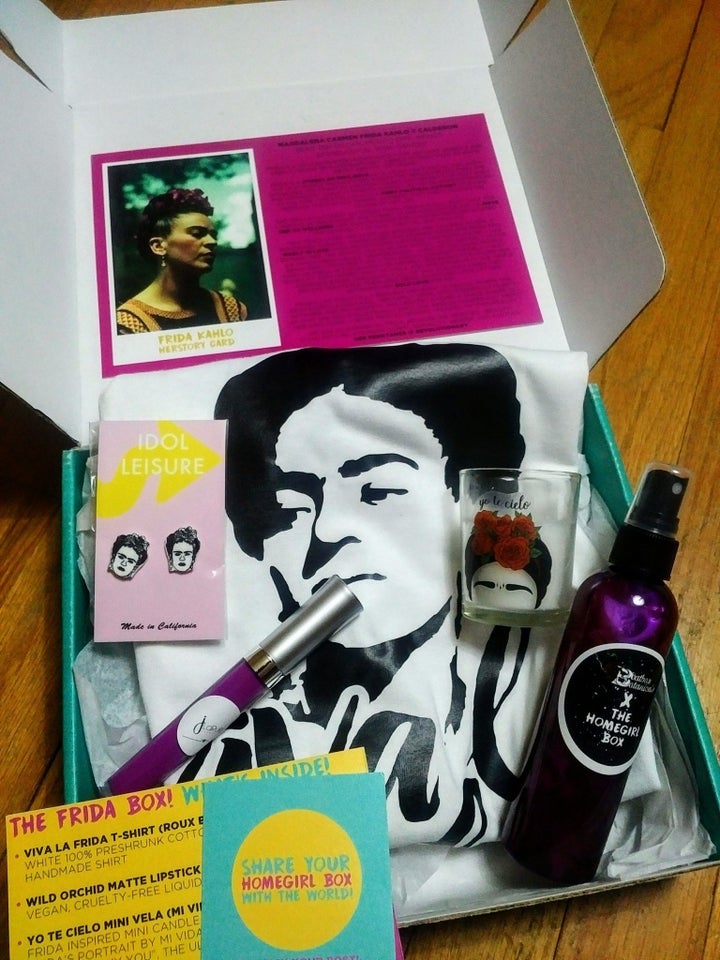 "We started with Frida because we thought it was important to re-write and re-shape how she was being portrayed. The unibrow-less Frida who wears Daft Punk shirts and flower crowns isn't the Frida that we know - [she is] a radical and political activist who transformed her illness and physical disability into art that begged to be seen and felt," they said.
"Frida painted herself because she didn't see herself reflected, she made space for herself in a male-dominated industry [and] she loved hard."
While Brathwaite and Ferrera acknowledged that love in itself isn't the answer to all of society's ailments, they do believe there is "space for radical love, radical hope, and joy" ― with an emphasis on black joy -- in the resistance movement.
"We both know from our experience as organizers, youth workers, movement builders, and trap scholars that keeping ourselves and our sisters fueled must be part of our work," they said.
"Women carry much of the work in visioning and creating revolution and yet, who is looking out for us? Who is making sure we are fed and that we can cover rent? Who has our backs? Our Homegirls."
The Homegirl Box officially launches on March 3rd. Their next box will be dedicated to civil rights activist Assata Shakur.
Know a story from your community of people fighting hate and supporting groups who need it? Send news tips to lovetips@huffingtonpost.com.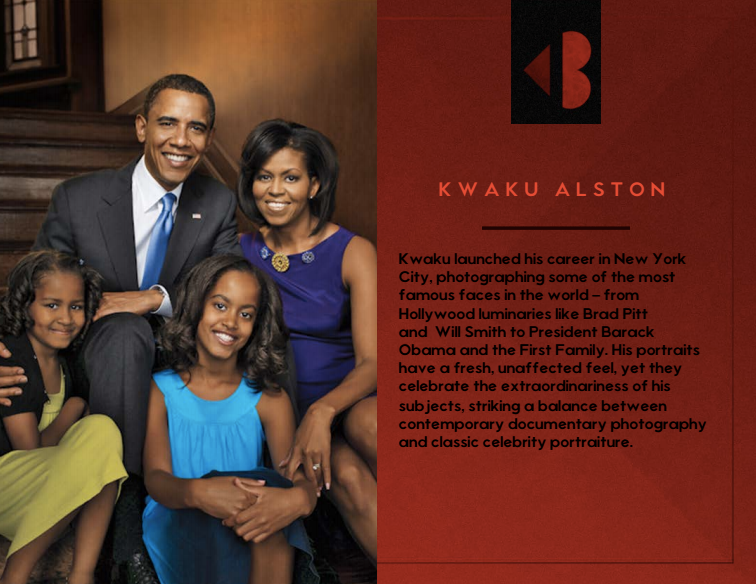 'Black Love Power' Photographers