The main director of Showtime's acclaimed Homeland admits she isn't sure what will ultimately become of Carrie Mathison (Claire Danes), one of the most brilliant and tortured characters on TV.
"In season 4 she ordered an airstrike that successfully hit its targets and killed innocent people," notes Lesli Linka Glatter, who has directed four episodes of Homeland in each of the last three seasons. "How detached would you have to be to forget all that?"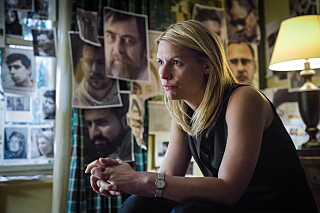 We could get some clues in the upcoming season 6, which has been pushed back to January after the previous five all launched in early fall. That slight pushback gives showrunner and mastermind Alex Gansa a little more breathing room.
He may also do a little more advance planning. Showtime has ordered Seasons 7 and 8, ensuring Carrie will remain on TV until at least 2019.
Still, the show has never let us forget the toll that Carrie's job - calling, really - continues to take on her.
Not only is she an intelligence analyst who must make life-and-death decisions in high-stakes grey areas, but she starts with a certain fragility. She's bipolar.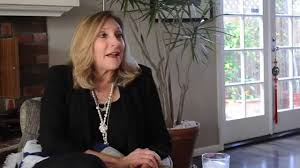 "I have a feeling Alex has Carrie's ultimate fate written on the back of his hand," says Glatter (above). "But I don't.
"Maybe she'll end up running a coffeehouse. The interesting part will be whether she can ever find inner peace."
That's unlikely to happen over the next couple of seasons, since inner peace rarely makes for good television.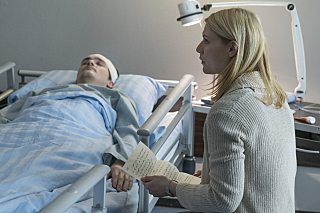 After seasons in Cape Town and Berlin, Season 6 is moving back to New York. While spoilers are scarce, a couple of teases have trickled out, including Gansa's acknowledgement that Carrie's close colleague Peter Quinn (Rupert Friend), who seemed close to death at the end of last season (above), will return in some form.
Also, Danes has said the show will feature a female President-elect, and while the President has never been a directly prominent character on Homeland, it could provide a sharp parallel or contrast to real life.
Glatter says the more interesting part of the show is that since the death of Carrie's paramour Nicholas Brody (Damian Lewis) at the end of Season 3, it has been telling a different story with mostly different characters every year.
"After Brody died, we all went, 'OMG, what do we do next?'," recalls Glatter. "Since then, it's been almost a total reset every season, which is a huge challenge. You establish a world, you write to that world, and then at the end of the season we blow it up.
"But I like that. This isn't like a broadcast network procedural, where you go back to the hospital bed for 24 episodes. We're digging deep, exploring what's really going on with these characters.
"With Carrie last season, we saw her trying to live a normal life, for about five minutes. We saw that to do that, she had to cut off a lot of herself."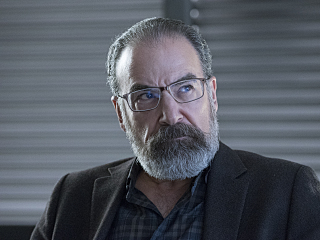 The show does have constants, starting with Danes and her CIA mentor Saul Berenson (Mandy Patinkin) (above). Equally important, Glatter says, its storylines "always come from working with real-life intelligence experts, talking about what's happening in the world."
That helps explain why numerous plotlines in Homeland, like the use of drones, have become complex real-life issues around the same time Homeland was dramatizing them.
"Alex says that's what keeps you up at night," says Glatter. "I know it keeps me up.
"This is a show where you can have two strong characters with completely opposite points of view and they're both right. It speaks to the complicated world in which we live."
Critics loved the way Homeland navigated that world in the first two seasons, were cooler on seasons three and four and mostly returned to the fold in season 5. Glatter says that's a tribute to the show's longer-term vision.
"The writing is just so strong," she says. "I remember a script that had something like 40 pages of interrogation, just questions and answers in one room. I thought, 'As a director, what can I do with this?'
"But when the writing is that good, you trust it. Sometimes the best idea is to keep it simple."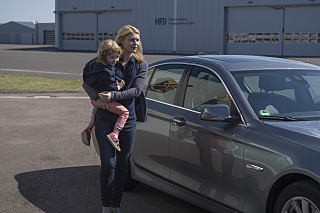 And then, when necessary, blow something up - which is worth noting because traditional Hollywood wisdom says women don't know how to do that. They can't direct action shows.
Or, oftentimes, any kind of show. The 62-year-old Glatter says the scarcity of female directors remaining frustrating.
"If you'd told me 20 years ago we'd still be talking about the 'issue' of women directors, I'd have said no way," she admits. "It should be a non-issue. There should be a level playing field for everyone.
"Saying women can't director action films is like saying men can't direct rom-coms."
While Glatter's extensive resume includes directing episodes of shows from Mad Men and The Good Wife to Weeds and Pretty Little Liars, one of her next projects also promises considerable action: Six, an eight-part drama about Navy SEALS that premieres July 18 on History.
"It deals with people in extreme circumstances," she says, "and the way that creates a family."
Equally to the point for TV purposes, it creates a story.
"I started as a dancer and choreographer," Glatter says. "I got into it because there were stories I felt compelled to tell, and from there it was a natural progression into film and television.
"Directing is like choreographing a dance. The story also has to be at the heart of it."