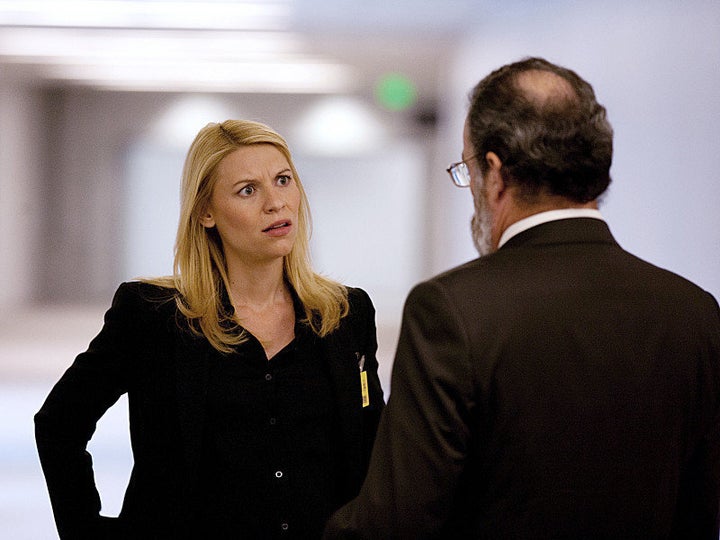 With the "Homeland" finale just a few days away, fans of the show are scrambling to keep up with the series' increasingly off-the-wall twists and turns, and coming up with theories about how Season 2 will play out.
Terrorist mastermind Abu Nazir is out of the picture after last week's episode, but several unanswered questions still remain: Will Brody survive the season? Could he still be planning on carrying out an attack for Nazir? Will Quinn kill Brody on Estes' orders? Could Quinn try to kill Carrie? Could Cary and Brody just run away together and live happily ever after? And what about Saul? HuffPost TV rounded up some of the best theories out there below. Check them out and leave your own predictions in the comments.
HuffPost TV critic Maureen Ryan offered her prediction about the finale. "Peter Quinn turns on Estes, and however it happens (whether it's Quinn or someone else), Estes ends up dead and Saul is restored to his rightful position at the CIA. Brody ends up killing himself, because it's the one option he has left -- everything else has been taken away, and it's one choice he gets to make himself. Maybe he takes Estes out in a murder-suicide? All of those theories are fluid, but I do think that Brody will end up dead or otherwise out of the picture at the end of Season 2. Season 3 will not feature Brody and Carrie buying a condo together and picking out silverware. Also, Chris Brody will be revealed as the mole. He's been passing secrets to the other side via his bowls of cereal."
Vulture offered a different twist Brody's fate, speculating that Carrie killing Brody is the most likely outcome in the finale. "Carrie and Brody can't live happily ever after. It's not clear that they can live, period. We've watched as Carrie has degraded herself, sacrificed any semblance of professionalism, and actively lied about the assassination of the vice-president. The only way she can really prove that she's not a complete traitor to her country would be to kill her boyfriend."
The Huffington Post's executive arts and entertainment editor -- and HuffPost TV's "Homeland" recapper -- Michael Hogan thinks Carrie and Brody may actually have a future together. "I think Brody and Carrie will return in Season 3. But I think their involvement with the murder of the veep is going to come to light and they will end up on the lam together. And I think Saul is going to kill Estes."
Emily Nussbaum, TV Critic for "The New Yorker," put forth her grand theory of "Homeland" before Nazir was killed in last week's episode, but it also contained the "Carrie kills Brody" idea. She hypothesized that Brody was still plotting against America, and his killing the vice president in an effort to save Carrie from Nazir was a rouse to regain her trust. "If my theory is true, the season ends when Carrie gets wise, then kills Brody. It would be like the great Season Two finale of 'Buffy the Vampire Slayer,' when Buffy killed her evil boyfriend, Angel ... A dramatic ending to the Brody/Mathison romance, but one with complexity and resonance -- and with the added benefit of presenting the show with a clean slate for Season Three," she wrote.
HuffPost commenter David Knowles predicts that "Quinn will kill Brody, Carrie will kill Quinn." And he theorizes that a large-scale terrorist attack is still on the show's horizon. He wrote: "There will be a massive attack on the US and it reveal that Nazir sacrificed his life and his men and taking out the vice president was nothing but a distraction from the primary attack. Estes will get arrested because it was his codes used in the attack, and photos of Roya and Estes spending time together will be revealed. Saul replaces Estes."
What's your theory on what will happen in the Season 2 "Homeland" finale? Share it in the comments.
The season finale of "Homeland" airs Sunday, December 16 at 10 p.m. EST on Showtime.
Calling all HuffPost superfans!
Sign up for membership to become a founding member and help shape HuffPost's next chapter
BEFORE YOU GO