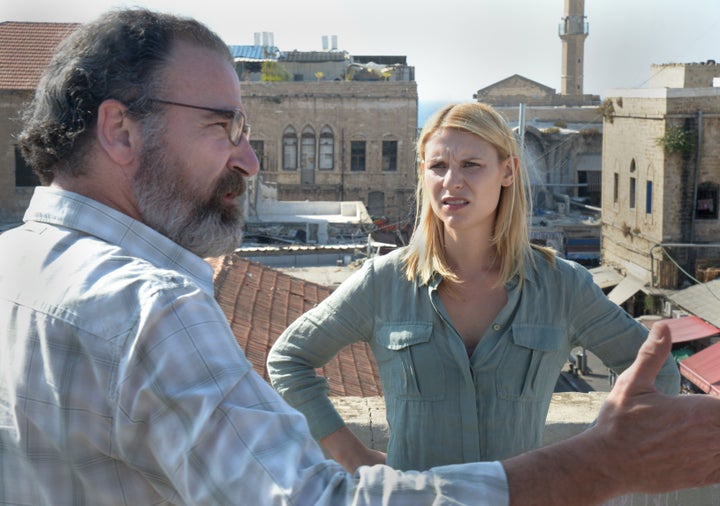 "Homeland" was the most thrilling new drama last season, hands down. Now it's almost back (Season 2 premieres Sun., Sept. 30, 10 p.m. ET on Showtime), and we've learned a bit more about what's to come for ex-CIA agent Carrie Matheson (Claire Danes), post-electroconvulsive therapy treatments, and her one-time target, Sgt. Nicholas Brody (Damian Lewis).
At the Television Critics Association Summer Press Tour panel for "Homeland" -- featuring Danes, Lewis and Morena Baccarin, as well as executive producers Alex Gansa and Howard Gordon -- we got some scoop on "Homeland" Season 2, including where we find the characters this season, the sitcom-y Season 2 story ideas that didn't happen and how they're planning to top Season 1's most epic episode, "The Weekend."
We left off with Carrie very much out of the CIA, and very much grasping for her own sanity with ECT treatments, so how did Gordon and Gansa think they'd get Carrie back into the CIA game in Season 2? "Carrie and Virgil work as private investigators," Gansa said, to which Lewis replied, "I see a sitcom!"
Did anything from Season 1 truly shock the actors? "They came to me midseason and said, 'You are going to strap on a vest,'" Lewis said. "In the end ... it was a big political symbolic statement when he did it."
Post-vest, Lewis said Brody "will live in a state of heightened anxiety, paranoia and uncertainty" in Season 2. "He's more knowingly juggling balls this season, but essentially he's everybody's bitch. He's f---ed," Lewis added.
Carrie will be the most changed in Season 2, understandably, but in a very different way than Brody is. "She is changed in that she is pretty stable," Danes said. "Throughout that first season [the mania] was sort of simmering. She's been exposed, she's been outed as this person with this condition, and that has altered her in a pretty fundamental way, I think. She's not hiding -- she doesn't have that same kind of panic and defensiveness."
When we first see Carrie in Season 2, "she's suffering from a real crisis of confidence ... she gets her mojo back, but it takes time," Danes teases. Carrie, of course, is still dealing with the fact that she thinks she was wrong about Brody. "The first three episodes, she's actively grappling with that, but she gets a boost of confidence ... a much-needed, much-deserved boost. Thank God!"
Having seen Carrie in action in Season 1, with her manic personality really driving her research and her work, will she be convinced that her mind is lost when she's medicated? "I think she probably did have some suspicion that her condition may be responsible for her genius," Danes said. "But I think she will find a deeper confidence that she can tame it and remain as brilliant and forward-thinking."
Danes also talked a bit about Carrie's relationship with Saul (Mandy Patinkin), whom she calls "Carrie's conscience": "There's no one she trusts more or respects more."
Baccarin's character, Brody's wife Jessica, will also have a newfound perspective on life. "This woman's life is in shambles all the time," Baccarin said of Jessica in Season 1. "She's just doing her best, trying to keep it together. This season, I really love the strength that Jessica has found through being in the D.C. limelight with Brody ... I think she's found some purpose." But she's still butting heads with their wise-beyond-her-years daughter Dana (Morgan Saylor): "She's such a little sh--!" Baccarin said with a laugh.
When reporters brought up "The Weekend" -- the episode that got Brody and Carrie in the lake house together for some romance and a very big reckoning ("and look what happened!" Lewis joked, referring to Danes' pregnancy) -- Lewis said that there will definitely be a new kind of weekend in Season 2. "I think Alex and Howard have tried to create a similar pivotal moment in Season 2 ... where Carrie very, very much has the upper hand. It's less romantically inclined than professionally inclined, but it's just as complex."
"That still kind of hovers over them ... they were never able to see that through, and partially for that reason, it remains as compelling as ever. It's tricky," Danes added.
And though we've heard quite a bit about President Barack Obama's love for the Showtime show, when Lewis was asked about his experience at the White House, he shared a cute story about asking the President exactly when he had time to watch TV. In his perfect American accent, channeling President Obama, Lewis shared his answer: "Saturday afternoons ... I go into the Oval Office, I pretend I have work, and I switch on 'Homeland.'"
Tell us: Are you excited for more "Homeland"?
"Homeland" Season 2 premieres Sun., Sept. 30, 10 p.m. ET on Showtime.

'Homeland'
Related
Popular in the Community