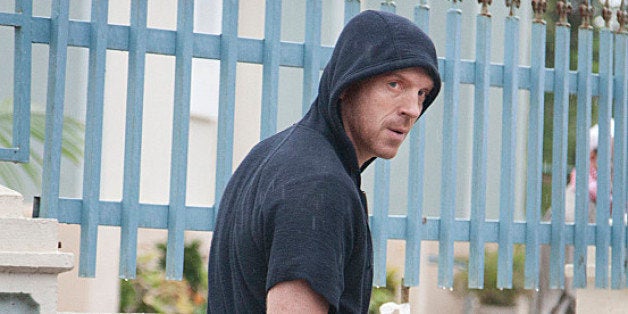 SPOILER ALERT: Do not read on if you wish to avoid a plot point for the first two episodes of "Homeland" Season 3.
Damian Lewis is one of the world's most wanted men both on-screen and off in his Emmy-winning role as Sgt. Nicholas Brody on Showtime's "Homeland," and in Season 3, everyone will be on the hunt for the alleged terrorist. As the main suspect in the bombing of the CIA's headquarters in Langley in the Season 2 finale, Brody will be on the run, and as critics discovered after screening the first two episodes of Season 3, the character will be AWOL for an indeterminate amount of time this year.
"I don't think it would be a betrayal to say that he's not in the first two episodes, but it would be a betrayal to tell you when he does appear," executive producer Alex Gansa told reporters at the Television Critics Association summer press tour. "His flight from America just made it impossible to incorporate in the first two episodes."
Lewis isn't too concerned about his character's absence, recently telling the LA Times, "it surprised some people, which just goes to show you that the writers haven't lost the knack. As Alex Gansa said at the TCAs, it was a function of story -- they couldn't not deal with the calamity that had befallen the CIA … there's a lot to get through and I think in an effort to promote Saul's [Mandy Patinkin] character front and center into the story … we have to see what action he'll take as the temporary director of the CIA."
He added, "Brody has disappeared into a network of tunnels, and I don't think Carrie [Claire Danes] knows where he is, so when we find him, lord knows what state he'll be in."
Still, Lewis doesn't feel 100 percent secure in his job, admitting to the Times that discussions between he and the producers about Brody's involvement in Season 3 went on "right up until the last minute, and right up until the last minute I don't think they quite knew what Brody was going to be in and what he wasn't going to be in."
Lewis reiterated a point that he made at TCA, that "Brody has a stay of execution on this show. There were moments they could've killed Brody and for whatever reason, they've chosen not to, but I don't think they like me and I think they're dying to kill me," he laughed. "I think they just can't wait to find some devastating way for me to meet my maker."
One reason for Brody's many second chances, according to Lewis, is the compelling dynamic between Brody and Carrie. "I think the success of the show surprised everybody … and I think the success of that central relationship between Brody and Carrie surprised everybody because nobody knew whether it would work or not," he told the Times. "And as a result I'm still here, being a pain in the backside to everybody, getting in the way, upsetting people. People die all around me and I crawl forward like a cockroach, indestructible. We'll see how long it lasts."
"Homeland" Season 3 premieres Sunday, Sept. 29 at 9 p.m. ET.
Do you think Brody will survive Season 3? Weigh in below!
Calling all HuffPost superfans!
Sign up for membership to become a founding member and help shape HuffPost's next chapter