Multiple members have resigned their positions on the Homeland Security Advisory Council over the separation of parents and their children along the U.S.-Mexico border.
"Were we consulted, we would have observed that routinely taking children from migrant parents was morally repugnant, counter-productive and ill-considered," the letter said. "We cannot tolerate association with the immigration policies of this administration, nor the illusion that we are consulted on these matters."
According to the DHS website, the council was created "to provide the Secretary real-time, real-world, sensing and independent advice to support decision-making across the spectrum of homeland security operations."
Danzig is the former secretary of the Navy in the Clinton administration; Holtzman is a former Democratic congresswoman; Olsen is a former director of the National Counterterrorism Center, and Martin is a former DHS deputy general counsel.
In a separate letter to Nielsen, Holtzman said the policy of separating families is breaking the law.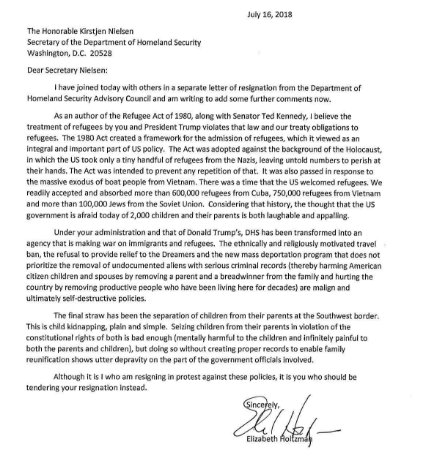 "As an author of the Refugee Act of 1980, along with Senator Ted Kennedy, I believe the treatment of refugees by you and President Trump violates that law and our treaty obligations to refugees," Holtzman said.
Holtzman went a step further in her letter, accusing the administration of kidnapping children.
"The final straw has been the separation of children from their parents at the Southwest border," she wrote. "This is child kidnapping, plain and simple."