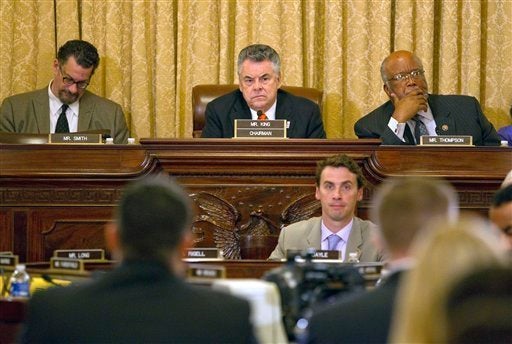 WASHINGTON -- A House bill set for markup on Wednesday would give protection against civil lawsuits to those who report suspicious activity, designate a federal czar to counter homegrown violent Islamist extremism, and require Border Patrol agents to be capable of stopping every single person who tries to cross into the country illegally.
But perhaps the most noteworthy aspect of the fiscal 2012 legislation is that it marks the first time since the Department of Homeland Security was created eight years ago that both House and Senate committees have passed authorization bills for the behemoth federal agency.
Congressional gridlock and a dysfunctional committee structure have thwarted previous attempts to pass the authorizing legislation normally considered a prerequisite before appropriators can dole out taxpayer funds to federal departments. Because of the exigencies following the 9/11 attacks a decade ago, the government has managed to skip that step for what is now the third largest federal bureaucracy, after the departments of Defense and Veterans Affairs, with some 230,000 employees.
But after the Senate Homeland Security and Government Affairs Committee passed its first-ever authorization bill for DHS last month, the measure "actually stands a good chance of passage," said Daniel Kaniewski, a former special assistant for homeland security in the George W. Bush White House and a researcher at George Washington University.
Since 2003, Republican- and Democratic-controlled Congresses have failed to authorize the department's spending, though the House Homeland Security Committee has passed several bills over the years.
A major factor has been the splintered congressional oversight of homeland security and intelligence matters. Despite the recommendation of the 9/11 commission to streamline responsibility, 106 committees and subcommittees claim jurisdiction. The result: no one has much authority to spread around.
"Legacy committees continue to exert jurisdiction over many components of DHS," Kaniewski said. For example, the House Committee on Transportation and Infrastructure retains broad authority over the Federal Emergency Management Agency, one of 22 federal agencies within DHS.
Though limited in scope, the legislation being marked up this week "will strengthen the mission of the department, encourage efficiencies and reduce waste," said Rep. Peter King (R-N.Y.), chairman of the House Homeland Security Committee. "Passing this legislation will provide much needed direction for the department."
The bill contains several contentious measures that Democrats are expected to oppose, however. Among them:
Countering homegrown radicalization. Like the Senate version, the House bill calls for Secretary of Homeland Security Janet Napolitano to designate a specific official to coordinate efforts to prevent "homegrown violent Islamist extremism, including the violent ideology of Al Qaeda and its affiliated groups, in the United States."
"See something, say something" protection. Any person who in "good faith" reports suspected terrorist activities or suspicious behavior that is later proved unwarranted would be protected against civil lawsuits under the House bill. Similar legislation has been introduced separately in the Senate.
The lawsuit protection measure, stalled since it was first introduced in 2007, was crafted in response to the "flying imams" case in 2006, when six Muslim clerics were forcibly removed from a US Airways flight after they were reported to be engaging in "suspicious" behavior -- praying in the terminal. The imams later threatened to sue several passengers for targeting them because of their religion but ultimately dropped them from the suit. Just last week, a U.S. citizen of Pakistani descent sued Southwest Airlines for discrimination after she was booted off a flight when a flight attendant claimed she heard the woman say something suspicious on her cell phone.
The bill would not provide immunity from civil lawsuits to those who knowingly make false accusations. Still, even advocates of heightened civic engagement acknowledge possible pitfalls.
"DHS must continue to work to avoid creating a climate of spying that can breed mistrust and prove counterproductive," Michael Chertoff and Jane Harman recently wrote in The Huffington Post. "'See something, say something' is a memorable slogan but without greater guidance on the kinds of activities or behaviors that rise to the level of legitimate concern, there is a risk that some members of the public will substitute 'suspicious appearance' for 'suspicious behavior.'"
Operational control of the border. The House bill would require DHS to devise "a comprehensive strategy for gaining operational control of the borders and ports of entry within five years." That means not only being aware of every person crossing the border illegally, but being in a position to physically stop that person. The Senate version calls for only "situational control," in which border officials using surveillance technology can monitor crossings but not necessarily be in a position to stop all illegal crossings.
Operational control "is an impossible standard given the length of the northern border" with Canada, said a Democratic Senate aide who spoke on condition of anonymity. "Nor is it cost-effective, given the miles of wilderness along both borders. It would require huge new sums of money."
Senate Democrats also oppose a provision that would give U.S. Customs and Border Protection agents access to federal lands near the border. The measure is controversial because it would allow agents to drive and build temporary outposts in sensitive wilderness areas and national parks protected by federal environmental laws.

REAL LIFE. REAL NEWS. REAL VOICES.
Help us tell more of the stories that matter from voices that too often remain unheard.
BEFORE YOU GO