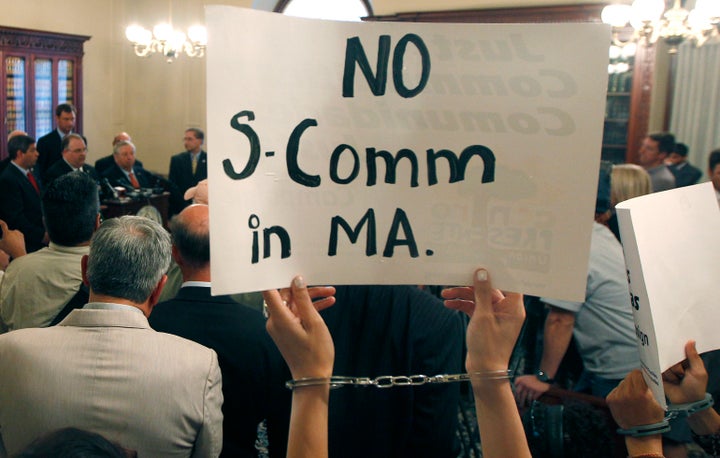 WASHINGTON -- Two years ago, the Department of Homeland Security began an immigration enforcement program called Secure Communities, designed to find undocumented immigrants who had been arrested by local police. Homeland Security explained how jurisdictions could remove themselves from the initiative, at least temporarily, and confirmed to local officials that they could opt out if they wish.
But when states and localities tried to opt out, they were told they couldn't. Homeland Security officials seemed to switch the definition of "opt out" and then admitted they planned to expand the program nationwide by 2013, whether state and county leaders liked it or not.
None of this amounted to "intentionally" misleading the public, according to a report released on Friday by Charles K. Edwards, Homeland Security's acting inspector general. The report, in response to Rep. Zoe Lofgren (D-Calif.), a critic of the program, kept the department line on Secure Communities: The agency handled the expansion of the initiative badly, but they stand behind it.
Secure Communities is a centerpiece of the President Barack Obama administration's immigration enforcement efforts, and is partially credited with the record number of deportations in the 2011 fiscal year. The program takes fingerprints from arrests by local police and shares them with Homeland Security to catch undocumented immigrants. It has been criticized for hurting community policing, netting non-criminals and potentially encouraging racial profiling.
The report confirmed, as Immigration and Customs Enforcement officials have many times before, that the Secure Communities program will continue. The Homeland Security inspector general instructs ICE to create standard guidelines, improve messaging by leadership and write a "lessons learned" document detailing what went wrong. ICE is in the process of making those changes, the report states.
It also says the agency misled the public -- but not intentionally.
"[C]onfusion within the agency regarding intent and participation led ICE to misinform and confuse stakeholders and the media," the report states. "Initial confusion may have stemmed from the short timeframe to implement Secure Communities. ... However, once questions and concerns arose, senior leadership within ICE and in one instance the department continued to exacerbate the problem by providing unclear and conflicting responses to inquiries and concerns. As a result, Secure Communities continues to face opposition, criticism, and resistance in some locations."
"The OIG doesn't say whether DHS or ICE provided misinformation through incompetence or dishonesty," she said. "That leaves me concerned about the thoroughness of this review. ... Unfortunately, this lengthy review provided no meaningful information that was not already available."
After each attempt by a state or county to cut ties with the program, Homeland Security confirmed that it would continue to take fingerprints anyway.
A document that laid out directions for jurisdictions to begin a possible opt-out from the program was removed from the ICE website in October 2010. (The agency said the document may have been a result of a website changeover, but many pro-Secure Communities made the jump to the new site.)
Homeland Security Secretary Janet Napolitano also listed steps for counties to ask for removal from the program in a Sept. 7, 2010, letter to Lofgren.
The Washington Post first reported in October 2010 that juridisdictions would not be able to opt out of the program, despite ICE messages to the contrary.
The inspector general's report said the agency changed the definition of participation in Secure Communities five times.
Internal ICE emails obtained by a coalition of groups called "Uncover the Truth" in a Freedom of Information Act request show ICE officials discussing how to deal with Santa Clara's efforts to end the program.
"The domino effect is starting," one identified official wrote in May 2010, according to the documents. Another email features an official saying government workers were seeking "messaging that can help ... keep [jurisdictions] on board."
In one email conversation released under the Freedom of Information Act request, ICE officials discussed a new definition for "opt-out," telling Santa Clara County that it could choose to receive information on whether people they arrested were undocumented -- although immigration enforcement efforts would be enacted either way.
One ICE worker asked another how the "front office" felt about the definition they wrote. The other said, "MY memory is that they were fine with it and didn't see a need to take action (like sign off approving); believe it was a phone call to Marc."
"I remembered that it wasn't in writing … which give's [sic] them plausible deniability if this Santa Clara thing goes south," the first worker responded.
Chris Newman, legal director for National Day Laborer's Organizing Network, part of the "Uncover the Truth" coalition, said the report ignored many examples of ICE misrepresenting the program.
"DHS has moved from 'plausible deniability' to full-scale denial about the dangers of [Secure Communities] and misrepresentations ICE made about the program," Newman said in an email. "Rather than recommending a 'lessons learned document,' the OIG should recommend a 'do over' of its own report."
Another opponent of the program, California state Assemblymember Tom Ammiano (D) said in a statement that the report only diminished trust in ICE. He is the author of the TRUST Act, a bill that would make Secure Communities optional in California.
"Whatever faith the community had in this out-of-control agency's ability to police itself is now permanently broken," Ammiano said. "The fox simply cannot be trusted to guard the hen house. [Secure Communities] is burdening local governments and making us all less safe."
Support HuffPost
The Stakes Have Never Been Higher
Popular in the Community