As a smoky haze still hung over the San Francisco Bay Area on Monday, more than 10 days into the deadly Camp fire farther north, one of the region's most vulnerable groups, its homeless residents, couldn't easily seek safety indoors.
"People who are housed get the respite of their home in the evening, some with jobs have [the] respite of the office during the day," Catholic Charities of Santa Rosa director of shelter Jennielynn Holmes told HuffPost on Monday.
"These people have neither," she added, speaking of the approximately 3,000 homeless people in Sonoma County, around two-thirds of whom live outdoors. "They're exposed all day long."
Since the Camp fire started on Nov. 8 ― killing 77 people so far and burning more than 11,000 homes ― smoke from the blaze has filled the skies and traveled down to Sonoma County and the Bay Area, a three hours' drive south.
The Bay Area's air quality has been considered "unhealthy" for days, with an Air Quality Index of 238 on Friday and 179 Monday, per the Environmental Protection Agency. Any figure above 100 would be considered "unhealthy for sensitive groups," and above 150 is "unhealthy" for everyone. Schools have closed as a result.
The AQI measures how much "particulate matter" is in the air ― or microscopic pieces too small to be caught by our lungs' filtration system ― which can then enter our bloodstreams, posing potential health risks to anyone breathing it in, particularly people with respiratory issues.
Research has shown that homeless populations report higher rates of respiratory issues such as asthma or chronic bronchitis, since they deal with added risk factors like living in crowded spaces, poor nutrition, unreliable access to medical care, and regular exposure to air pollution from living or spending a lot of time outdoors.
Homeless people sleeping on the streets of San Francisco and other Northern California cities have been exposed day and night for the past week to bad air pollution ― and even those who have access to beds in shelters or other housing often still have to leave during the day, including to work.
"My youth, particularly those with respiratory issues, have been complaining that their chests are tight, they're finding it harder to breathe, their eyes are burning a lot," said Monica Steptoe, associate director at Larkin Street Youth Services, which runs a shelter in for 18- to 24-year-olds in San Francisco.
Steptoe says her group serves "a lot" of youth with asthma, some with respiratory infections. In recent days, some reported that friends living on the street had to go to the hospital due to difficulty breathing.
While the youth staying in Larkin Street's shelters usually have to leave every day at 8:30 a.m., with the recent air pollution, the group has been letting them stay or directing them to its drop-in center. But even in the shelter, polluted air still "seeps in" through the cracks in the old building's walls, Steptoe said.
Some of the young adults also have delivery jobs riding bikes outdoors all day.
"They don't want to lose their jobs," Steptoe said, noting that many homeless youths won't stay inside as a result, even though staff members encourage them to. "Employment is everything to them."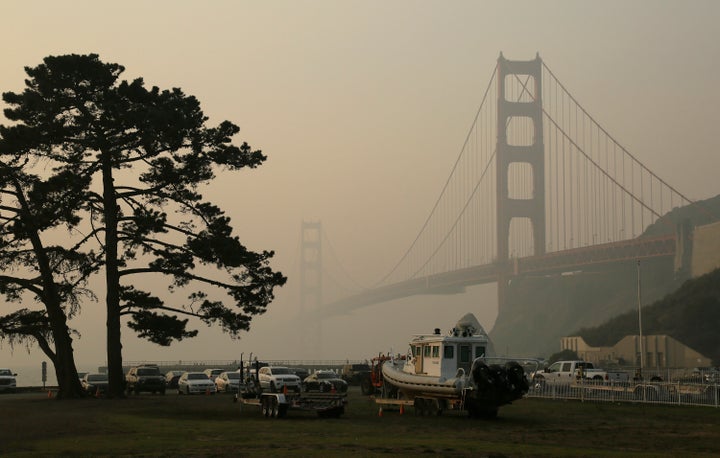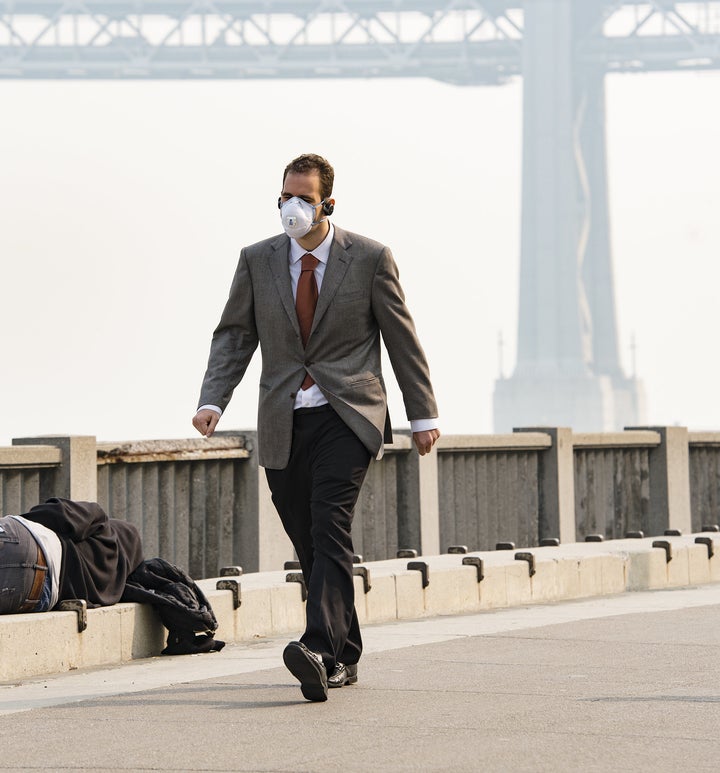 Amid the worsening air pollution, San Francisco's department of homeless services had distributed about 1,600 masks to homeless people as of Saturday, according to the agency's communication manager Randolph Quezada. The team also administered more wellness checks on homeless residents and added additional beds to the shelter system last week, Quezada said.
But these efforts won't be enough. The city has about 2,300 beds total in its shelters, according to Quezada. Meanwhile, San Francisco had about 7,500 homeless people, including more than 4,300 who were unsheltered or living outdoors, according to its latest count in 2017. And not all shelters are open 24 hours a day, prompting city officials to direct people to centers that are open all day, as well as other public places like libraries.
Holmes said members of her group in Sonoma had "definitely" seen the recent air pollution affecting the homeless people they serve. They've had to transport some people with asthma or severe lung issues to urgent care in recent days.
"Their chests are tight, they're finding it harder to breathe."
It's not only the air quality that Northern California's homeless residents have to worry about. The region's available housing stock has once again shrunk as the Camp fire burned through about 10,000 homes around Paradise, making it that much harder for the currently homeless to find affordable housing to move into.
After last year's deadly fires in Sonoma and Napa burned more than 4,500 homes around Santa Rosa, the area's number of homeless people rose about 6 percent ― the first increase after years of decline, Holmes said.
"The reason they can't escape [air pollution] is because there is not enough low-income housing," said Steptoe, noting that the Bay Area's notoriously high housing prices make it hard for homeless people to access affordable housing. "People can't even afford housing who have jobs."
Rains are expected to come by mid-week, which could offer some respite from the fires and improve air quality. But then the area will brace for the risk of mudslides from the downpour.
As unhealthy levels of air pollution become "part of the new normal with climate change," Quezada said, serving a homeless population exposed and vulnerable to such bad air quality is just "something we have to work through."
Support HuffPost
The Stakes Have Never Been Higher
Popular in the Community