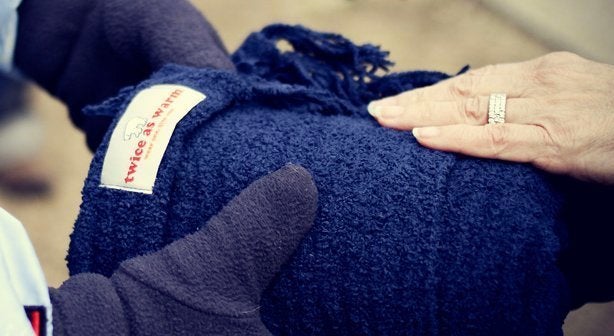 WASHINGTON -- When Brian Lieberman began volunteering at area homeless shelters, he noticed a serious problem with many items of donated clothing. The clothes, often discards from well-meaning good Samaritans, were sometimes too worn to pass along. Scores of items were regularly thrown away.
In the fall of 2010, with winter approaching and warm clothing a clear necessity, Lieberman founded Twice as Warm, a winter clothing company that matches every purchase with a donation of the same, new item to local people in need.
"I started it in my parents' basement," Lieberman explained at an open-house event in his Northwest Washington apartment this past weekend. "Really what I'm trying to do with Twice as Warm is build a sustainable model, a sustainable way of giving away new and unused winter clothing to people in need."
The project is something of a professional hobby for Lieberman, a recent college graduate who works by day as a freelance web designer. In its first season, Twice as Warm gave away more than 200 winter items. Relaunching the project this year, Lieberman hopes to give away 300 items, including colorful knit and fleece beanies and scarfs, long sleeve T-shirts, and clothing for infants and toddlers.
The model is borrowed from the national shoe wear company Tom's, which donates a new pair of shoes to a child for every pair sold. Lieberman is adamant, however, that Twice as Warm has a local focus. All donations are made to shelters in the D.C. area, which he said helps to form an emotional connection between those who donate and those who receive.
"For every purchase you make, you know exactly where it's going to go. You know exactly what shelter it's going to," he said.
For now, the list of recipients includes Bright Beginnings, a child and family development center off Washington's North Capitol Street that offers services for homeless infants, toddlers, preschoolers and their families; an emergency winter shelter in Alexandria, Va.; and Sunday Suppers, an organization that offers hot meals and clothing to local homeless.
"Another element of this is that, you know, let the person [have] some dignity, too. You can't just give them a big trash bag of crappy, used clothing," said Lieberman. "I want Twice as Warm to be providing a new item to a person in need, and that person will then know that someone out there cares."
Items are available for sale at Twice as Warm's online store, all priced between $16 and $30.

Popular in the Community