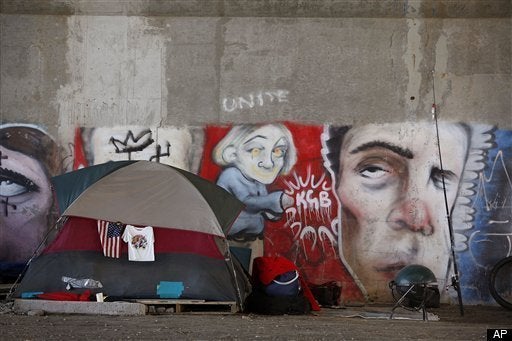 As part of its Bearing Witness 2.0 project, the Huffington Post is rounding up a few of the best local stories of the day.

In Visalia, Calif., hundreds of homeless people will be pushed out of a tent city by the local government in November, reports Valeria Gibbons of the Visalia Times-Delta. The encampment, which is home to about 200 people, has no water or garbage pickup, and only makeshift sanitation. In response to the planned eviction, local charity organizations and relief agencies are offering free clothing, food, and beds. The eviction notices were served Oct 16th, largely because of complaints from nearby homeowners.
Two years ago only a few dozen tents stood on the north side of the St. Johns River, but now, after the foreclosure crisis and vanishing jobs, there are hundreds. Tent cities themselves have been around for a long time, but the struggling economy has made some larger and more visible. Some residents, like Tiffany Segura, moved to the camp over the summer after being evicted from their homes. Now, only a few months later, they are being evicted again.
Gina Barillas and Randy Layton are two of the many homeless people in southern Virginia struggling to find work, jobs, and a safe place to sleep, reports Eric Gillard of the Newport News Daily Press. The couple were living under a highway bridge over the summer, where they were abused by passers-by throwing firecrackers, but were able to move when Layton got a semi-permanent job cutting grass along state and federal roads. "As long as I can work, I'm gonna be OK," he said, showing the importance of a single solid job to get a family off the streets and back into society.
Barrilas and Layton are among the many people that the Daily Press is reporting on all week, in a special report about the local homeless. The Daily Press also has a touching accompanying audio slideshow.
Enrollment rates are up almost 50 percent from last year, to 1,700, a reflection of the poor job market and hard times. "I call it helping people move from crisis to stability," explained Sharon Brooks, coordinator for the program's rural residents.
HuffPost readers: Seen a good local story? Heard about a heroic judge, neighbor, or doctor helping people stay in their homes? Tell us about it! Email jmhattem@gmail.com.
Calling all HuffPost superfans!
Sign up for membership to become a founding member and help shape HuffPost's next chapter