The California blaze that destroyed six homes and damaged a dozen others in an affluent Los Angeles neighborhood last week was sparked by an illegal cooking fire at a homeless encampment, authorities said.
Arson investigators on Dec. 6 visited a canyon by Interstate 405 just west of Bel Air where homeless people were known to congregate. The officials determined people had been cooking and sleeping in the brush area nearby, Peter Sanders, a spokesman for the Los Angeles Fire Department, told The Washington Post.
No arrests have been made and the LAFD doesn't have any suspects, reported the Los Angeles Times. The encampment's location was entirely scorched, with only a few items, including a portable stove and cheese grater, remaining, according to the Times.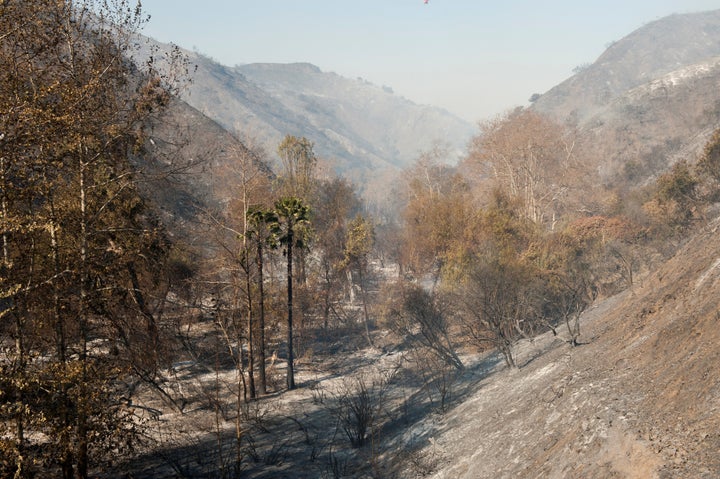 Details about the fire's origin have prompted some officials to call for more action on housing the homeless. LA's homeless population jumped from 25,686 to 34,189 between 2015 and 2017.
"The saddest thing is that we have so many homeless people," L.A. Councilman Paul Koretz, whose district includes Bel Air, told the Times. "And they are everywhere in the city. And that sometimes causes serious problems."
The Bel Air blaze, dubbed the Skirball Fire, was one of several to rip through Southern California in recent weeks during one of the deadliest wildfire seasons in state history. The fire forced thousands to evacuate their homes and hundreds of schools to close.
The blaze damaged or destroyed over a dozen structures, but was relatively small compared to the four other fires that burned throughout the region. The Thomas Fire, which has consumed areas of Santa Barbara and Ventura counties and continued to burn on Wednesday, has become the fifth largest fire in modern California history. As of Sunday evening, the fire had led to one death and burned more than 230,000 acres ― an area larger than New York City.
As many as 90 percent of wildfires in the U.S. are caused by humans, according to the National Park Service. Experts say climate change has contributed to extreme weather patterns in California, including high temperatures and long periods of drought that create ideal conditions for wildfires to take hold.
Popular in the Community