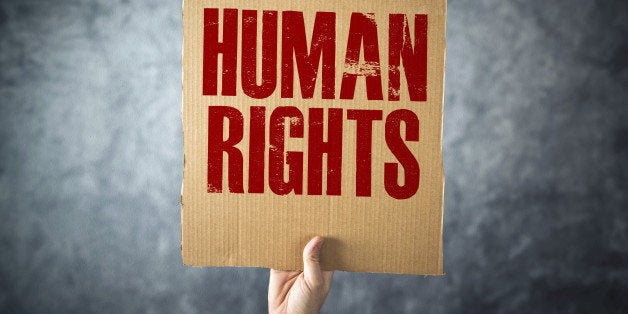 December 10 is Human Rights Day, an annual commemoration of the Universal Declaration of Human Rights - and a key moment to assess our country's status in addressing the human rights of homeless Americans in 2015.
The year brought critical recognition that the human rights of homeless Americans are being violated on a daily basis, and important new steps to protect them. But overall, as noted in the 2015 Right to Housing Report Card published by the National Law Center on Homelessness & Poverty (NLCHP), given the resources our country has, the continued existence of homelessness and housing instability is an affront to human rights norms.
First, the positive news:
After years of advocacy, the federal government took significant steps to fulfill its obligation to end the criminalization of homelessness and to address the importance of location for low-income residents. Of particular note in 2015, the federal goverment:
1. Began implementing its human rights obligations to end the criminalization of homelessness. Following years of advocacy by NLCHP, key federal agencies took significant steps to end the criminalization of homelessness, citing their human rights obligations as part of the context for their actions.

- The U.S. Department of Justice (DOJ) filed a strong "statement of interest" in Bell v. Boise, a federal court challenge by NLCHP to that city's anti-camping ordinance. The DOJ brief argues that criminally punishing homeless people for sleeping in public when there is no other place to go criminalizes the status of homelessness in violation of the Eight Amendment to the U.S. Constitution - and also constitutes poor public policy. This brief garnered significant media attention, and has already resulted in several communities amending or withdrawing plans for criminalization ordinances.
- In its annual notice of funding availability to distribute over $1.9 billion in federal homeless assistance grants, the U.S. Department of Housing and Urban Development (HUD) for the first time required applicants to explain how they are reducing the criminalization of homelessness, granting up to two points to applicants demonstrating that they are doing so.
- The U.S. Interagency Council on Homelessness (USICH) issued guidance on homeless encampments, urging cities not to forcibly evict their inhabitants but to connect them to housing and services instead.
- In addition, the Supreme Court issued an important ruling in Reed v. Town of Gilbert that has assisted homeless advocates in challenging anti-panhandling cases across the nation. Since then, based on that precedent, anti-panhandling laws have since been struck down in the 1st, 7th, and 10th Circuits, including in Norton v. Springfield, a case brought with the assistance of NLCHP.
2. Strengthened civil and human rights protections related to discrimination in housing; and
3. Supported UN Recommendations about poverty and housing.
At the international level, as part of its second Universal Periodic Review by the UN Human Rights Council, the U.S. government supported, in part, a recommendation from the Human Rights Council to guarantee the rights to adequate housing, food, health and education, with the aim of decreasing poverty, and supported fully recommendations to "[i]nvest further efforts in addressing the root causes of recent racial incidents," and to [a]mend laws that criminalize homelessness and which are not in conformity with international human rights instruments."
But, much more needs to be done...
In spite of the positive steps from these federal agencies, criminalization ordinances remain on the books in too many jurisdictions across the country. Congress has failed to pass the Permanently Protecting Tenants at Foreclosure Act, meaning crucial federal protections for renters expired and have not been renewed. Homeowners in Detroit and other cities are living without running water and sanitation and even losing their homes and children over an inability to pay the dramatically increased water bills. Moreover, years of neglecting affordable housing development at the local level compounded by ongoing budget cuts to HUD and other federal agencies have threatened the basic safety net for many people living in poverty even as real wages continue to drop. These cuts demonstrate the opposite of a human rights-based approach to housing.
The United States is passing, but barely.
The United States has taken important steps, but not enough of them, earning a collective grade of D+. So while we recognize progress--as we must, to build on it--the struggle continues. The U.S. can and must do better, and it will take all of our collective voices and sustained pressure to move forward until human rights become a reality for all in the United States.
To see the report card and read the full report, click here. To learn more about NLCHP, and to sign up for our free monthly e-newsletter, click here.