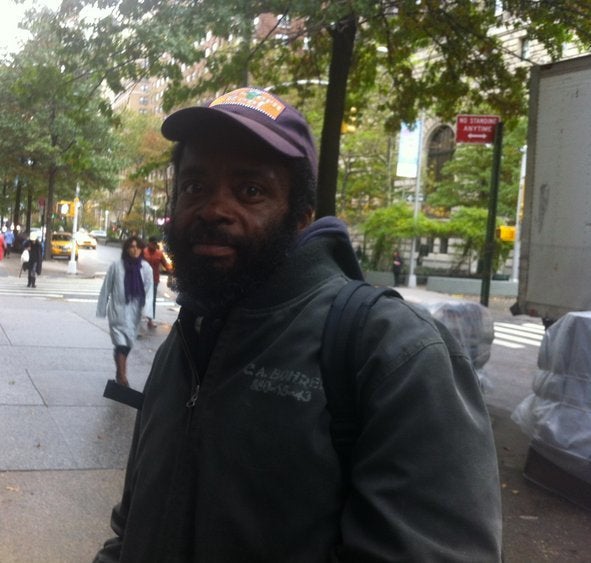 NEW YORK -- As Hurricane Sandy hurtled toward New York City on Monday, Eduardo Acevedo, 57, sat in an empty lot just steps from the Hudson River. Straight ahead of him was the overcast skyline of New Jersey. Behind him, a panorama of glassy, doormanned buildings owned by Donald Trump.
It was almost 12:30 p.m., and the city Department of Sanitation was shutting down Riverside Park, kicking out a group of hurricane gawkers from the waterfront. Acevedo had nowhere to go, so he parked himself on a slab of concrete owned by the city, associated with a nearby warehouse. "If I just sit here, I'll be okay. My ass is here tonight," Acevedo said, slipping his chapped hands into his pockets. Above him, the West Side highway thrummed with taxis. "If they don't see you lie down, they don't do nothing to you."
There are thousands of homeless people in New York City. On a given night, 51,000 sleep in city and private shelters, according to the Coalition for the Homeless. Thousands more sleep outside. So what happens to them during a storm, one that the National Weather Service has described as "life-threatening?"
While telling his life story, Acevedo reached into his shirt and retrieved his dog tag, a flat piece of metal interlaced with an ivory skull charm and a silvery Star of David. He said he served as a first sergeant with the U.S. Marines during the Vietnam War. Though he could go to a shelter, he chooses not to. "I wouldn't stay in a shelter," he said. "There, you go to sleep and you wake up without your shoes."
He takes solace in the open space of the lot. "I get very nervous around people because of PTSD," Acevedo said. He might have access to his family's old home on Staten Island, but since the ferry is docked, he's stuck. Acevedo wears a knit hat, two hoodies and a torn plaid jacket. That should keep him warm, he said. Then, he pointed to a black suitcase on wheels. "I'll be okay -- I have three more bottles of water and a DVD player to keep me busy." With that, he opened the trunk and pulled out a bootlegged copy of "Mission: Impossible -- Ghost Protocol."
Even as the Hudson whipped across the river bank, Acevedo said he wasn't worried about getting hurt. "Sweetie, are you kidding me?" he said. "I was in Vietnam. ... You know how many people got killed over there?"
Mayor Michael Bloomberg has been vocal about the city's attempts to keep the homeless safe, which include an extra 76 shelters for those in the city's evacuation zones. "An increased effort is being made to reach homeless on the streets," he said at a Monday press conference. Calls to a city representative and the city's homelessness agency were not returned.
The Coalition for the Homeless, an advocacy group, lauds the city's efforts. The city has created extra storm shelters, and as the coalition recommended, used shelters waiting lists to anticipate the capacity. "We don't know how it's going to play out, but so far, so good," said Patrick Markee, the organization's senior policy analyst. "The city has extra outreach teams going out. During situations like this in extreme weather, they can use extraordinary measures to remove people who have serious mental illness from the streets, who may not recognize they're in a life-threatening situation."
At least a few people, like Acevedo, have slipped through the cracks. The panhandlers who usually punctuate the stretch of Broadway between 72nd and 96th streets were nowhere to be found. No one sat on the outside benches of the 96th Street subway station. The man who usually sits outside of the 82nd street Barnes & Noble, wrapped in a blanket, was missing. No one was seen hiding in the subways, and the people using ATMs needed cash, not shelter. At the two McDonald's along that stretch, a few people sought refuge, including a tall, young man with seven brown bags. "I'm trying to take a subway eventually," he said. When he was informed the subway was closed, he said, "Well, I guess I'll just stay here."
Amid the dog-walkers and food-shoppers on 73rd Street stood Michael, a Harlemite hauling a black garbage bag filled with his belongings, and a clear one carrying empty soda bottles he said he plans to exchange for a few bucks.
While Michael said he has access to a homeless shelter in Harlem, he's avoiding it. "Those people, they have AIDS, they're always drinking, so I don't want to stay inside today," he said. Michael said he sometimes works as a handyman, and lived in an apartment in Brooklyn until he fell behind on rent. He said he plans to ride out the storm walking the streets of the Upper West Side. He's unconcerned with the weather, knowing only that "I'll be better off outside than in there." Michael said he is trying to get back on his feet, saving for a cell phone and business cards. "The things they do in there," he said, referring to the shelters, "they make me lose focus."
The city's homeless plan relies on outreach vans that are supposed to scoop homeless people off the streets and into shelters, but several said they haven't seen those vans. Liam, a man who shivered in a wheelchair under the East Side's Queensboro Bridge, said he recently suffered a brain injury. Even though a storm shelter was nearby, he hadn't heard about it.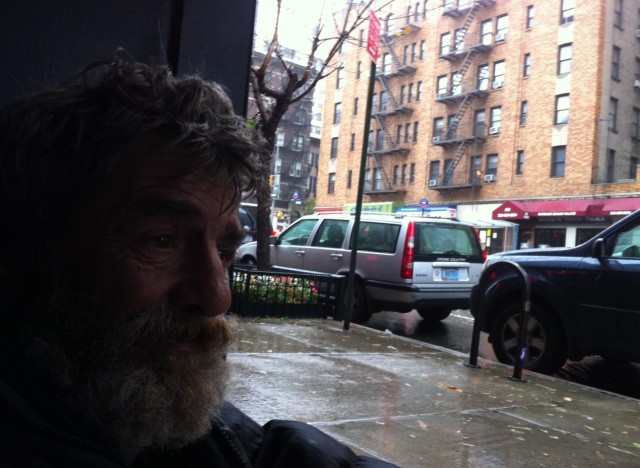 Carol prefers the outdoors to homeless shelters.
Carol, a bearded Romanian man on the East Side, said he also was staying away from homeless shelters. "The shelter is like jail, I've been there," he said, sitting on the stoop of a First Avenue hardware store as he watched over two plastic bags. "I can survive just like this."Â
Before You Go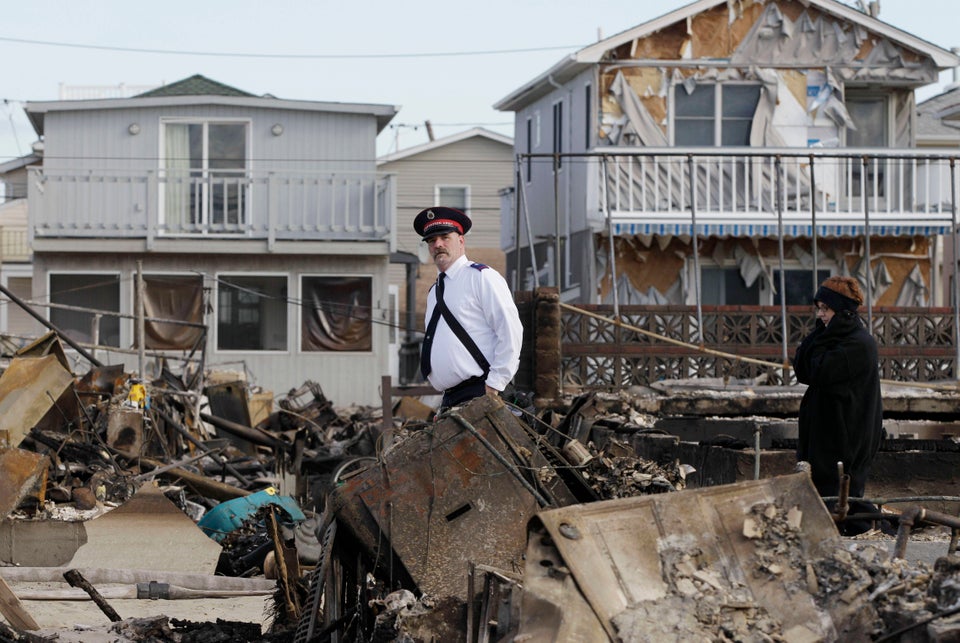 Hurricane Sandy
Popular in the Community