Head bowed and hunched, the elderly homeless man was rubbing his hands, calloused and swollen from frostbite, to create the illusion of warmth on that bitter cold winter's night. With a large backpack, carrying all his belongings, by his side, he was sitting on a bench in one of Budapest's tram stations, standing still and avoiding eye contact, while people were bustling around him, ignoring his presence. Each day, he moved to a different tram station to avoid being chased away or punished by the police. The man, surely over 65-years-old, was one of 30,000 homeless people in Hungary, a substantial portion of the country's 10 million population. The majority of them, around 10,000, live in Budapest, Hungary's capital city.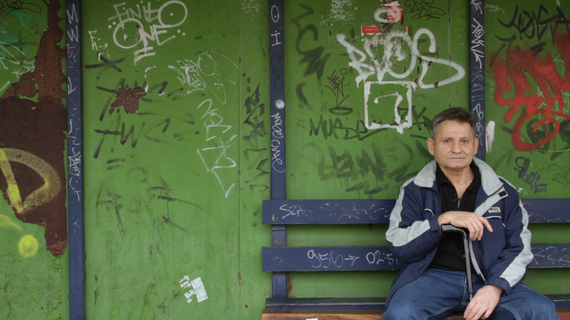 Homeless people in Hungary were criminalized through provisions included in the 2010 Law on Constructions and subsequently in the 2011 Law on Misdemeanors. The Constitutional Court struck down these sections of the law in 2012. However, the government amended the Constitution in 2013, to enable Parliament and local governments to create laws and ordinances re-criminalizing homelessness. The Hungarian government lost no time in doing just that, as it introduced the petty offense 'of infringing the rules of residing on public premises for habitation' in 2013. Local governmental ordinances followed suit.
According to Kata Amon from The City is For All, an advocacy group fighting to improve laws on homelessness and combat all forms of discrimination against the homeless, the Law effectively bans homeless people from many areas of Budapest, such as World Heritage Sites as well as those determined by governmental decrees. The law further enables local authorities to establish the areas of public premises, where homeless people are banned from living. Ms. Amon emphasized that the police plays a crucial role in implementing the law as well as other forms of discrimination and harassment against the homeless. She stressed: 'Policemen stop around 60 percent of homeless people and asks for ID papers once a month, even in front of shelters. They also prevent them from dumpster diving and begging, which are ultimately some of their forms of survival.' These findings were reported in a study conducted by The City is For All, in partnership with the Helsinki Committee.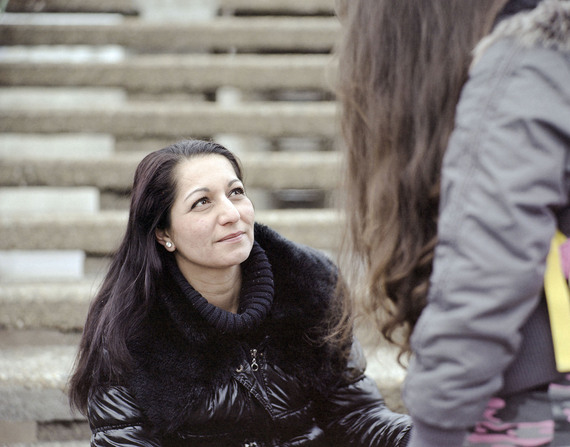 The latter also conducted a legal analysis of The Law on Misdemeanors, stressing that the Law dictates that individuals breeching its rules of using public areas for habitation will be sentenced to community work, between six and 180 hours, or will be fined. The fine can range between around $18 and $500, which is a hefty price to pay for individuals, who have such financial constraints that they cannot guarantee a daily meal for themselves. If unable to cover the fine, the individuals face confinement.
In our conversation, Ms. Amon, who was accompanied by two colleagues, Magdalena Beck and Laszlo Muranyi, who was formerly homeless himself, emphasized that the number of homeless people in Hungary might be higher than 30,000. This is because evictions that occur during the year from social housing and privately owned apartments and houses are not yet reported in the official statistics. Being evicted is one of the main reasons why people become homeless in Hungary. Ms. Beck further explained: "Hungary is facing a housing crisis. The renting prices are constantly increasing in Budapest, since many people, both Hungarians and foreigners, are moving in, while the renting sector in Hungary is very small, only 10 percent, which increases the market competition. Ms. Amon added: "The demand for rented apartment could have also risen due to the fact that people who had bought their apartments through mortgage loans in Swiss franc and could not pay the interest rate, had to move to rented apartments. With the average salary below the average European standard, this makes it very difficult for many Hungarians to pay their bills."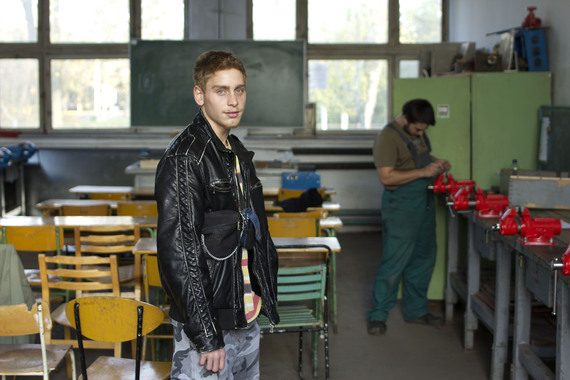 When people become unemployed, this is an even greater problem. Ms. Amon stressed: "There are two types of social assistance. One is housing assistance, based on the size of the apartment that the person owns, while the other is debt relief assistance. They were both provided previously from the central budget on the basis of the Social Assistance Act of 1993. Last year, however, they were relegated to local governments, which have the authority to decide whether or not they create any kind of housing or debt relief support for their residents. Even when they offer assistance, which is not always the case, the amount is very small, usually around $10, that is not very helpful given the substantially high costs of rent and utilities. This lack of assistance means that people quickly end up on the streets."
Despite the fact that so many people are living on the streets of Budapest, there are tens of thousands of vacant apartments in the city that could be renovated and transformed into social apartments or social institutions, such as shelters for abused women and mothers. This would be beneficial even for the private owners of buildings that are currently empty and simply rotting away. The City is For All annually organizes The Empty Apartment March, encouraging governmental officials and local authorities to put these houses to use on behalf of those who need them most. In 2016, in an effort to convince the authorities to heed their suggestion, The City is for All has been researching how much it would cost the government to allow homeless people to live in social housing.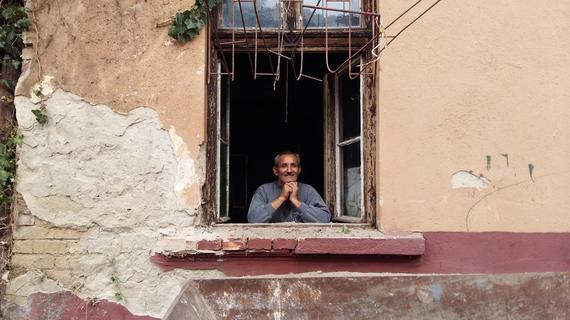 One organization, called Utcarol Lakasba, is already doing just that at a small scale. Working with the support of local authorities, it is renovating state-owned houses for homeless families to move into. The organization is currently working in the 10th and 19rd districts of Budapest, but it is currently in talks to expand the other ones as well. The families that the nonprofit helps are in the final stages of reintegrating into society, usually already gaining some form of stable income. The homeless people have to apply for these houses, stating why they are ready to move in. The buildings are renovated with the help of volunteers and the homeless people themselves, which gives them an added sense of ownership.
In 2016, Utcarol Lakasba has been helping nine families. Among them, two moved to their new houses in March: a mother with five children and two brothers. The leader, Vera Kovacs, admits: "It is a wonderful feeling to empower people to gain their first house. Many of the people we help live in communal shelters, where they also pay rent, but have to live with several other people. In many ways, it is much better to have a place of your own." The number of homeless people the organization helps secure housing remains small, but Ms. Kovacs stresses that her nonprofit is interested in being a replicable model for other for other nonprofits to provide similar services. Apart from helping people gain access to housing, Ms. Kovacs stressed that her organization also fights against and has prevented the local authorities' decision to demolish self-built shacks on the outskirts of Budapest, especially in the Kobanya district. "These houses don't have facilities, like heating or electricity, and are made from unsustainable materials that the people collect themselves. But, at least, they provide these people and families a dry location to sleep in. We sometimes help them by providing them small electricity heathers and other small donations.'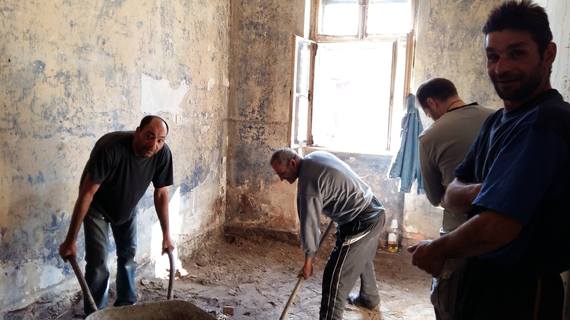 Saving these houses has been achieved through sit-ins organized with The City is For All, which have in the past drawn substantial media attention to the cause and thus put pressure on the local government to change its decision. Lastly, with a long-term vision in mind, Utcarol Lakasba advocates alongside local authorities to design better policies to increase the number of homeless people that have access to housing and smoothly reintegrate themselves in society.
An essential step for homeless people to reach the level where they could afford social housing is securing sustainable employment. Ms. Amon emphasized that the shelters often do not provide them assistance in finding employment. The leader of Oltalom, one of the shelters that I visited, Andras Rakos, stressed that they provide them limited employment assistance, given some of the negative experiences that both employers and homeless people have experienced. He recounted: "Sometimes, the employers hire the homeless for a day, but then refuse to pay them. And there isn't anything that we can do about that."
However, there are organizations in Budapest whose entire mission is focused on helping homeless people gain access to sustainable jobs. One of them, Van Esely, helps them by providing them work tools and skills. Like Utcarol Lakasba, they also provide assistance based on applications that they receive. The requirement is the pairing between a social worker and a homeless individual, working together to focus on achieving one specific goal. Peter Breitner, the nonprofit's president, emphasized: "Since we were founded 15 years ago, we have helped more than 200 people find stable jobs, with a success rate of 80 percent in all our cases. Our support ranges from providing mopeds for transportation to support from obtaining a drivers' license or nail polishing courses." The staff at Van Esely meet regularly with the social workers and homeless people to ensure that they are on their way to achieving their goals. Most of the people they support end up moving from shelters or the streets into social housing.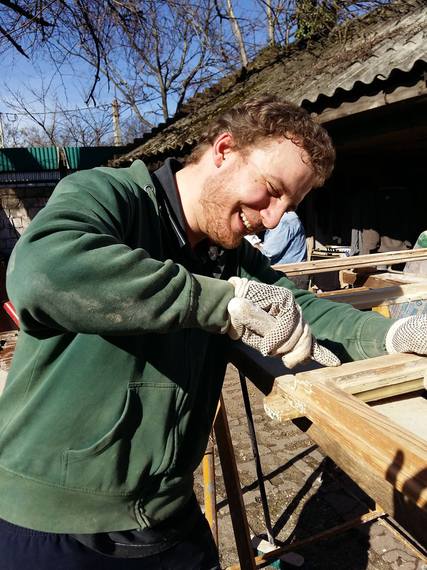 Van Esely is simultaneously striving to shape the general public's perception of homelessness and engage it in supporting those in need. It launched a video campaign, entitled 'The Real Faces of Homelessness,' depicting homeless people and their predicaments. According to Levente Resz, the co-president of Van Esely, the organization is also striving to combat stereotypes of homeless people, instead presenting people simply as human beings. Some of these videos were distributed in the Hungarian media. The organization launched a crowdfunding campaign, where Hungarians could make small contributions to support homeless people's cause.
While many of the homeless people are striving to build their skills and reach a point, where they can find a long-term job to support themselves, many of them remain dependent on shelters for places to sleep at night. Ms. Amon stressed that shelter conditions are not encouraging: "There is substantially more need than beds available, so people are sleeping everywhere. Sometimes people steal others' meager belonging. There are often bed bugs and cockroaches. The homeless are not allowed to stay in the center during the day and are not given any food."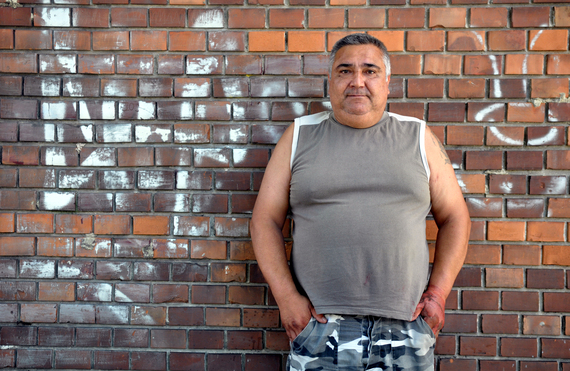 While this latter point may be true for other institutions, it was not true for Oltalom, the shelter located in the eight district, that I visited. 'The shelter offers a warm lunch each day to all the needy," Mr. Rakos said. Some organizations supplement the work of shelters like Oltalom by providing occasional food support for the homeless. For instance, Let's Help Refugees Together, a small nonprofit focused on assisting refugees, offers once a month a hot meal to homeless people close to a metro station in the eight district, one of the poorest in Budapest. Luca Laszlo, the organization's President, emphasized that the meals are prepared by volunteers working together in a community center, which has kitchen facilities, with items donated by the organization's supporters.
Apart from the night shelter and lunch, Oltalom also offers washing services, so that the homeless people can keep their clothes clean, as well as a day room, where they have access to television and Internet. The center also has a medical ward for homeless people who are terminally sick. "We have about 20 beds available in this section. It is for people, who are beyond hope. Many of them come here to spend the last days of their lives and die in a bed," Mr. Rakos explained a devastating reality. Oltalom also has a separate section for homeless women. No children are allowed in the center.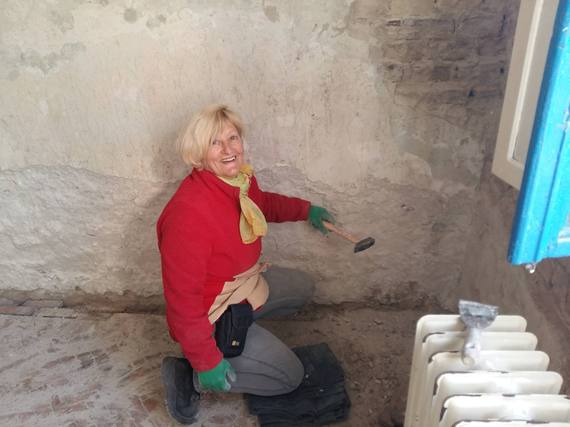 Preventing the separation of children from their mothers is an enormous issue facing homeless mothers and one that The city is for All is advocating alongside the local authorities. Magdalena stressed that the gender-based disparities between the homeless experiences of men versus women have yet to be analyzed and adequately addressed. There is a desperate need for the creation of crisis shelters for women escaping domestic violence, where they could also take their children. "At the moment, these women have to go to regular centers, where they are separated from their children, adding a new layer to their trauma," she explained.
The general Hungarian public has yet to actively support the homeless. Fundraising efforts like the one launched by Van Esely on behalf of the homeless are still welcomed with limited support from the general public, while The City is For All manages to draw crowds of around 200 people for its largest events, a small number given Budapest's almost two million population. Luca Laszlo from Let's Help Refugees Together is nevertheless optimistic: "The refugee crisis that happened last summer and fall mobilized Hungarians, who are overall not charitable, to care and become actively involved in supporting those in need. Since the crisis started dwindling in Hungary, we have tried to maintain that momentum and interest and continue engaging people in international and local charity, including for the homeless. At the moment, there is great potential to establish a charitable spirit and civic responsibility in Hungary, which could radically reshape society."
Related
Popular in the Community