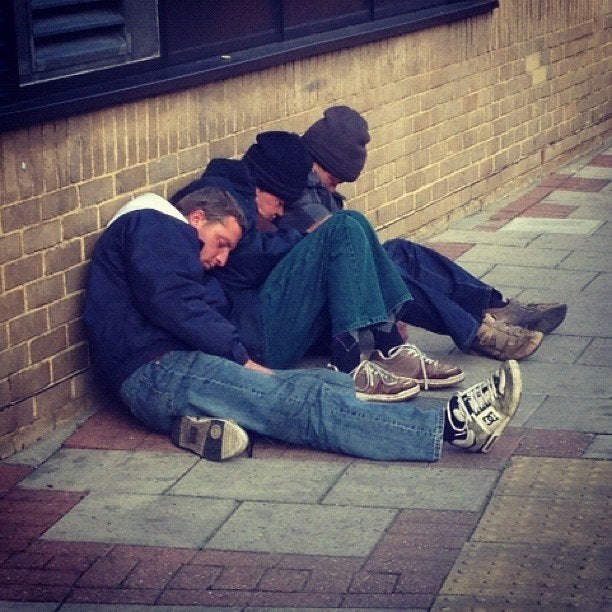 I don't know about you, but it has surely been hot enough for me in the last few weeks. This reminds me of living in New England on the sweltering days of summer that none of us ever seemed to get used to. Somebody would walk into the office in the morning and ask the perennial question, "Hot enough for you?" wiping a smirk off their face. Of course there would be the winter version "Cold enough...?" and the occasional "Icy enough...?" after a particularly treacherous commute.
Anyway, back to D.C. and the heat. Most of us know what we're going to do when the temperature is expected to go over 95°. Our self-preservation engines kick in and we start to plan in our minds how we're going to get through the day with the least discomfort possible. That's because we have money in our pockets that gives us access to air conditioned malls, restaurants, movies theaters and other cool places -- anywhere with an independent film showing is good for me. But for the homeless folks around us, this is not always the case, and the heat can be even more dangerous than the cold. Maybe because it sneaks up on you and you don't quite know you're being affected by it until it's too late. Add the physical and mental strain of living on the street and you have a pretty lethal combination.
When the heat index is 95° or above, the City calls a hyperthermia alert and activates some resources like cooling centers to help people on the street get through the day safely. And, the outreach teams sponsored by homeless services organizations like Friendship Place scour the neighborhoods to look for people in need. These are folks who don't seem to know about hyperthermia resources or are simply not well enough to get to the cooling centers on their own.
Proper hydration is the key to making it through this kind of weather. This is why your neighborhood outreach service provider -- the organization that serves the homeless in your neck of the woods -- usually packs its vans with bottles of water to be handed out by staff who are trained to engage people on the street and recognize life-threatening conditions. In cases where more than a visit to a cooling center is needed, a street outreach team is backed up by the District's CPEP group -- highly qualified professionals who can be dispatched very quickly to check on somebody who might need medical or psychiatric attention. Sometimes it's a foot infection exposed to the heat that actually leads to a medical or psychiatric admission followed by a shelter or housing placement.
So, as you're walking by someone sitting on the sidewalk wearing a winter coat in 90° weather and wondering what you should do, here are a few tips:
Pack an extra bottle of water or two for that person in need on your way to work in the morning. By the way, make eye contact as you engage so as to acknowledge this person as another human being. You won't want to miss the smile you'll get in return, either.
Get familiar with local resources available to people during summer heat waves. Call 311 for cooling center locations near you. D.C. residents should call the hyperthermia hotline at 202-399-7093 if someone is in need of transportation to a cooling center.
Find who your neighborhood homeless services provider is and make a call to ask for help on behalf of someone on the street, or just to ask how you can get involved.
When the temperature climbs, there are many different ways you can be a friend to someone who is homeless and doesn't have the resources to stay safe and comfortable. The action you take could save a life... and will surely contribute to building a more humane and compassionate city.
Calling all HuffPost superfans!
Sign up for membership to become a founding member and help shape HuffPost's next chapter