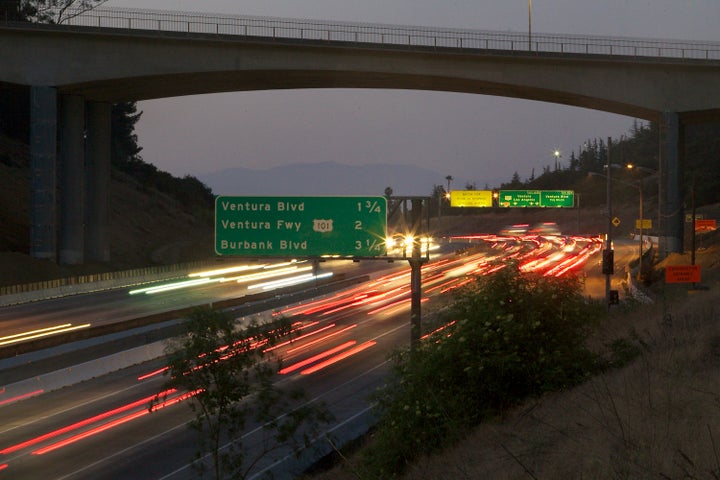 Great art makes you stop and think and ask questions; the type of questions that keep us human and guard the common good of our society.
That is exactly what happened for me when I visited Christopher Chinn at his one-day installation on skid row in Los Angeles, where I spent about an hour talking to him about his vision for this project.
Chinn has a Masters Degree in Fine Arts from USC and is Associate Professor of Art at Long Beach City College. His first studio after finishing graduate school then years ago was a loft in downtown Los Angeles, just south of skid row. As he tells the story,
There were four homeless people living in the long walkway to our new front door when we moved in. It was very difficult to witness everyday the living conditions of those on the streets. I realized pretty quickly after moving there that it was something I was going to have to deal with. I came to the conclusion that the best way for me to do that was with my artwork. It was also pretty hard to see how paintings of pretty people leisurely reclining on beautiful hardwood floors, saturated in sunlight, could be relevant when thousands were outside my door reclining in filth on the streets for years on end. My previous painting lost all meaning for me, and I realized that I wanted my work to directly engage real social issues.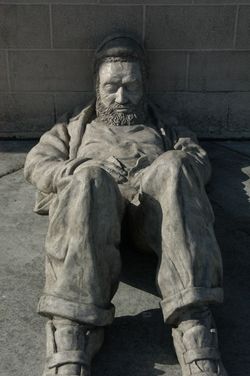 He began talking to homeless men and women in his neighborhood and listening to their stories. Little by little he sought their permission to be the subjects of his paintings. The result is nothing short of remarkable. His paintings reveal the humanity of our homeless neighbors. Every wrinkle and scar tells a story.
These images are startling and shocking. They stop you in your tracks. Chinn tells me he has always had a hard time selling his work, or even getting galleries to exhibit it. After all, who wants to put an enormous painting of a homeless man in the waiting room of their law office or their corporate board room? Perhaps a larger-than-life sculpture of a homeless man lying on the sidewalk or sitting on a park bench to grace the lobby of a bank? Nor is it the kind of painting or sculpture you can imagine placing in your living room.
Chinn is now branching out into sculpture. Adding the third dimension only makes his work more arresting and powerful. The viewer relates to this work in a completely different way. As pedestrians walked by I watched them interact with the sculpture -- talking to him, offering him a beer. The public nature of this sculpture raises other important issues as well. Chinn envisions this and future sculptures being permanently installed around skid row and other parts of the downtown Los Angeles.
The idea that the work would get beaten up, cracked, tagged, and generally weathered is definitely a part of this project. That kind of wear and tear on the sculpture is akin to the beating that those living on the streets take year after year. The interaction with the public is directly a part of the art for me. The actual sculpture is a catalyst/vessel for those kinds of reactions. Homeless people get beaten up both by each other and "normal" housed citizens. They are also, in a way, a part of the urban landscape, and I would like to see the sculpture disappear into that landscape with them. When you are on your way to your car, you do your best to not see them. I am working on making that happen.
Chinn's commitment to his work goes beyond the aesthetic. He believes that his art can be a part of challenging people's attitudes and choices. Ever mindful of exploiting his subjects, he is committed to transforming his city into a more just and equitable place where all human life can flourish. By drawing attention to the grotesque, dark side of our society, Chinn hopes to raise important questions about economic power, civic responsibility and democracy, which need our constant attention to thrive. But this is precisely where we need the most help -- in keeping our attention on the thing that we most want to turn away from.
You can be a part of raising these important issues about our common good, particularly for the most vulnerable members of our society. Consider making a tax-deductible donation to Chinn's future sculptures and keep this conversation going.
Related
Popular in the Community