The story of a homeless man's unconditional love for his sick dog has triggered an outpouring of support for the dog and his down-and-out owner.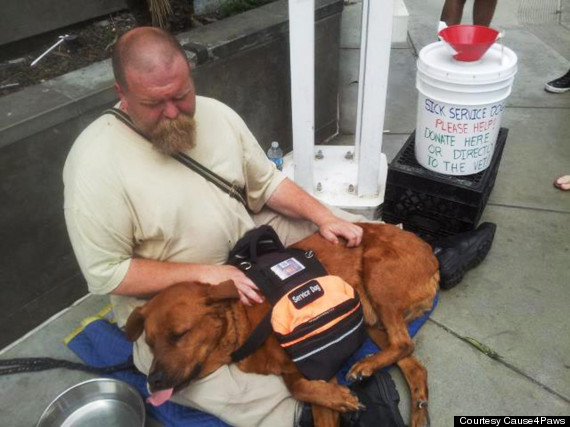 (Charles Gilliam with his dog, Big. Photo credit: Cause4Paws)
Gilliam is said to have then visited a veterinarian, who told him that his dog had a "large inoperable tumor" and that Big should be euthanized.
Refusing to give up but resigned to the worst, Gilliam returned to the streets with Big, and began asking people if they would donate money to help save his pet.
Fortuitously for Gilliam, model and animal rights activist Jasmine Dustin saw the pair.
"On Saturday morning I met this homeless man…who was sitting on the side of the street not begging for money but asking to help save his dog," Dustin wrote on her Facebook page on April 30. "Instead of collecting money he was handing out the vet's card. Charles lives on the street with nothing but his companion Big. His dog is very sick and needs surgery ASAP."
Soon, Dustin, along with rescue group group Cause4Paws, had helped raise hundreds of dollars. Big was taken to the Pet Care Veterinary Center Chesterfield Square in Los Angeles.
Incredibly, Gilliam learned that the original prognosis had been wrong and that while Big was indeed sick, he was not on the brink of death.
"The ultrasound showed that Big had no tumors," said Alex Tiraki, supervisor at the veterinary center, according to Life with Dogs. "[But] Big does have stones in his urinary tract and has arthritis."
Tiraki added that Big should be put on a special diet and prescribed medication for his ailments -- a need that has since been generously filled thanks to the money raised by Dustin.
In another awesome twist, Dustin says that Gilliam and Big are now off the streets.
"Charles has a place to live in South Los Angeles," Dustin told The Huffington Post on Wednesday. "He found a place on his own, which is wonderful."
Dustin added that Gilliam is now planning on paying the goodwill forward and that she and Gilliam will soon be visiting Skid Row, an area in Los Angeles notorious for high levels of homelessness, to "find other Charles' and Bigs to help."
"From what I've seen he's got a huge heart and lives to help animals," she said.
For more information or if you want to help Charles Gilliam and Big, visit the Cause4Paws website or contact Pet Care Veterinary Center Chesterfield Square at (323) 294-4030.