A homeless man's life is about to drastically change after California officials voted to give him a $100,000 reward for helping capture two dangerous fugitives in San Francisco earlier this year.
Orange County officials unanimously voted Tuesday to recognize Matthew Hay-Chapman after he spotted Hossein Nayeri, 37, and Jonathan Tieu, 20, outside of a McDonald's eight days after they escaped from an Orange County jail.
The 55-year-old, who said he lives in Golden Gate Park, was about to get a cup of coffee from the restaurant on Jan. 30 when a suspicious looking white van caught his eye, ABC 7 reported.
It matched one that had been reported as stolen by Nayeri, Tieu and a third fugitive Bac Duong, 43, only days earlier.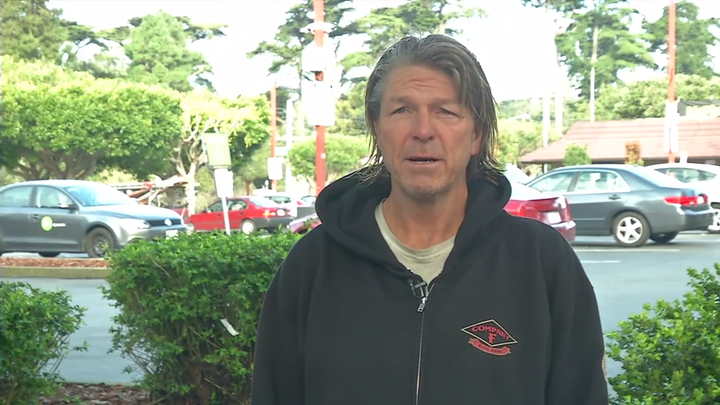 "I noticed people were sleeping in there cause the windows were all steamed up cause of heavy, heavy condensation," he previously told the station. "I thought to myself, there are two people in that van cause I used to live in a GMC van many years ago when I had a job. Then I looked at the plates. No plates."
Hay-Chapman, who said a back injury has left him unable to work, was studying the vehicle when he saw Nayeri exit. Almost immediately he recognized his face from newspapers taken from trashcans.
"I studied the man ... because I wanted to be 100 percent sure before I go and alert the authorities," he told the San Francisco Chronicle of that heart pounding moment in an interview last month. 
Not having a phone to call for help, he said he started to hurry on foot toward the nearby police station. On the way there he spotted a passing police car and flagged it down with his cane. 
Once the officer got a good look at Nayeri, it sparked an immediate chase -- as luck would have it, right toward the police station.
After Nayeri's capture, Hay-Chapman led the officer back to the white van where they found Tieu inside.
Prior to their Jan. 22 escape, Nayeri was being held on aggravated mayhem, kidnapping and torture charges. Tieu was being held on gang-related murder and attempted-murder charges.
"Mr. Hay-Chapman's information directly led to the capture of Nayeri and Tieu," the county's Board of Supervisors stated last month while recognizing his actions. "His assistance protected public safety by giving law enforcement information it needed to take dangerous fugitives off of the streets and put them back behind bars."
Speaking to the Chronicle a few days after the pair's capture, Hay-Chapman said he was aware of the potential reward money but said, "that didn't matter." 
"I was just doing the right thing," he said.
Still, when asked what he'd do with the money if rewarded, he told ABC he'd use it to start a new life for himself and his two adult children and grandchildren.
His 33-year-old daughter suffered a brain hemorrhage at birth and was left severely disabled. His 30-year-old son has meanwhile struggled with drug addiction, so much so that it led to him losing custody of his two children, he told the Chronicle.
Before suffering a back injury, Hay-Chapman told the Chronicle that he was a carpenter, a heating and air conditioning installer, a vault locksmith and worked as a hotel night manager.
Last week the board approved awarding three others with $50,000 between them for providing information in the case. Hazel Javier will be given $15,000, Jeffrey Arana, $15,000, and Armando Damien, $20,000.
REAL LIFE. REAL NEWS. REAL VOICES.
Help us tell more of the stories that matter from voices that too often remain unheard.
BEFORE YOU GO