After snow snarled a Colorado commute, a homeless man's kind acts were caught on camera. Now, he's receiving an outpouring of generosity in return.
Local news station KOAA filmed Shelby Hudgens, a homeless man, helping to push strangers' cars up a hill during a snow storm in Colorado last weekend. The deed moved many viewers and one of them, Sarah Webster, set up a GoFundMe page to help Hudgens out. The fundraiser was created on Monday, and, as of Friday morning, people had donated more than $8,000.
Hudgens said he was shocked.
"I'm amazed" he said in a video uploaded to YouTube. "There are no words that can express the gratitude that I really have for all of this."
Hudgens was left homeless after his house burned down in November and has since been living in his car with his dog, Black Jack, according to the fundraising page. After word of his compassion spread, strangers contacted the man with offers to help. According to the KOAA, one viewer paid for a hotel room for the man, and another even offered him a job.
Hudgens says he appreciates all the kindness he's been receiving and hopes that with the fundraising money, he can work toward a new beginning. He plans on finding an apartment he can stay in with his dog and eventually starting school so he can pursue his passion -- a career in the medical field -- the fundraising page indicates.
And while Hudgens remains humble, Webster told KOAA that he deserved it. She said she wishes others were more like him.
To learn more or donate to help Shelby Hudgens, visit his fundraising page here.
Related
Before You Go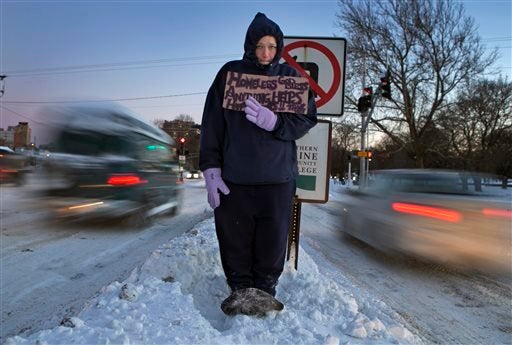 How To Help Homeless People This Winter