One homeless man's determination to get a job worked out in the best way all thanks to the Internet.
Frederick Callison, a former line cook, has been homeless for about two years in Sacramento, California, CBS Sacramento reported. The 52-year-old has been handing out his resume to shoppers outside a grocery store.
One of them, 25-year-old Michael Marteen, was impressed by the man's will to get a job and posted Callison's resume on Facebook late last month. Happily, the man was recently offered a job at local restaurant Pizza Rocks, all thanks to the Internet.
Callison moved to the area in hopes of becoming a line cook for the Salvation Army, according to Today.com. However, he was left homeless when that didn't pan out.
In addition to the resume, the 52-year-old carried around a food handlers certificate, his Social Security card and ID, he told CBS Sacramento.
"I am handing off my presentation of myself of what I'm trying to achieve and what I'm trying to do," he told the outlet. "Because I don't want to be out here."
Marteen, who was with his fiancee and kids, was moved by the sight of Callison handing out his resume and gave the 52-year-old a bag of ravioli, chips, a sandwich and a jug of water before sharing Callison's story on social media, according to the post on Facebook.
"I've been in situations where I had nothing and had to bust my butt to get work, and there he was doing that, so I have a lot of respect for him," Marteen told Today.com.
Marteen has since started a GoFundMe page to help with some of Callison's basic needs in this new chapter in his life. And though it's been a long time coming for the 52-year-old, who is currently staying with a friend, he was appreciative for his fresh start.
"He was ecstatic about landing a job and very grateful for the opportunity," Marteen told Today.com. "He was up the night before studying the menu for hours."
To learn more about Callison or to donate to the GoFundMe page created for him, click here.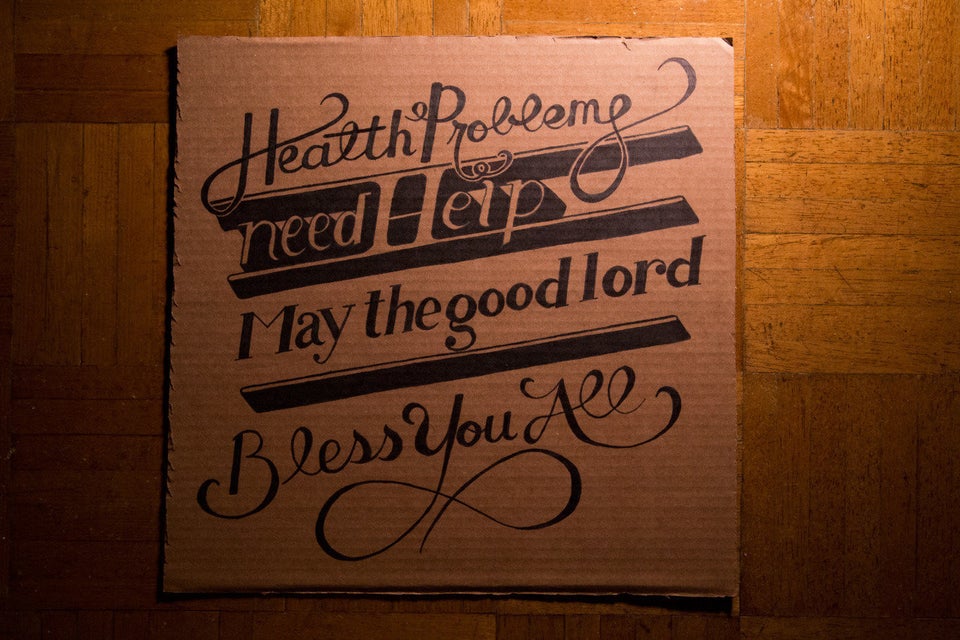 Artist Redesigns Signs For Homeless People