When celebrities read mean tweets about themselves, it's funny. When homeless people do it, it's heartbreaking.
In a powerful PSA by Canadian advocacy group Raising the Roof, people who are dealing with homelessness read actual tweets written about those living without stable shelter.
"Maybe if homeless people took care of themselves, looked pretty, we would want to help them," Kubby, a man in the video who has been homeless for 47 years, reads. "I don't help yellow teeth."
"Never understand why homeless people smell of piss when you can literally piss anywhere," another man named Kim, who's been homeless for three years, reads.
The PSA -- which appropriates the "Jimmy Kimmel Live" segment that has featured entertainers, athletes and even President Obama -- aims to "remind [viewers] the conversation around the issue needs to change," according to Raising the Roof. The organization is using the #HumansForHumans hashtag to promote the video and keep its message spreading on social media.
To learn more and support Raising the Roof, visit the organization's #HumansForHumans website.
To take action on pressing poverty issues, check out the Global Citizen's widget below.
Related
Before You Go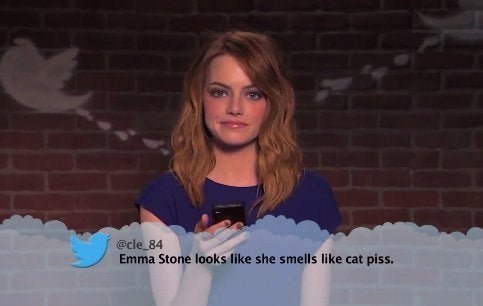 Celebs Read Mean Tweets