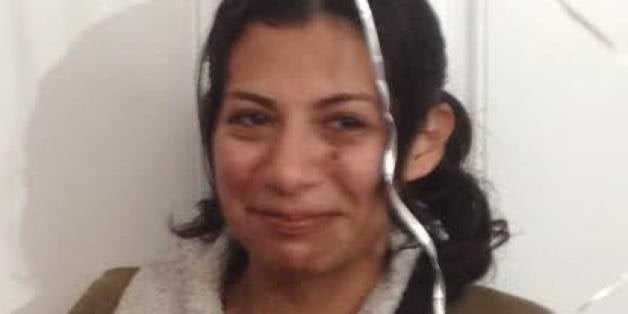 Crystabel overwhelmed by amazing holiday surprise (above). Photo: Mark C. Miller Courtesy of: Mark C. Miller
Say you arrive one day for an important job interview, but find there's no job, no interviewer and no office. Instead, as soon as you open the door, you find festive balloons and 20 people in an apartment shouting to you, "Welcome to your new home!" The 20 include camera crews and reporters from three news stations covering the story, the apartment owner who's donated the apartment rent-free for six months, a couple who provided the food, professional chefs who've prepared a gourmet meal for you, a bottled lemonade company providing the drinks, and a professional singer there to entertain you.
It sounds like a terrifically enjoyable dream or Hollywood movie fantasy, but it really happened exactly that way in a residential neighborhood in Hollywood, at ten in the morning on December 21, the first day of winter, to a twenty-something Hispanic woman named Crystabel, who prefers not using her last name since her daughters are in foster care. A crystal ball is used by psychics to see into the future. But surely Crystabel could never have predicted this day. Nor when she was younger could she have predicted all she's endured the last couple of years, from becoming homeless, to losing her job, then losing her children, to living out of a borrowed truck as she attempted to eke out an existence selling things on eBay.
It was at this lowest point for Crystabel that she was brought to the attention of independent news producer Mytchell Mora. From 1998 to 2010, Mora produced over 165 news stories for Fox News' Undercover Unit. Mora's investigative stories have led to the arrests of a sexual predator, a murderer and doctor whose negligence led to patient deaths. And now, Mora wanted to help. He contacted Kameron Segal, president of William Holdings, Inc., a Los Angeles property management and acquisitions company. Segal agreed to allow Crystabel to live in one of his $1,200-per-month East Hollywood apartments, rent-free, for six months. The apartment includes a refrigerator, full bathroom, secured intercom entry phone system, and laundry facilities inside the building.
Mora contacted others, who agreed to help in other ways. Ira Mandel, president of Fortress Jets, donated the food, furnishings and bath items. His wife, Jenny, and their two young daughters, showed up to help get things in order. Chef Pieps of Naked Catering and Chef D' of Soul D'licious, provided the mouth-watering brunch, and Hubert's Lemonade donated the drinks. A professional singer regaled the gathering with a heartfelt rendition of the classic, "Have Yourself a Merry Little Christmas."
Mora arranged to escort Crystabel to the location for her "job interview" at 10 a.m. As she walked in and was immediately greeted by the room full of people, the media, balloons, fragrant cooking aromas, and the shouts of "Welcome to your new home!", it was clear that Crystabel was genuinely surprised--and moved. Mora let her know that the apartment was now hers. She was overwhelmed, as were all witnessing the scene.
For those wishing to help Crystabel and her children further with any donations or job offerings, please email her here. She has a degree from Pasadena City College and is experienced in payroll/accounting and accounts payable work.
Crystabel is just one person and helping her amounted to a drop in the bucket when you consider the multitude of needy people in Los Angeles. Yet what better demonstration of the holiday spirit of giving and caring, of offering hope? It brings to mind the quote often attributed to Dr. Seuss: "To the world you may be one person, but to one person you may be the world."
View the CBS Los Angeles news story about Crystabel here.
REAL LIFE. REAL NEWS. REAL VOICES.
Help us tell more of the stories that matter from voices that too often remain unheard.