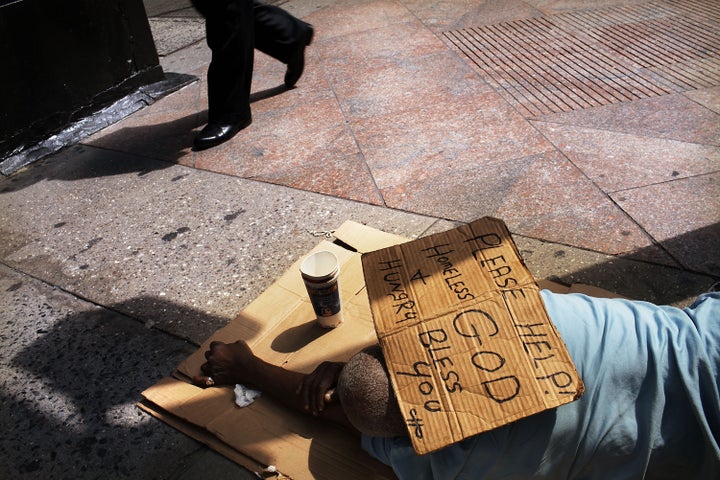 NEW YORK -- When Occupy Wall Street protesters took over a park in Lower Manhattan this fall, they drew attention, perhaps inadvertently, to a problem playing out on the very lowest end of the economic spectrum: Homelessness.
Their cardboard signs demanded all sorts of political and economic reforms -- increased financial regulation, taxes on the rich -- but perhaps the starkest and most complicated indication of the economic problems they drew attention to was a scene unfolding in the park itself, where many people had come to avail themselves of shelter, food and clothing that they could not find or preferred not to seek elsewhere.
Reports spread that some homeless people gathering at the Zuccotti camp were causing problems, both for the protesters and for the surrounding area. Mayor Michael Bloomberg said he had to clear out the encampment over "safety concerns," such as reports of EMTs responding to homeless people with mental illness.
But some people saw these issues as indicative of a failure on Bloomberg's part to provide the city's homeless population with the resources it need.
And now advocates for the homeless and lawmakers are taking aim at Bloomberg's policies.
The Bloomberg administration is contending with a lawsuit from the City Council over new regulations that would require single people wishing to enter a shelter to prove they have no where else to stay -- such as a friend's or relative's home. The councilmembers argue Bloomberg did not follow proper procedure in making the change.
Democratic councilmember Brad Lander said the city has an obligation to provide shelter during the extended economic slump. Instead, Lander said, "what [the Bloomberg administration] want[s] to do is bar the door. What an awful time to be a Grinch."
Patrick Markee, senior policy analyst for the Coalition for the Homeless, said he was glad the Council is suing Bloomberg over the homeless policy at a time when they're seeing record numbers of families in shelters.
"Instead of responding to this crisis by providing affordable housing assistance and embracing proven solutions to the problem of homelessness," Markee said, "Mayor Bloomberg has proposed punitive rules that will close the shelter door to thousands of vulnerable people, including homeless adults living with mental illness."
Frank Barry, an aide to Bloomberg, said the city's policy will provide better outcomes for homeless people in New York.
"The public policy goal here is to make sure that people have shelter," Barry said. "If there is the possibility of having shelter and staying out of the shelter system -- keeping them connected to family and friends -- it's a better outcome for the individual and for the city."
But Wayne Starks, a board member of VOCAL-NY, a homeless and HIV-patients advocate group that has supported Occupy Wall Street on some demonstrations, said Bloomberg's policies are making it impossible to get out of the cycle of being homeless.
VOCAL assisted in Occupy Wall Street's protest targeting foreclosure on Dec. 6, during which protesters occupied a home that had been vacant for three years in Brooklyn. According to VOCAL, family homelessness has increased by about 45 percent since Bloomberg took office.
"The rate of homelessness in New York City is way way lower in what it is probably in any other major city," Barry said when asked about that statistic.
Nearly 29,000 homeless families slept in New York shelters last year, and there's currently 41,000 people in the New York shelter system, according to data from the Coalition for the Homeless. But New York City has 53,187 homeless people, according to the latest information from the U.S. Department of Urban Housing and Development, far outnumbering the available beds in shelters.
Sean Barry, the executive director of VOCAL, said homeless people were certainly present at Zuccotti Park prior to the eviction, but he argued they were integral to the camp rather than being "hangers on," as many of the media reports described the homeless population in Zuccotti at the time. Now, he said, they have nowhere to go.
"The homeless population in New York is really disproportionally LGBT youth," said Sean Barry, no relation to Bloomberg's aide Frank Barry. Many face employment discrimination or get kicked out by their parents, VOCAL's Berry continued. Since the eviction, the OWS Housing Committee has reported having trouble finding shelter for all sorts of former occupiers, including that some pregnant women have been turned away from staying at churches.
This is not the first time this year that advocates for the homeless have criticized Bloomberg's policies. In the spring, the city ended its Advantage program, which offered rent subsidies to newly-employed homeless citizens, in response to New York state budget cuts.
Advocates argued it is cheaper to subsidize rent than to admit the same number of people into the shelter system. According to the Mayor's Management Report, it costs near $38,000 to house a homeless family for a year in a shelter, versus spending up to $1,000 a month per person in the Advantage program.
Yet Bloomberg insisted that phasing out the program without replacing it with a federal program would not increase homelessness in the city. But the homeless population and average length of stay in shelters are both up in New York City since May, according to the Coalition for the Homeless.
People don't turn towards shelters and housing assistance unless they truly have no other choice, VOCAL's Sean Barry said.
"Lives [of the homeless] are some of the most extreme examples of 99 percent."
Calling all HuffPost superfans!
Sign up for membership to become a founding member and help shape HuffPost's next chapter