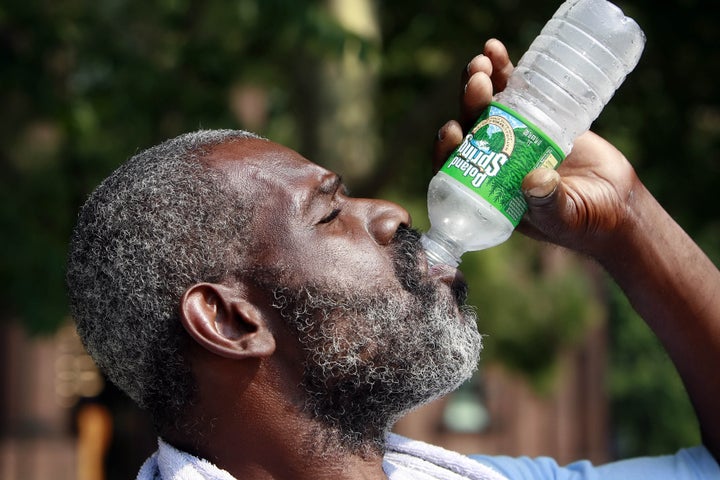 As summer approaches, warmer temperatures bring along a whole set of survival concerns for the homeless: how to stay cool and hydrated in the heat.
Homeless organizations are now getting prepared for the summer and the necessary care that comes with it, including setting up respite centers and distributing water to those in need.
Being prepared for the heat is especially important in a desert climate like Phoenix, where high temperatures climb above 110 degrees for much of the summer.
According to Ken Waters from the National Weather Service:
"Heat is not just a problem during the day. The low temperatures can also be very oppressive, often staying in the 90s. ... In the evening people can't get relief."
In such intense conditions, long-term exposure to the heat could be fatal.
In cases of extreme heat, Waters, a Warning Coordination Meteorologist at NWS's Phoenix bureau, and his team issue heat warnings to the region.
The city of Phoenix has two programs in place dedicated to keeping people safe and hydrated when temperatures rise. The Heat Relief Network, the larger of the two, had its kickoff meeting last week in preparation for the season ahead.
After its second scheduled meeting in early May, the mayor will make his annual call to the citizens to make donations.
"[The mayor] will talk to the whole community about donating water," Tim Cole, Phoenix's Homeless Programs Coordinator told HuffPost.
According to Cole, the mayor's call usually prompts a flurry of donations and enthusiastic community involvement.
A joint effort of county and city governments, businesses and agencies, the Heat Relief Network assists the homeless and others in need with its three-pronged approach: respite, hydration and wellness checks.
For respite, the Network compiles a list of locations willing to take in people from the heat. A map of the locations is available during the summer on the city of Phoenix and Maricopa County websites. Paper maps are also distributed across the city and posted at locations that the homeless frequent.
To keep people hydrated, the city of Phoenix collects donations of bottled water for the Network and sets up hydration stations, both at respite centers and other locations. All are kept well-stocked with cold water during the summer months. There were over 50 respite centers and hydration stations in 2010.
And finally, the Heat Relief Network encourages communities to check on their neighbors, especially the disabled or elderly living on a fixed budget who might not be able to afford to cool their homes. Some who can't afford to run the air conditioner may suffer in the heat.
As Cole stresses, this is a serious problem. "It's hard to fathom in this day and age that people die in their homes of heat exposure. ... If I have to make a decision to eat or to turn on my AC a lot of times the AC will be getting cut off."
Initially a faith-based coalition, the Heat Relief Network grew when local government stepped in to expand the initiative and keep efforts from being siloed after an infernal summer that caused 32 heat-related deaths in 2005 was a big wake-up call.
"2005 told us we needed to get better at [heat relief]," explains Cole.
After the disaster, the city decided to step up its programs. "The Community Service Division got a consortium of different groups together and said, 'What can we do for each other?'" he said.
Since then, the Heat Relief Network has become very effective at providing services where they're needed.
"In regards to homeless on the street we're doing really well," Cole said.
Last year the Network had over 50 respite centers in the Phoenix area and 63 partners that provided services or support. It's also currently working on setting up evening respite centers in parks, which stay open until 9 p.m. For the moment, most centers close at 5 p.m.
Phoenix deals with extreme heat every summer, so the scale of these efforts is not surprising. But elsewhere, where such high temperatures are less common, some communities have adopted a more moderate approach.
The Summer White Flag Program in Wake County, N.C. offers relief to the homeless when the heat index reaches 101 degrees.
Once this threshold is crossed, five participating agencies in the area put a white flag outside their doors, signaling to the homeless on the streets that their doors are open to all.
"We put the white flag out and folks know to come in out of the heat," said Frank Lawrence, who runs a shelter for men in Raleigh, one of the five agencies that participate in the Summer White Flag program.
The South Wilmington Street Center that Lawrence manages typically has beds for 234 men. That figure can go up to 319 if they add temporary beds, but not everybody can be squeezed in.
"Usually we have a greater demand than we can accommodate," Lawrence told HuffPost.
As a result, men are assigned beds based on a lottery system.
But these restrictions don't apply when the white flags are waving.
All that can fit inside are welcome to come into the air conditioned South Wilmington Street Center, where they are given water and a place to cool off -- at least until the heat index drops below 101 degrees. Then the men are kindly ushered back outside to play the bed lottery once more.
Wake County's winter White Flag Program, which offers respite from the cold, ended March 31. As temperatures rise, agencies are getting their white flags ready once again, in preparation for the Summer White Flag season, which runs from June to September.
Both Cole in Phoenix and Lawrence in Raleigh note the importance of making donations.
Bottled water is a priority. The last two years, about 200,000 bottles of water were donated and distributed in the Phoenix area. In the coming weeks, the city of Phoenix will provide a list of water donation points on its website.
Clean socks, underwear and white T-shirts are also gladly accepted, which make good donations all year long.
"The men always need [these items]," said Lawrence.
Giving these needed items to the homeless can sometimes spark enough of a connection to help get people off the streets.
You could give a homeless person a cold bottle of water and a clean pair of socks, said Cole, "and all of a sudden he decides he doesn't want to be homeless anymore."
Find out how to contact and get involved with organizations in the White Flag Network on Wake County's website.
In Portland, the Union Gospel Mission encourages seasonal donations and hosts a "beat the heat" summer event. Find out how to get involved on their website.
REAL LIFE. REAL NEWS. REAL VOICES.
Help us tell more of the stories that matter from voices that too often remain unheard.