Planting an organic garden is an activity typically reserved for bougie hipster types who have the time, money and training to get behind the cause.
But a homeless shelter in Atlanta is opening up that skill, and approach to responsible farming, to its residents.
"It is important to share and train residents in green technology that we are involved in because poor and homeless people are being left out of the green development that we see burgeoning in our community," Anita Beaty, executive director of Metro Atlanta Task Force, told Atlanta Progressive News.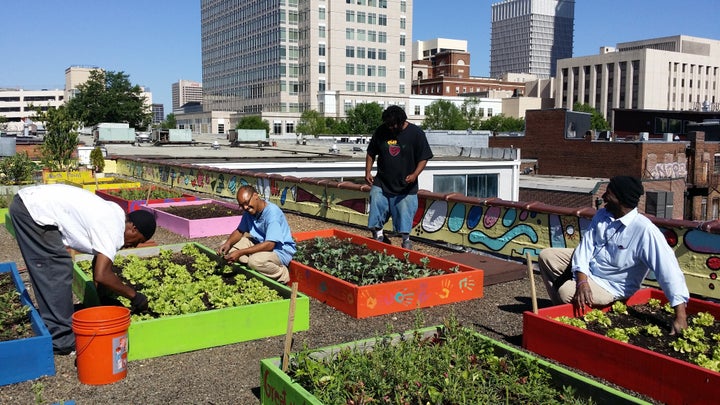 The organization, which services homeless and formerly homeless people in its sustainable facility, offers a number of programs to its clients. In addition to its growing gardening initiative, the Metro Atlanta Task Force has a 24-hour assistance hotline, day service center and transitional housing program, among other programs.
But the rooftop garden, which was first established in 2009, serves as a means to teach homeless people about urban food production and sustainable technologies, while also giving them the chance to feed fellow residents, according to the group's website.
"The idea is to produce enough to feed the residents something green and healthy daily," Carl Hartrampf, a board member who manages every aspect of the garden, told Vice.
The trainees are all resident-volunteers at the shelter, and are graduates or currently participating in the Truly Living Well program. It's an agricultural program that brings fresh, nutritionally dense produce to the community.
Participants benefit from eating healthful fruits and vegetables, and also obtaining competitive job skills that will serve them in the future.
The funded program prepares them for careers in entrepreneurial farming and marketing, and also certifies them to train future participants.
The extensive program prepares participants for every nuance related to the field. For example, the rooftop garden has 1,300 bees for pollination and producing honey, according to Vice and it harvests rainwater to irrigate the crops.
Support HuffPost
The Stakes Have Never Been Higher
Related
Popular in the Community