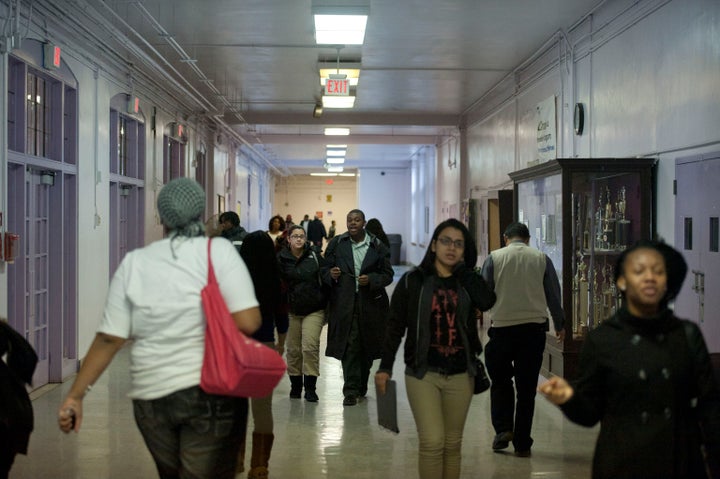 The number of homeless students enrolled in public schools hit a record high last year. But simply changing the way agencies define homeless youth could ensure that this vulnerable population gets the services they need.
But because the U.S. Department of Housing and Urban Development only considers people staying in shelters or sleeping on the streets to be homeless, many young people in need aren't eligible for services. This directly affects homeless families who either have to endure extensive waitlists to get into family shelters, or avoid the system altogether, since many of these facilities often don't allow men and women to stay together, which forces families to split up.
Many homeless youth will also opt to crash at friends' houses or sleep in cars, which discounts them from the official figures.
Compounding the issue is the fact that the Department of Education figures don't paint a complete picture.
It doesn't include homeless children who aren't enrolled in pre-school programs, those who have dropped out or those who haven't been identified by officials.
Because national figures often belie the true statistics, many nonprofits that cater to homeless youth and families are denied funding when they apply for grants.
"A lot of times, the data doesn't reflect the population of youth that are dealing with this crisis," Staci Jonson, director of Arise Youth Center in Rapid City, South Dakota told The Huffington Post in April. "Youth are kind of an invisible population."
Such is the case in South Dakota where general homelessness figures are falling, but is on the rise among young people.
But advocates on the ground say the situation is far more grim.
Determined to take matters into its own hands, Arise Youth Center collected its own data about the issue before applying for a recent grant. It was awarded new funds in October, which enabled the group to expand from eight to 16 beds for homeless youth.
Some schools in states that are seeing a growing need are reworking its curriculums and bringing in more social services experts to make the environment more conducive to homeless students in need.
To ensure underserved kids get the attention and the care they need, Haven partnered with the New York Foundling, a group that supports children in the foster care system, and families struggling with instability, among other groups in need.
At Haven Academy, every classroom has two teachers, classes never exceed 26 students and there are two social workers, a behavioral specialist and an outreach worker on staff.
To lessen the burden on local agencies and schools, advocates are pushing for a bill that would change the way HUD defines homelessness.
The Homeless Children and Youth Act is calling on HUD to enumerate every child who doesn't have a home, regardless of whether they live in a shelter or if they happen to be bunking up at a friend's home. Changing the definition could have a drastic impact on their eligibility for housing assistance and other services, advocates say.
"These trends are heartbreaking yet entirely predictable, given the federal government's chronic absenteeism in community discussions about affordable housing for low-income families," Ruth White, executive director of the National Center for Housing and Child Welfare, said in a statement. "For over a decade Congress has ignored its responsibility to fill yawning gaps in housing options for low income families – and left America's public schools to deal with the consequences.