A complete stranger's random act of kindness has changed this homeless war veteran's life for the better -- as he's now been offered a job and a place to live.
The unidentified vet was begging for spare change by a gas station in Redlands, California, when he had the chance encounter with Max Zahir.
He claimed that he hadn't eaten for more than a day, and desperately needed the money for food.
Selfless Zahir took the man to a nearby burger-joint drive-thru for a meal, and then promised to stop by every day from now on to bring him lunch.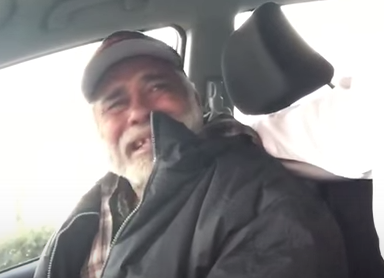 The vet was caught on camera bursting into tears at the beautiful gesture.
"I'll tell you this, I go to work every day around 4 o'clock, if you meet me at that gas station I'm gonna buy you lunch," Zahir says in the clip, which he filmed himself.
"I just wanna do something and maybe you'll get to your feet and just pay it forward," he adds. It's then that his passenger starts weeping and they hug.
"Nobody's shown me this much kindness in a while. Thank you," the vet replies. Zahir later uploaded the clip to YouTube, and it went viral.
He's now been inspired to raise cash to provide sleeping bags, blankets and food for homeless veterans this winter.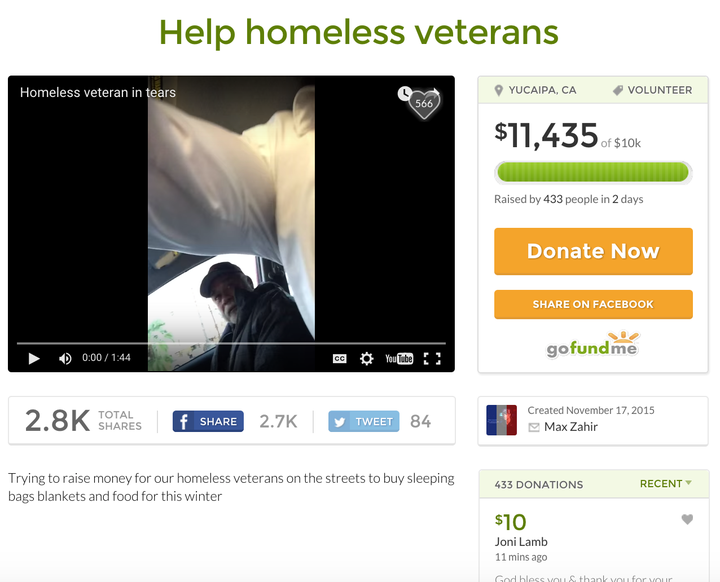 It also appears to have led to an offer of accommodation for the homeless veteran from not-for-profit homeless organization Carry Me Productions.
"Please contact us. We can get him a home!" posted CEO Carrie Nowocin on the campaign page. It's not yet known if Nowocin has been put in touch with the veteran.
But, in a further slice of good fortune, it's reported he's also been offered a job at a local restaurant, according to FOX 46.
Popular in the Community