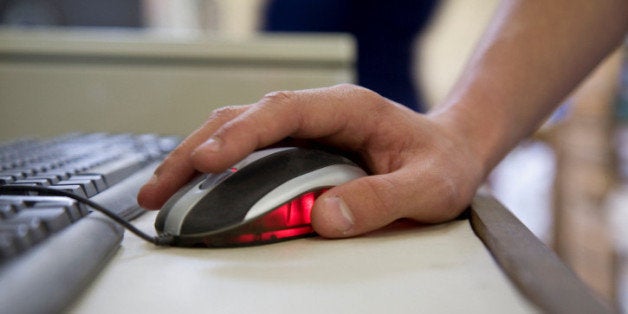 To Wayne Samuelson, Internet access made the difference between employment and living without an income.
The U.S. veteran -- who's been homeless for weeks after losing his job at a museum -- has been staying in San Francisco's Next Door shelter, according to KQED News' The California Report. Recent Internet access within the facility, however, gave him the ability to search Craigslist for an opportunity to move his life forward.
A few days ago, he accepted a job as a security guard -- and he has Darcel Jackson in part to thank.
Jackson, a homeless man who also sought shelter at Next Door, helped the facility gain Internet access. Along with assistance from Greg Gopman -- a former tech company CEO who became an advocate after making controversial comments on homelessness -- Jackson got a local Internet provider to supply Next Door with the equipment needed to get the shelter online. It cost about $6,000.
More organizations and government bodies are recognizing that Internet access is hardly a luxury, and those without it can be left behind in a 21st century world.
Last year, Seattle -- a city grappling to curb its increasing levels of homelessness -- contemplated funding for wireless Internet access in homeless encampments, according to KOMO News.
One of the idea's proponents, council member Kshama Sawant, argued that Internet access means so much more than simply scanning the web for pleasure.
"You wouldn't be able to communicate with a lot of people [without the Internet]," Sawant explained on KIRO Radio's "The Jason Rantz Show" last November. "You wouldn't be able to know what was going on, and, in fact, it impacts peoples' ability to look for jobs, look for shelter, look for basic services. It's your lifeline."
Sawant's perspective on the matter goes hand-in-hand with the United Nations' -- the international group declared Internet access a basic human right in a 2011 report, The Atlantic noted.
Looking ahead, Jackson is now working with Gopman to launch a nonprofit helping more people in underserved communities get online to better their futures.
But for now, he's just happy to be able to better communicate with his children.
To help fight homelessness, support PATH (People Assisting The Homeless) by using the Crowdrise widget below.
REAL LIFE. REAL NEWS. REAL VOICES.
Help us tell more of the stories that matter from voices that too often remain unheard.
BEFORE YOU GO
PHOTO GALLERY
27 Things Only San Francisco Giants Fans Understand