Tabatha Wood left Dubuque, Iowa, at the age of 19 on a riverboat casino, working as a deckhand to pay her way. Strong-willed, intelligent and attractive, she beamed with charisma.
Twenty-two years later she would die on a beach in Waikiki, homeless and alone. And while her path to Hawaii was long and circuitous — with stops in New Orleans and Las Vegas — her descent into homelessness was swift and unexpected.
She hadn't been living on the streets long when her body was found near a lifeguard stand Jan. 3. It was the day after her 41st birthday and an autopsy determined she drank herself to death.
Among her few possessions was a handwritten letter to her younger brother that she never had the chance to finish.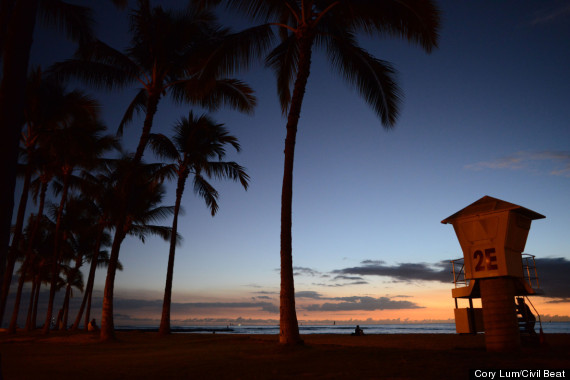 Tabatha Wood's body was found not far from this lifeguard stand in Waikiki. She'd been homeless for less than two months.
In six pages, Wood detailed the plight of being homeless in Honolulu, from her difficulties getting a job and finding a shelter to being ticketed for sleeping outside. She described the culture of the homeless population, their camaraderie and friendship, and the challenges they face trying to find shelter.
"I'm sorry that I haven't wrote you sooner," Wood's letter begins. "No I did not abandon you. I have had a whole shitload of my own problems."
Within two weeks of penning those words, Wood would be dead. A sibling travelled to Honolulu to identify her body and take her cremated ashes back to her family in Iowa.
An ex-boyfriend packed up some of her belongings and sent them to Wood's mother in Dubuque. Inside the boxes were old report cards, jewelry from Wood's childhood and a doll named Dottie.
Georgette Beaman's voice still quivers when talking about her daughter's struggles in Hawaii. Wood was Beaman's oldest child.
"She left home two days before Thanksgiving, and that was the last time I saw her," Beaman said from her home in Dubuque. "I knew something was wrong when her birthday came and she wouldn't answer her phone."
Dumped on the Streets of Waikiki
In the letter to her brother, Wood describes in her own words the dysfunction in the relationship with her ex-boyfriend that led to her living on the streets.
He had brought her to Honolulu from Las Vegas, where Wood said they had lived together with her son from a previous marriage.
It was clear that Wood didn't like living in Hawaii. She'd brought with her a vicious drinking problem that would often alienate her from family and friends.
Wood said her ex kicked her out of the house because of her drinking, and that he dropped her off in Waikiki with little more than her purse and the clothes she was wearing.
He kept her 9-year-old son so he wouldn't have to learn what it was like to be homeless.
"I had no idea where I was," Wood told her brother. "I didn't know anyone so who am I gonna ask for help."
It wasn't long before Wood's belongings were stolen. She lost her iPhone, checkbook and welfare payment card. She had no access to money. All she had was her Nevada driver's license and the open space of Waikiki.
Wood made friends with other homeless people who coached her on how to survive while living outside. They gave her a blanket, showed her where to take a shower and taught her that the cheap plastic floaties tourists use to wade in the ocean can easily double as an air mattress.
"I ended up in a park on the beach in Waikiki and the homeless people there were super nice to me."
On occasion, Wood would send photos home, putting faces to the stories of people met while living on the streets. In the pictures she looked healthy and vibrant — surprising for someone who had fallen so hard.
'At Least in the Park I Know People'
After two weeks of sleeping in the park, she got sick.
She said she went to the emergency room, but only after other homeless people told her she should go. It turned out she had an infection in her blood caused by a piercing on her face. She was hospitalized for three days.
Wood struggled to get off the streets. A criminal record that included arrests for drugs and alcohol often prevented her from getting a job.
"I tried to get into a women's shelter here. It's not like Iowa. It's tough to get into a shelter. There's so many homeless people. There's a few shelters but the problem is they put them outta town so it's hard for people to get there because they are broke and homeless. They need more homeless shelters in the city of Honolulu."
While at the hospital receiving treatment for her infection, Wood pleaded with a social worker to find her a place to live. The woman told her she would get Wood a taxi to a shelter, but that if she couldn't find a bed she'd have to find a second option on her own.
Wood was afraid of being alone in an unfamiliar place if she couldn't get in the shelter. She didn't want to walk back to Waikiki alone and at night.
"So I told them just drop me off at the park," she wrote. "At least in the park I know people."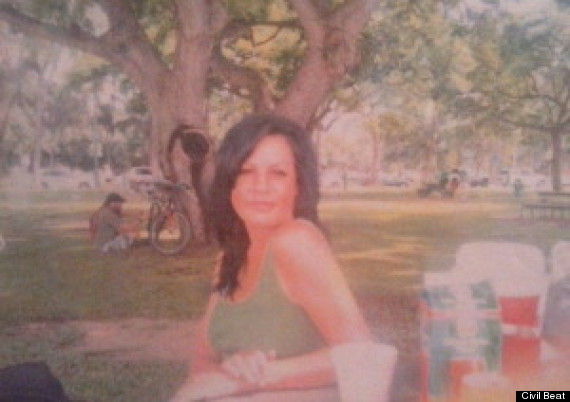 This grainy photo, provided by her mother, was taken two weeks before Tabatha Wood died.
But living in Waikiki provided little solace. In addition to the dangers of exposure and violence, there were the cops to worry about.
Honolulu has enacted several laws to keep the homeless out of public spaces, including seizing personal property found on sidewalks. Wood had been issued two park closure citations in December, and both required a court appearance.
She thought she could avoid these tickets by sleeping in the grassy spaces between the curb and the sidewalk, which she and many others believed exempted them from park closure rules. She was wrong.
On Dec. 4, a Honolulu police officer wrote her a ticket and gave her a court date. Her arraignment was scheduled for Jan. 3, the day she died.
Charles Jay had known Wood was in trouble in Hawaii. That's one of the reasons he wanted her to leave the islands and move closer to him in Miami. Not only would she be closer to family, but her son would be nearer his father.
Jay was a long-time friend, having met Wood shortly after the riverboat casino she worked on docked in Bay St. Louis, Mississippi. He was a consultant for a local casino there, and she ended up getting a job working the slots.
They used to go out drinking with friends, but he didn't know until much later just how badly she was addicted to alcohol. Wood spent her entire life working in casinos.
After Wood got married, she and Jay grew apart. But they reconnected many years later when she was living in Las Vegas with a new boyfriend. She had split with her husband.
Starting around 2012, Jay had become Wood's confidant. He says they exchanged thousands of text messages, even as she was going through her drinking binges.
Wood told Jay that she had been forced into rehab as part of a court order, and from what he could surmise, she seemed to be getting better. That all changed once she moved to Hawaii.
The relationship with her boyfriend deteriorated, and she was an ocean away from the people who cared most for her. Jay said she grew increasingly hostile, even toward him.
"It was difficult for her to stay sober," Jay told Civil Beat in a telephone interview. "She would lie to me and tell me she was doing OK and that she was happy. But it was just misery for her, basically from the moment she got there."
The two eventually got into an argument over her behavior, Jay says, and the fact that he thought her son should live closer to his father. Jay had also lost patience with Wood's addiction, which he said had stretched beyond alcohol and included prescription pills.
Eventually, he would learn from Wood's family that she was living on the streets of Waikiki alongside other homeless men and women. He considered flying out to find her, but he didn't know where to begin the search.
"I knew nothing good was going to happen," Jay said. "But there was no way to get in touch with her, there was no way to find her. You just sort of hope she gets herself out of the situation."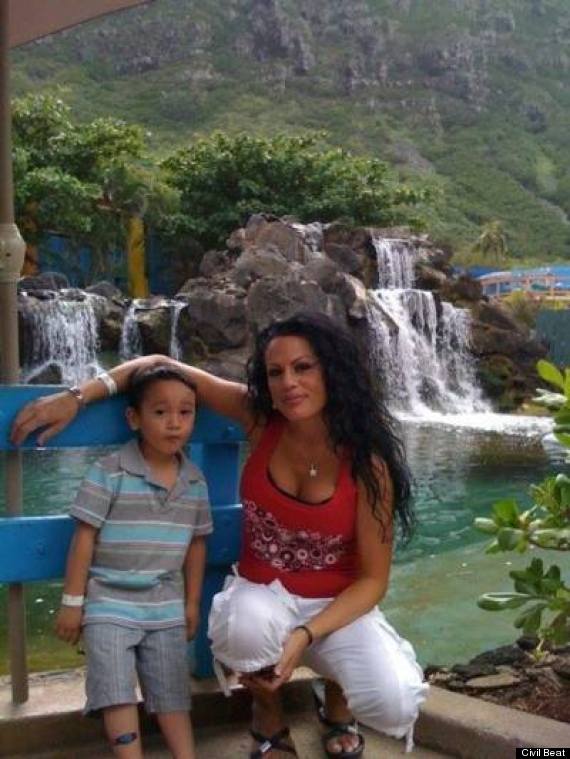 Tabatha Wood poses for a photo with her son, who now lives with his father on the mainland.
It never happened. Wood's addiction was controlling her life. She had gone to the emergency room a number of times in the weeks before her death because of alcohol abuse.
Wood averaged a fifth of vodka a day, according to those who knew her. On Jan. 2 — her birthday — she had continued that pace. She was found dead the next morning lying under a tree along the beach.
Wood's autopsy report delved deeper into her history of substance abuse, describing her as a heavy drinker who smoked marijuana and used both prescription and street drugs.
The report also described a series of other medical problems Wood faced, including a seizure disorder, chronic pain and a history of depression. She had previously tried to kill herself.
According to the forensic pathologist who performed the autopsy, Wood died of acute alcohol intoxication. Her blood-alcohol content when she died was 0.458, more than five times the legal driving limit of 0.08.
There were no drugs in her system or wounds indicating she was a victim of violence, although her body had scrapes and bruises consistent with her taking drunken tumbles.
A homeless man found Wood's body near lifeguard stand 2E in the early morning hours of Jan. 3. Honolulu police arrived at the park at Queen's beach to investigate.
According to police reports, the responding officer had had previous encounters with Wood and knew her to be homeless. One report also identified the man who found her body as one of Wood's friends.
He told officers that he had tried taking Wood to a detox facility on the Pali Highway between 10 p.m. and midnight on Jan. 2 because he had found her drifting in and out of consciousness. He said they were turned away because Wood was too drunk.
They returned to Waikiki, where he said he laid her down underneath a tree to sleep it off. When he tried waking her up, she was unresponsive and had no pulse. That's when he had a friend call 911.
Paramedics arrived. They tried to resuscitate her. It was too late. Wood was pronounced dead at 7:09 a.m.
She was a long way from Dubuque.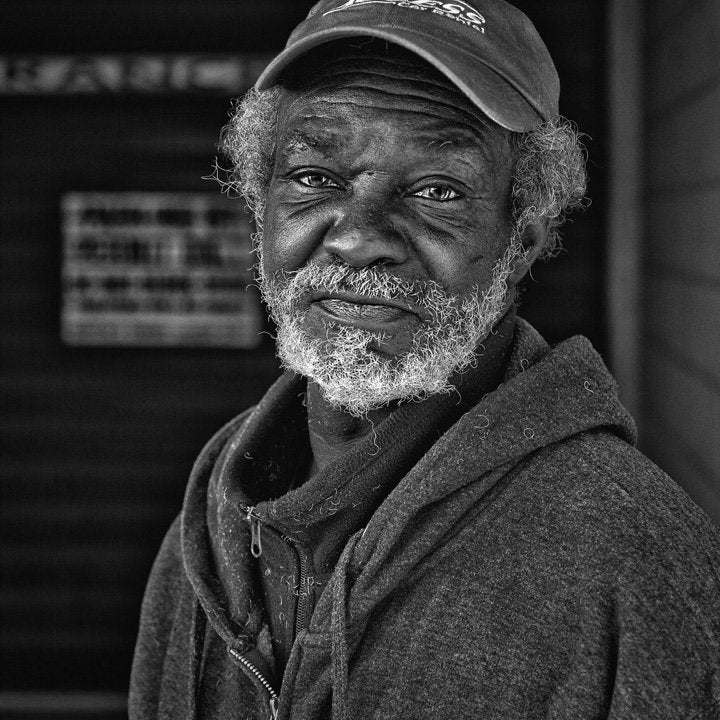 Haunting Photos Of Vets On The Street Underscores Homelessness Issue