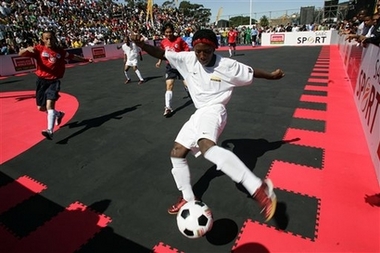 Starting this Sunday, in Paris, in the shadow of the Eiffel Tower, sixty-four countries are gathering for World Cup soccer action. But don't expect to see the likes of Lionel Messi or the studs in Cristiano Ronaldo's ear. Booting up in the colors of the nations will be athletes from the margins of society, as far away as possible from the Porsches and the bling -- welcome to the Homeless World Cup.
A decade ago, Scottish social entrepreneur, Mel Young, and Austrian Harald Schmied were seeking an international language to raise the word on homelessness. Soccer, the sporting engagement for the world's poor, married itself to their mission of ending homelessness around the planet (estimates suggest 100 million people globally are homeless.) With corporate partner, Nike, and funding from European soccer's governing body, UEFA, the annual event quickly expanded. The organization claims that 70% of the event's participants have gone on to change their lives. Add to this, the spawning of scores of street soccer organizations around the world.
The Homeless World Cup is the patch where the street scrap and the beautiful game merge. The 4-a-side games are executed on a 22 x 16 meters court with sudden death penalty shoot-outs to break ties. A "sin bin" imprisons fouling transgressors for two minutes, a long stretch in games with two seven minute halves. Fair play is encouraged, indeed rewarded with a trophy at the tournament's end. Besides the men, sixteen women's teams will compete for the Women's trophy. All the games will be broadcast on the web with commentary in numerous languages. English Premier League coach, Arsenal's Arsene Wenger, and 1998 French World Cup winners, Lillian Thurman and Emmanuelle Petit, are supporting the cause. Wenger, in his endorsement, advocated that soccer has the power to change lives. But some things never change. Brazil is among the favorites to win.
The summit for all soccer players is lifting a trophy for their country. That desire resonates deep amongst the homeless squads, rivaling the intensity of the pros. This is serious stuff. FIFA trained refs are employed to keep order. A Disciplinary Committee sits in judgment for those who really lose their heads. It's all about winning, a preserve normally associated with the lucky, the rich, and Charlie Sheen. But the joy of jamming an opponent sticks to any soul. Attach the label of nationhood, wrapped in flags, the solidarity and competition of the Homeless World Cup is a reminder that goals, for however brief a moment they appear, is a release worth striving for.
Tune into the Homeless World Cup to cheer your country's margins, and their hopes of returning to a home with the Cup, crowned world champions.
Popular in the Community