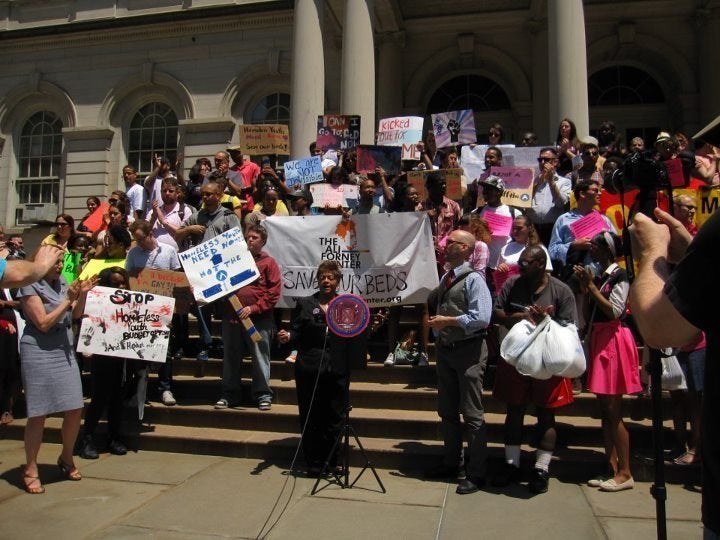 NEW YORK -- On Thursday, more than 150 advocates and homeless youth gathered on the steps of New York City Hall to protest Mayor Michael Bloomberg's proposed budget for next year, which they say would cut 60 percent of the city's current funding for homeless youth services.
The cuts would amount to a more than $7 million slice from the 2013 budget for New York City's Runaway and Homeless Youth Services, eliminating about 160 of 259 shelter beds now funded by the city, advocates said. If the proposed cuts stand, this would be especially harmful to lesbian, gay, bisexual and transgender kids, who comprise nearly 40 percent of New York City's homeless youth population, according to some advocates' estimates.
The city has shelter beds for only 10 percent of the city's homeless youth, and waiting lists for all shelter beds -- especially at LGBT-friendly facilities -- are growing, said those who run the shelters. At the Ali Forney Center, which helps homeless LGBT youth, the waiting list grew by 199 last year -- a 40 percent increase over the previous year.
Teenagers and young adults lined the steps in front of City Hall, holding colorfully painted signs with slogans like "Don't take away the one thing we have left," "Can I go to bed now?" and "Don't Kill Us Save Shelter Beds."
To one side stood Shallow Camels, an 18-year-old with purple and black hair who has been homeless for a while. She told a reporter she felt nervous. "What if they do cut back and then maybe we won't have a bed to go home to?" she asked.
One by one, homeless teens, supportive City Council members and homeless shelter administrators made their way down the stairs to speak into the microphone at the base of the steps.
"It's ridiculous that we have to fight like this for just a few beds," declared James Bolas, director of education for the Empire State Coalition of Youth and Family Services, a statewide advocacy group that organized the rally.
"Save our beds! Save our beds!" the crowd chanted back.
It's a familiar chant for the city's homeless youth advocates. In the last several years, Bloomberg's initial budget requests have included only a portion of the funding that advocates believe is needed. Then City Council members push for an increase just to reach the prior year's level.
Bloomberg spokesman Marc LaVorgna said this is simply the way the budgetary process works: Every year the mayor presents his proposal; then the council allocates additional funding. This year, LaVorgna said, the mayor's initial proposal for $4.6 million exceeded last year's initial 4.2 million request.
"We do go through this every year; it's the democratic process," LaVorgna said. "We make a proposal and the council allocates additional funding. How much the council will put in this year is subject to the council."
Councilman Lewis Fidler, chairman of the Youth Services Committee and a strong advocate for homeless youth, disagreed with LaVorgna's assessment. "I'm sorry but that's happy horseshit," Fidler told The Huffington Post.
"If they don't put money in the budget, it's at risk to be cut," Fidler said. "They're making us fight for the same ground instead of discussing whether or not we should be adding beds to the portfolio. That's the conversation we should really be having."
At the rally, the Empire State Coalition pushed for funding to be restored to last year's level -- plus an additional $1 million for shelters and services in support of youth victims of human trafficking.
Just beyond the steps of City Hall, however, a much larger rally was staged, protesting a different set of budget cuts proposed by the mayor.
Advocates for New York City after-school programs and child-care initiatives are trying to add $125 million to the budget proposal so as to reach 2012's level. More than 47,000 children could lose slots in after-school or child-care programs, mostly serving low-income children.
"We're trying to find that balance between being realistic and asking for what we need," Margo Hirsch, executive director at Empire State Coalition of Youth and Family Services, told The Huffington Post. "All of those other services are also critical to making sure young people grow up safely."
But some other advocacy groups for homeless youths are demanding more. Also on Thursday, the Campaign for Youth Shelter, a coalition of LGBT providers and advocates, called on the city to restore $7 million to the 2013 budget proposal, plus add $3 million in annual funding for homeless youth to create 100 new shelter beds.
"Every year the mayor tries to cut and we're forced to restore this grossly inadequate number of beds," said Carl Siciliano, executive director of the Ali Forney Center and a leader of the Campaign for Youth Shelter. The city has 4,000 homeless youth by the latest estimate, but funds only 259 shelter beds, he said. "The fundamental problem is that the mayor is not trying to create any plan for these kids who don't have beds."
After the rally on the steps, a handful of teens and young adults lingered. Some spoke excitedly about the protest; others voiced concern.
Camels, who identifies as bisexual, has been in and out of different shelters around New York City. She tries to go to LGBT-friendly places, "where people don't say certain really upsetting comments," she said. In between stays in shelters, she's slept on the street, near Port Authority or Grand Central, or anywhere plenty of cops might be. She is interning at Green Chimneys, an organization dedicated to serving LGBT homeless youth.
The next month will be nerve-wracking for Camels and her friends. "We'll just keep on hoping," she said.
Popular in the Community