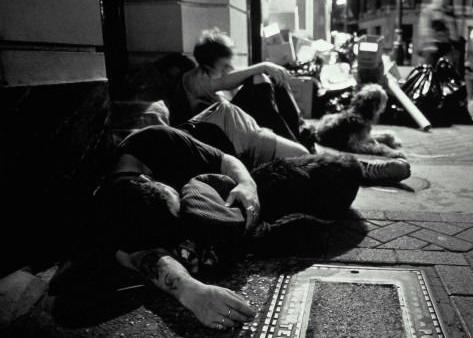 At fifteen years old, my alcoholic father was drinking himself into a constant state of oblivion, as a result, I was miserable and kept running away from home. But that was the sixties, when one could easily shack-up with some hippies, drop LSD and stay up all night to share ideas on the deep existential meaning of life.
Obviously, I survived those challenging times. But recently, when I started working with https://havasole.com, a non-profit that gives shoes to the homeless, I couldn't help but empathize with the young kids who are living on the streets. While I may have put myself in some precarious situations when I ran away, it certainly wasn't as dangerous as it is today.
Thankfully, there is one place they can go called http://www.safeplaceforyouth.org (SPY). It's a drop in center, founded by Alison Hurst, a woman who moved here with her family from London in 2001. She was shocked to see how bad the homeless epidemic is in Los Angeles, but unlike many of us, she decided to get involved. At first she began to make care packages at home and hand them out on the Venice boardwalk. But Alison found herself wanting to do more and with fierce determination, in 2010 she was able to open the doors to SPY. Last year alone, SPY was able to provide services to just under a 1,000 homeless youth.
My son Rikki Mendias, is the founder of Hav A Sole and his passion comes from being homeless himself. Back in the early ninties, after I separated from my husband, we went to live at http://clarefoundation.org/about/ Women's and Children center. Times were really tough and I felt horrible when I wasn't able to buy him a much needed pair of shoes. One day, a woman visiting the center offered to buy him a new pair and he never forgot her kindness or how confident those shoes made him feel.
However, due to that early deprivation he experienced as a kid, Rikki, as an adult became a full blown sneakerhead. That is until his early thirties, Rikki, who photographed beautiful women, started to feel empty, like there was no real meaning in his life. One day, he had epiphany, when he realized he didn't even wear half his shoes and there were people out there who had none. So Rikki decided to load up the back of his Ford Explorer with his own shoes and started giving them away to people living on the streets. That was over two years and since then, Hav A Sole, has given away nearly eight-thousand pairs of shoes.
So it made perfect sense for these two organizations to come together and collaborate on a plan that would bring some of these forgotten youth a little bit of holiday cheer.
On December 9, a huge Nike donation came into SPY and sixty volunteers went to work organizing stations where each youth could receive a new pair of tennis shoes, clothing and afterwards they could sit down and eat a catered meal. Let me just say, if you've never experienced something like this before, you might want to give it a try. There something magical that happens when this many people come together for something that deep in your hearts, you know to be a great and just cause. Theres an electricity, an energy that fills the air that makes you feel completely alive.
Sarah and Tuitui are just two of the individuals who have benefited immensely from SPY. Sarah, who is now twenty-three, ran away from home a long time ago because her father was a drug addict and her mother was mentally ill. Tuitui, grew up in Tonga and was on the streets from the age of eight years old and had never known anything else. The couple met four years ago in a shelter and now they have a six-month-old baby boy of their own.
When I asked Sarah what brought her to SPY in the first place, she said,
"I came to SPY a year ago when I was pregnant and the amazing staff here began to prepare me for motherhood. They taught me about parenting, got me dental care, gave me food and clothing but mostly, I had someone to talk to whenever I felt afraid."
Tuitui, now works as an intern at SPY and likes the feeling he gets by being accountable and giving back to the place that helped him so much.
A lot of the youth we met come from backgrounds, with sets of complex issues related to loss of family and community, abuse, neglect, parents who are drug addicts or mentally ill. This translates to few prospects for education and employment and manifests in distress and unresolved trauma.
With homelessness being approximately 82,000 men, women and children in Los Angeles on any given night, it would seem to me, we can no longer afford to look the other way.
HAV A SOLE PSA BY CLEVER BUNCH PRODUCTIONS
https://www.youtube.com/watch?v=kOpclQpxulk