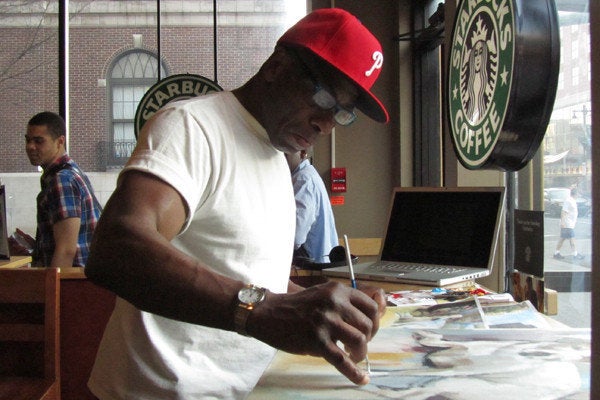 As Dennis Jones began to find his way out of living in a truck, he turned to an art therapy group at a church.
The Philadelphia native now paints at Starbucks and his work is featured at the Gershman Y, Newsworks.org reports.
"I was [homeless], but that didn't mean I couldn't come here, buy coffee, clean myself up, buy a Mac eventually," Jones told the news source.
Creative programs, like the one at Broad Street Ministry that helped Jones, often play a key role in healing and empowering those who have nowhere else to go.
By the time he was 30, Keith Freeman had already served time in jail twice, once for stealing and another time for selling drugs.
"Put on my game face, stay in character and look forward," Freeman said. "Backwards is not an option."
Miky Solano also credits cultivating a talent to turning his life around.
At 21, the New Yorker had already been incarcerated, but he was determined to push forward. Solano signed up with ART START, an organization that works to transform the lives of at-risk and homeless youth with creative outlets, thegrio.com reports.
Solano has recorded his first song and his life is now moving to an entirely new beat.
"They told me that music is also a form of art and how you could express yourself, so since then it changed my whole perspective about art, Solano told the news source. "I see life in a different way than I thought I would ever see [it]."
Related
Popular in the Community