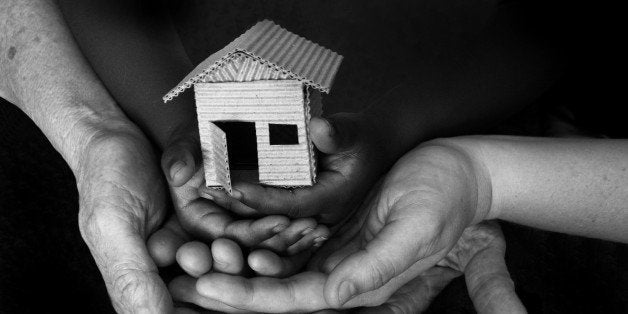 Family on the streets of Orlando, Florida
I was talking at the dinner table with some family members about my recent move to the Central Florida Commission on Homelessness. My brother-in-law piped up and said very simply, "You know what the solution to homelessness is? Put people in houses." This idea is being talked about nationally, has been profiled on 60 minutes and even semi-mocked on the Daily show with Jon Stewart. The question is, does it work? Is giving housing to the homeless the answer to homelessness?
The naysayers talk about the costs of putting someone in housing, others scoff and retort that they want free houses too. People get upset that their tax dollars go to support people who are lazy or who have made poor choices. On the other side of the fence are those who work directly with the homeless. They are showing through data and research that housing the homeless and most vulnerable actually saves money and reduces homelessness. Yes, I said saves money.
The Central Florida Commission on Homelessness performed a research study looking at the homeless who cost the most money to the taxpayers and systems in our area. The study showed the most frequent flyers in the system cost over $31.000 to taxpayers. This number was determined by looking at the number of days in jail and the hospitals.
I had the opportunity over the past two weeks to attend two forums on homelessness on the West coast. Once I adjusted to the time change (if waking up at 4:30 a.m. is an adjustment), I had the opportunity to learn from experts in the field who are currently doing permanent supportive housing (PSH) and rapid rehousing (RRH). While the systems are not perfect, they do show promise in helping to "end" homelessness. Ending homelessness is considered making it one time, brief, and rare.
Permanent Supportive Housing is generally reserved for those who are the most vulnerable including people who are chronically homeless who have physical or mental disabilities, and families with a high level of vulnerability such as single parent households where the parent has a disability. Most others fall in the category of Rapid Rehousing where the support can be low touch to higher touch depending on the family need. When possible diversion takes place to keep people out of shelters and in safe housing. If a family can double up for a short period of time, this might be encouraged rather than going into shelter. For domestic violence survivors, safety is always a priority in determining the course of action.
It is important to note there are not one size fits all solutions to homelessness. While assessments are done, it is not always easy to predict who will be successful with RRH. Areas with lower rent, good landlord relationships, and strong safety net support systems are seeing success.
For any program to work and be successful, it is crucial that the community supports it on all levels. The government officials need to make ending homelessness a priority rather than passing laws against the homeless, the providers have to work together and look at the big picture rather than being territorial which can be difficult when they may be competing for funding, and the business and philanthropy communities need to bring financial support to the table including unrestricted flexible dollars.
I was very encouraged as I had the opportunity to interact with several individuals from HUD and the Washington State Coalition Against Domestic Violence (WSCADV) to see the emphasis on best practices, evidenced based solutions, and innovation. The people I met do genuinely care about finding solutions and "ending" homelessness.
So does giving houses to the homeless and helping families get back into housing work? The evidence suggests that it is by far the best and most cost effective (for your tax dollars and mine) solution out there.
I am looking forward to seeing my community in Central Florida implement the solutions that are working nationally. Everyone deserves a safe place to call home.
Calling all HuffPost superfans!
Sign up for membership to become a founding member and help shape HuffPost's next chapter