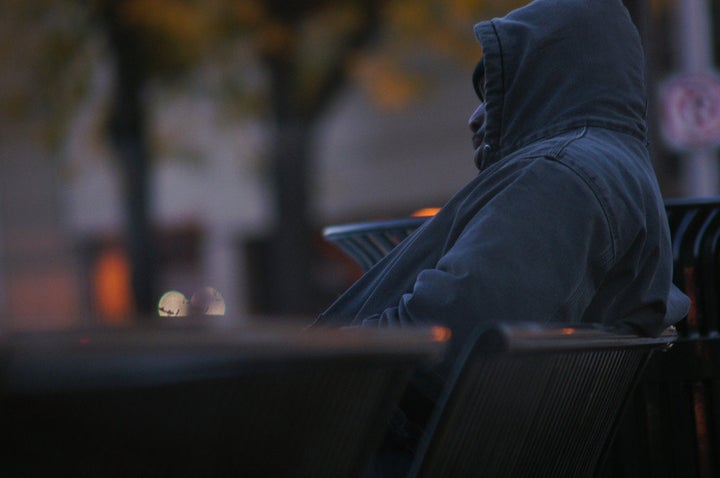 UPDATE: Jan. 13 12 p.m.
Indianapolis' homeless people will not be rounded up and forced out as Super Bowl fans throng to the city in February, according to Indystar.com,but officials say they will try to encourage them to seek out shelter. "We're actually going out well in advance of the Super Bowl, just making contact with them, talking to them and trying to convince them to go to a proper facility, shelter or hospital," Deputy Chief Michael Bates of the Indianapolis Metropolitan Police Department told the news outlet.
Indianapolis police plan to clear its streets of homeless people for the Super Bowl, angering advocates who want to see money for the million-dollar event help those without a place to live.
According to WRTV, Indianapolis will step up its efforts to disband the city's unofficial homeless camp and remove panhandlers from the sidewalks. Law enforcement officials say they're not just pushing the homeless out of sight and are trying to find them shelter. But advocates want additional resources for the homeless from the funding the city is allocating for the Super Bowl.
"We've observed that the Super Bowl committees have spent an awful lot of money to do things to make our city attractive," Gilbert Holmes, executive director of the Indiana Civil Liberties Union, told the news outlet. "But how much of those resources are being dedicated to help those people who are homeless?"
The Coalition for Homelessness Intervention and Prevention, however, told WTHR that it's concerned about the number of people who will "pose" as homeless once the travelers arrive to the city, up to two to three times as many as usual.
According to the organization, about 1,500 people are actually homeless each day in Indianapolis and 100 sleep on the streets at night.
Officials say that they're going to rely on local agencies to help find the area's homeless people a place to stay.
"There certainly won't be any forced relocation," Dep. Chief Mike Bates told WRTV. "We will approach these individuals and work with these individuals in cooperation with other agencies."
While the city will set up eight donation boxes for those living on the streets, some would like to see more of a charitable effort, as other Super Bowl cities have done in the past.
Last year, NFL Charities and the Super Bowl host committee funded Youth Education Town in Arlington, a center run by the Salvation Army that helps Arlington's estimated 2,000 homeless children, according to WFAA.
"Supporting our communities is an important part of what the NFL stands for," NFL commissioner Roger Goodell told the Dallas News. "This Youth Education Town is a good example of how a Super Bowl can have a meaningful legacy beyond a great game on the field."
Calling all HuffPost superfans!
Sign up for membership to become a founding member and help shape HuffPost's next chapter
BEFORE YOU GO