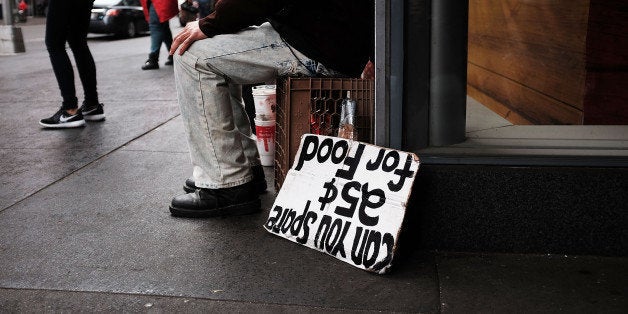 In cooperation with our longstanding partner Crowdrise, The Huffington Post is celebrating its 10 year anniversary by focusing on the promise of the next 10 years. We're highlighting causes that are near and dear to our ethos -- causes where we believe meaningful progress can be made in the coming decade -- and empowering readers to act and take part. Join us!
Put the homeless in homes. Now.
It's a radically simple solution to the American homelessness crisis that boasts two big advantages: It happens to work, and it's the type of rare idea that appeals to both sides of the political spectrum.
Case in point: Utah, one of the most conservative states in the nation. Officials there announced on April 28 that there were so few chronically homelessness people left in the state that they knew each one by name. New Orleans says it housed all of its homeless veterans earlier this year, and Phoenix and Salt Lake City say they're on the verge of doing the same. Smaller cities like Binghamton, New York, have also made sure that all their military vets are housed.
From 2005 to 2013 -- despite a recession, a rising unemployment rate, skyrocketing income inequality and a foreclosure crisis -- the overall number of chronically homeless people in the United States dipped 53 percent. It's largely because of an approach called "housing first," which President George W. Bush embraced in 2005 to fight chronic homelessness. The policy has been implemented piecemeal across the country ever since.
The U.S. Department of Housing and Urban Development defines chronic homelessness as an "individual or family with a disabling condition who has been continuously homeless for a year or more or has had at least four episodes of homelessness in the past three years." This subgroup of the homeless population often struggles more than any other with substance abuse and mental health problems.
The goal of the housing first strategy is to find living accommodations for this group quickly, by negotiating affordable housing with landlords, giving out rental subsidies and providing counseling. Once they're housed, advocates say, the chronically homeless are significantly less likely to end up in jail or in the hospital, where their stays can cost thousands of dollars.
For every homeless person placed in such housing, a 2013 study of New York found, taxpayers saved a net average of $10,100 per year. Other studies have drawn similar conclusions, helping disprove the long-held theory that simply giving the homeless homes would be a waste of money.
"Solving homelessness is not only doable, but it's the humane thing to do -- and as it turns out, it's cost-effective," said Bobby Watts, director at New York's Care for the Homeless.
In 2009, after allocating $1.5 billion of his stimulus package to the Homeless Prevention and Rapid Re-Housing Program, President Barack Obama announced a series of ambitious housing first goals: end chronic homelessness and veteran homelessness by 2015, and end homelessness for families, children and youth by 2020. These targets were perhaps unrealistically ambitious, especially in cities with a large population and a dearth of affordable housing, like New York and Los Angeles.
But Jennifer Ho, senior adviser to the secretary of Housing and Urban Development, believes that success in a place like New Orleans is not only encouraging, but also replicable on a national scale. "If you decide that it's unacceptable that any veteran should be homeless, you can mobilize a community to do something." she said.
Watts, of Care for the Homeless, agrees. He pointed to the rise in homelessness in the 1980s after the federal government cut the budget for affordable housing.
"Public policy created homelessness," he said. "And public policy can fix it."
Popular in the Community