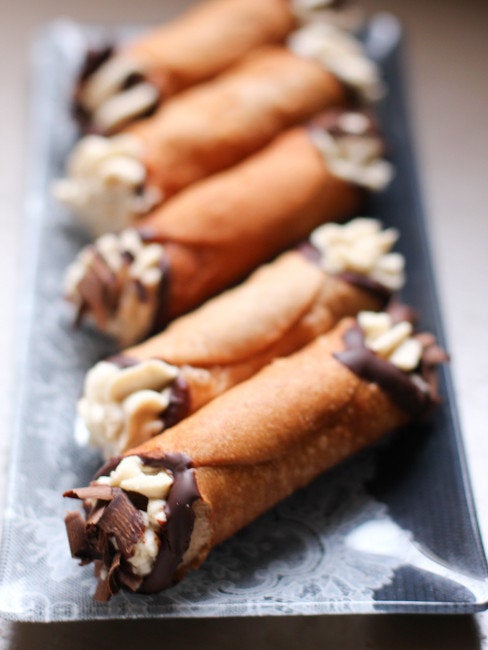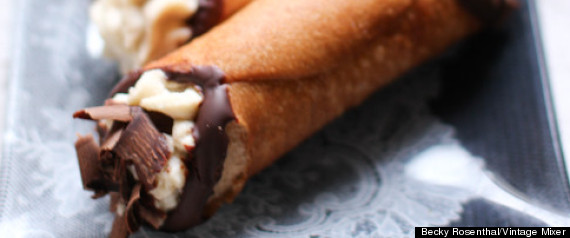 I don't even need to say anything else right? Cannoli. Mascarpone cream. Chocolate dipped edges. And a perfectly crisp shell. This experiment in the kitchen making cannoli from scratch was by far one of my best. Not the easiest but the most tasty for sure.
My friend Haley and I had been all talk about making cannoli over the last few months. But our big talk finally came to fruition and we completed our lofty goal and even surpassed it I would say. We made a few different types that day, but this recipe boasts a traditional shell with a mascarpone and ricotta filling.
I had no idea how much kneading the dough took. The recipe said 15 minutes. I was done after two. Then I reread the recipe, poured a glass of red wine and got back to work. To make a cannoli at home, you've got to want it. I wanted it. And I will forewarn you that the smell of frying permeates your home for days after you make cannoli but my goodness, just embrace it.
Cannolis with Mascarpone Cream
Cannoli Shells
1 cup all-purpose flour, plus more for dusting
1 1/2 tablespoons granulated sugar
1/2 teaspoon unsweetened Dutch-process cocoa powder
1/4 teaspoon ground cinnamon
1/4 teaspoon coarse salt
3/8 cup sweet Marsala wine
1 1/2 tablespoons vegetable oil
1/2 large egg white, lightly beaten
2 ounces semisweet chocolate (preferably 61 percent cacao)
Confectioners' sugar, for dusting
Mascarpone Cream
3/4 cup whole milk ricotta cheese (drained overnight w/ cheesecloth & squeezed dry)
3/4 cup mascarpone cheese
1/4 cup powdered sugar
1/2 tsp vanilla or Grand Marnier
1/2 tsp ground cinnamon
pinch of salt
INSTRUCTIONS
Cannoli Shells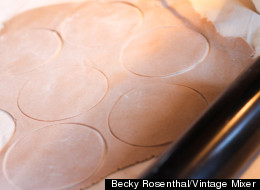 Combine flour, granulated sugar, cocoa powder, cinnamon, and salt in the bowl of an electric mixer. Add Marsala and oil, and beat on medium speed until dough comes together. Using your hands, knead dough on a lightly floured work surface until smooth and elastic, about 15 minutes. Wrap in plastic, and let rest 30 minutes.
Divide dough into 2 pieces. Pass 1 piece of dough through the widest setting of a pasta machine (keep remaining pieces covered) OR roll out into a thin sheet of dough. Continue passing through narrower settings until it is the thickness of a dime. Lay on a floured work surface. Cut out rounds with a 3 1/4-inch cutter. Gather scraps and reroll.
Pour enough oil into a large, heavy saucepan to come about 4 inches up sides. Heat over medium heat until a deep-fry thermometer registers 380 degrees.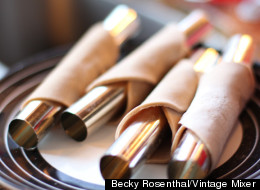 Wrap each round of dough around a 3 3/4-inch-long cannoli form, sealing with a dab of egg white. Working in batches of 3 or 4, fry until golden, about 1 minute. Using a wire skimmer or tongs, transfer to paper towels, and let cool 5 minutes. Carefully slide out forms, and let shells cool. Continue rolling, cutting, and frying the remaining dough.
Melt chocolate in a heatproof bowl set over a pan of simmering water. Let set 15 minutes on parchment paper.
Mascarpone Cream
Mix filling ingredients together.
Cover and refrigerate until ready to use (at least a couple of hours).
When ready to serve, use a ziploc bag (cut the corner) or pastry bag with 1/2 inch star tip. Pipe filling into one end of a shell to the center, then into other end. Repeat with remaining shells and filling. Dust with confectioners' sugar, and serve immediately.
Let the filling smoosh out of each end of the shells, just a tad.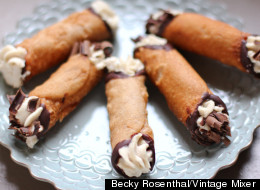 Some people sprinkle powdered sugar on top right before serving or dip the ends into chocolate shavings.
Notes
Cannoli cannot be made ahead of time the shells will get soggy. You can however, make the shells and cream in advance then pipe them right before serving. After making the shells store them at room temperature in an air tight container for up to 4 days.