Dawn Perry, photos by Zach DeSart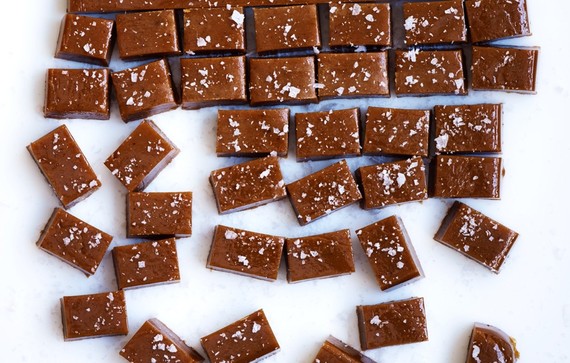 A salted caramel always makes for the ideal winter fix. With a few tips from the BA Prep School, you can have homemade caramel candies in your dessert arsenal.
Undercook your caramel mixture and you'll end up with a stiff excuse for a sauce. Cook it too long and you'll get nuggets capable of extracting a filling. For perfectly chewy results, don't eyeball it; use a candy thermometer. Once you've added the butter and sweetened condensed milk, keep whisking until the thermometer registers 240° (also known as "soft ball" stage). That's your sweet spot. Get the recipe for Bourbon-Sea Salt Caramels to put your schooling to the test.
BOURBON SEA-SALT CARAMELS
Sweetened condensed milk makes for an extra-luscious confection.
Servings: Makes about 100 caramels
INGREDIENTS
Nonstick vegetable oil spray
2 cups sugar
½ cup light corn syrup
1 14-oz. can sweetened condensed milk
½ cup (1 stick) unsalted butter, cut into small pieces
2 tablespoons bourbon
½ teaspoon kosher salt
Flaky sea salt (such as Maldon)
PREPARATION
Special equipment: A candy thermometer
INSTRUCTIONS
Lightly coat an 8x8" baking pan with nonstick spray and line with parchment paper, leaving a 2" overhang on 2 sides; spray parchment. Bring sugar, corn syrup, and ¼ cup water to a boil in a medium saucepan over medium-high heat, stirring to dissolve sugar. Cook, swirling pan occasionally, until mixture turns a deep amber color, 8-10 minutes.
Remove pan from heat and whisk in sweetened condensed milk and butter (mixture will bubble vigorously) until smooth. Fit pan with thermometer and return to medium-low heat. Cook, whisking constantly, until thermometer registers 240°. Remove from heat and whisk in bourbon and kosher salt. Pour into prepared pan; let cool. Sprinkle caramel with sea salt, cut into ¾" pieces, and wrap individually in parchment paper.
DO AHEAD: Caramels can be made two weeks ahead. Store wrapped tightly in plastic in airtight container at room temperature.