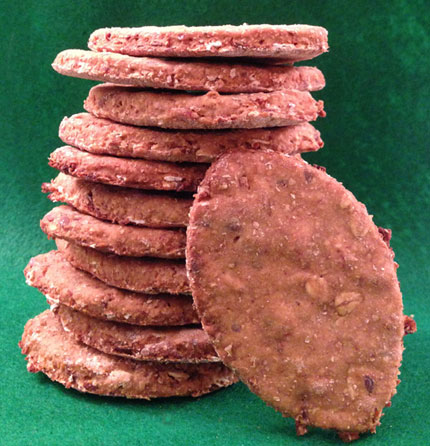 Don't forget Fido this football season. Just like us, dogs love catching the old pigskin and getting some grub before game time. So, while you prepare to go tailgating with your buddies, bake up some football-shaped dog treats for your tail-wagging friends too.
These treats are loaded with Elvis' favorite flavors: peanut butter, banana, and bacon. Even though the treats sound and taste decadent (yes, I tried one), they are full of healthy ingredients for your four-legged friends. Natural, unsweetened peanut butter provides protein; bananas bring a burst of potassium; and flax seeds add fiber, antioxidants, and Omega-3 fatty acids. As for the bacon, thats just for flavor. But if you cook it until very crisp, drain it well, and use only a small amount, your pets can get the smoky, meaty taste they crave without much added salt and fat.
My three pugs were thrilled to be the taste testers for these treats, and they gave them two paws up. We hope your furry friends think they're a touch-down too.

PEANUT BUTTER, BANANA, AND BACON DOG TREATS
servings: 25 treats
active time: 25 minutes
total time: 1 hour and 45 minutes (includes chilling time)
Ingredients
1 banana
1 large egg
1/3 cup natural peanut butter
1 tablespoon plus one teaspoon honey
1 tablespoon flax seeds
1/4 cup crisp cooked bacon, finely chopped (from about 3 strips; optional)
1/2 cup rolled oats
1 1/2 cups whole wheat flour
Preparation
1. In a medium bowl, mash the banana until smooth. Add the egg and peanut butter and stir until well combined. Stir in 1 tablespoon of the honey, along with the flax seeds, bacon, and oats. Add the flour and stir until evenly combined (the dough will be very thick). Wrap the dough tightly in plastic wrap and chill in the refrigerator for about 1 hour.
2. Remove dough from the refrigerator and line 2 large baking sheets with parchment paper.
3. Position a rack in the upper third of the oven and a second rack in the lower third then preheat the to 350°F.
4. On a lightly floured surface with a lightly floured rolling pin, roll out the dough to 1/3 inch thickness. Using a cookie cutter, cut out as many biscuits as possible and transfer to the prepared baking sheets, leaving about 1/2 inch between treats.
5. Gather any scraps and kneed them until combined. Reroll the dough and cut out more treats. Repeat until you run out of dough.
6. In a small bowl, whisk the remaining 1 teaspoon of honey with 1 tablespoon of water until the honey is dissolved. Using a pastry brush, lightly brush the tops of the treats with the honey mixture.
7. Bake the treats, switching them between the upper and lower racks about halfway through baking, until they are golden brown, about 20 minutes. Transfer to a wire rack and cool completely.
Related