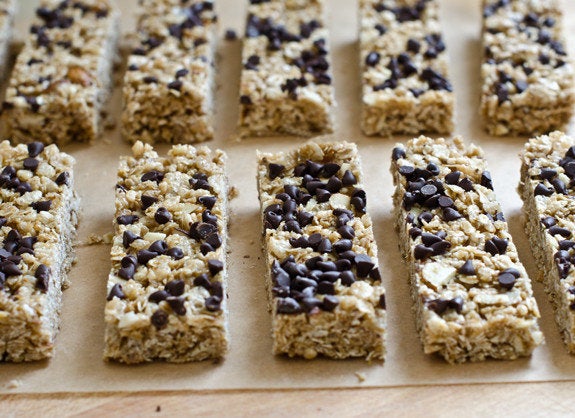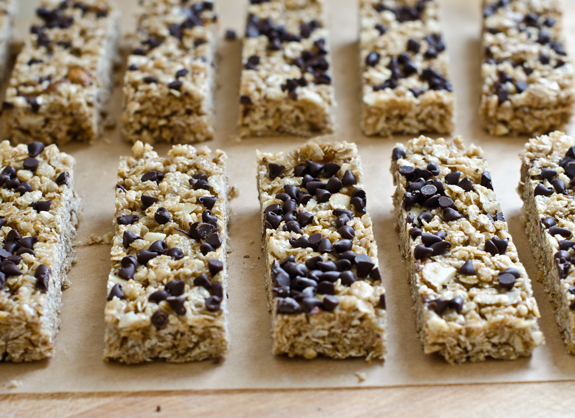 Granola bars are a staple in my pantry, but between my my kids and their hungry friends, I can't seem to keep enough of them in the house. So I figured it was time to try and make them from scratch, and maybe even sneak in some health food. After many trials, I finally cracked the code and came up with a chewy chocolate chip version that puts all those store-bought bars to shame. What's more, they're no-bake and take only 10 minutes to make.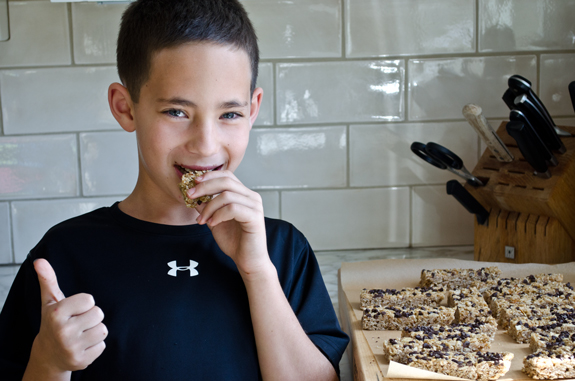 The nice thing about these bars is that they're versatile. If you don't like chocolate chips, you can use raisins or cranberries. If you're not a fan of almonds, you can throw in some unsalted sunflower seeds instead. Basically, as long as you keep the ratio of wet to dry ingredients the same, you can substitute just about anything you like. Just keep the quantities of oats and Rice Krispies the same so your bars will have a nice, chewy-crisp texture.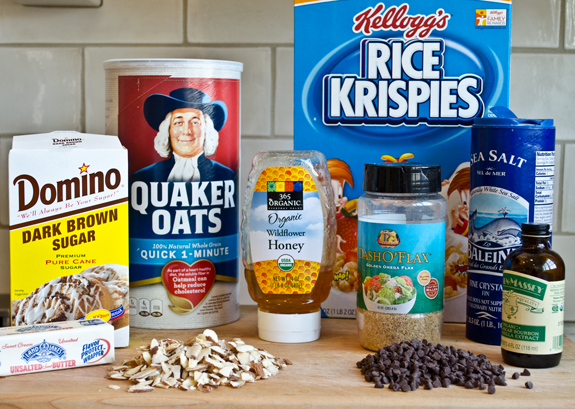 Also, be sure to use quick-cooking oats, which are rolled oats that have been coarsely chopped. Regular old-fashioned oats would be too chewy for this recipe and cause the bars to fall apart. (Quick-cooking oats are readily available but you can also make your own by pulsing regular oatmeal in the food processor a few times.)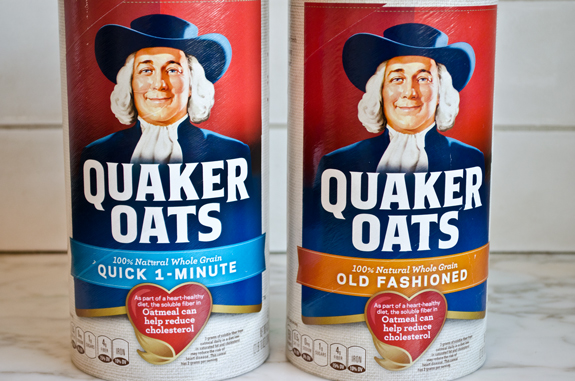 Begin by combining the butter, brown sugar and honey in a large pan.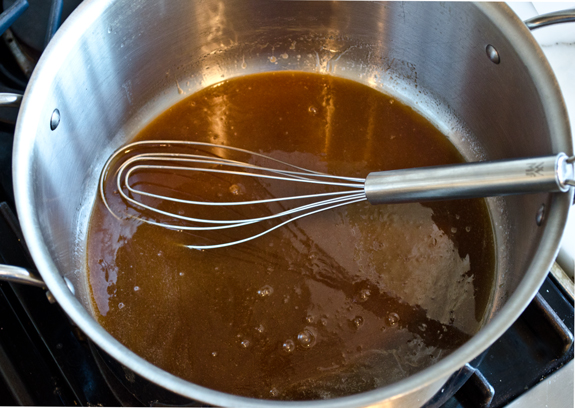 Bring it to a boil, then let it bubble over low heat for a few minutes to thicken slightly.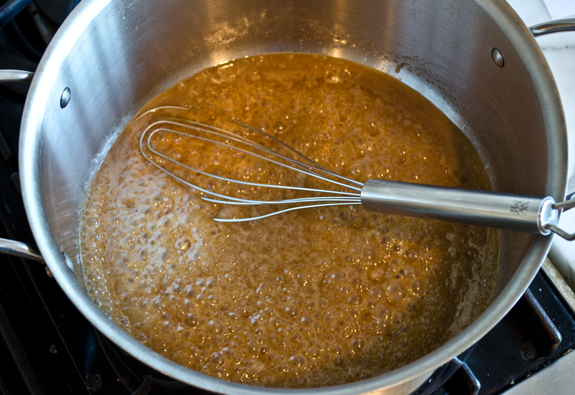 Off the heat, stir in the salt and vanilla extract.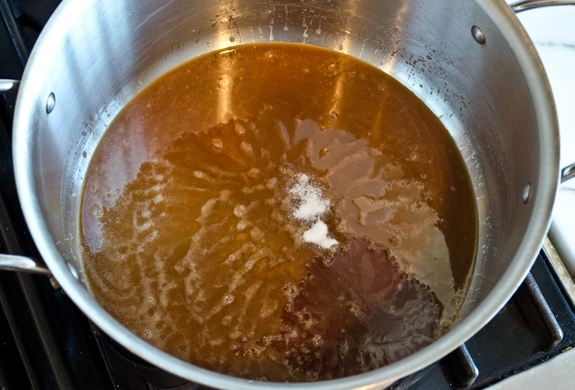 Then add the oats, crispy rice cereal, almonds, and flax meal (or wheat germ).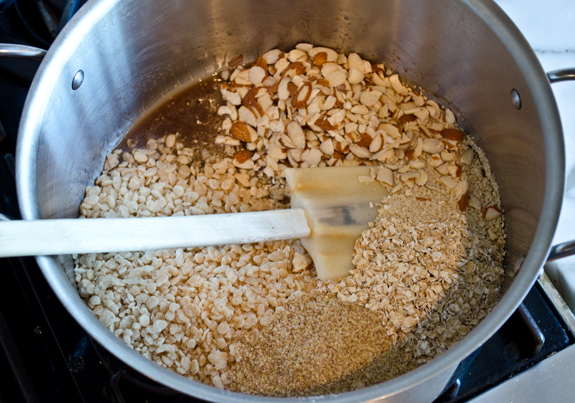 Fold the mixture with a rubber spatula until evenly combined.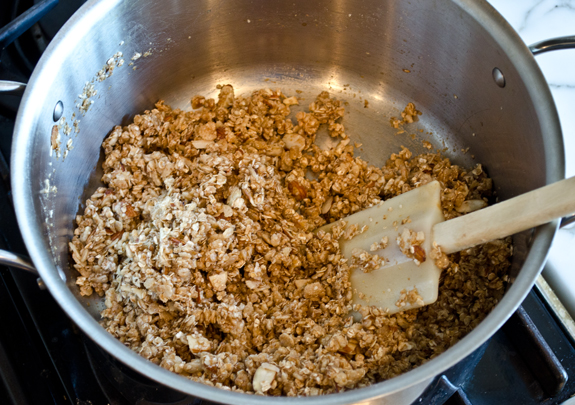 Transfer the granola bar mixture to a 9 x 13-inch pan lined with aluminum foil.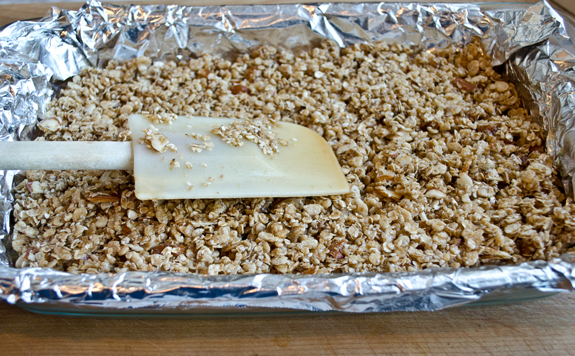 Press the mixture lightly with a rubber spatula to flatten, then sprinkle the chocolate chips over top. Use the spatula to press the chips firmly into place and compact the mixture into the pan as much as possible. (The reason you don't mix the chips in is that they'll melt.)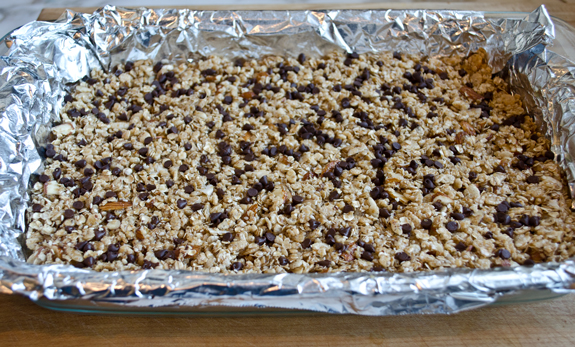 Place the pan in the refrigerator for 1-1/2 -2 hours, until the bars are cool. Then use the foil overhang to lift the bars out of the pan and transfer to a cutting board. Using a sharp knife, cut into rectangles.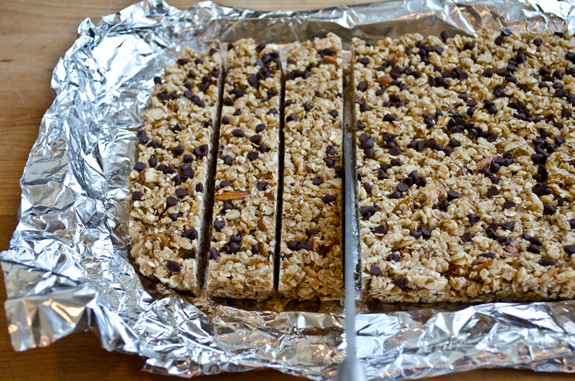 Keep the bars in an airtight container at room temperature; if you have to stack them, be sure to use parchment paper or foil in between the layers, otherwise they'll crumble and stick. Enjoy!