We found out we were pregnant with our first child just five months after getting married, three days before my husband's birthday, and the day AFTER Mother's Day.
To say we were shocked is an understatement. We were still newlyweds enjoying being married and then BOOM, we're pregnant. Life changed. Forever.
A little confession right now. I was so shocked, I told my sister and mother before even telling my husband! So bad, right?!
But I had an excuse he wasn't going to be home from work for hours, and I couldn't tell him over the phone. They wanted me to do this elaborate plan and have me wrap the pregnancy up and give it to him as a birthday gift. But I honestly couldn't do....we just did the good old "you need to sit down."
In hind sight it would have been fun to do the gift! But at the time I couldn't think past those two pink lines. Turns out they were one of the greatest things I ever set my eyes on.
I became a mother six years ago to the month. I believe we become mothers the moment we find out we are pregnant, in one way or another. In that moment, and the many moments to follow, we are not only caring for ourselves, but caring for another human being. The most important job in the world.
There is nothing more rewarding, exhausting, amazing, nerve-wracking, and precious, than being a mom. Of course this should be a day to celebrate!
When I taught first grade one of my favorite Mother's Day gifts was a framed "All About Mom" piece. The phrase "out of the mouths of babes" perfectly describes this writing activity we did.
The children had to answer different questions about their moms and write down their first answer. Basically, how well did they know their mom.
The answers were always a source of laughter! "My mom loves....wine." "My mom always says....I told you so." And the list could go on.
The first year my daughter could talk I brought one home for us to do. We have done one each Mother's Day since them. I'm hoping one day I'll have a whole stack of them to reminisce with her about.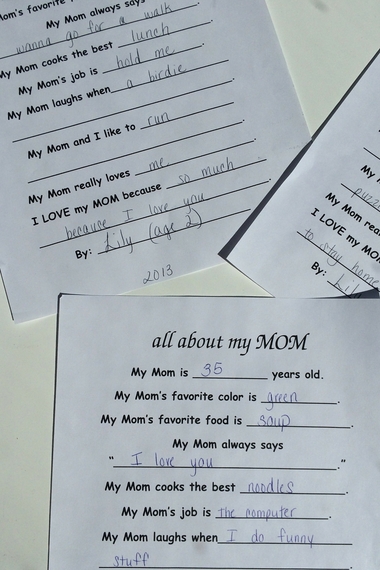 This is perfect for if you work with kids, have kids, want it from your kids (it's okay to ask your spouse 😉 ) Then save it for yourself and do it each year. I can't wait to see what the teen years may bring to it 🙂
I have nothing against gifts that aren't homemade. Roses are nice, jewelry is great, homemade gifts like this are sweet too. But honestly nothing is sweeter than your child's words written down especially for you. AND to be able to look back at them from years to come.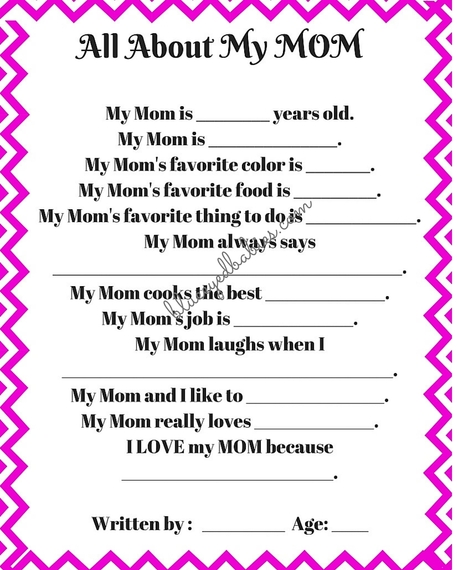 Want to start a tradition yourself?