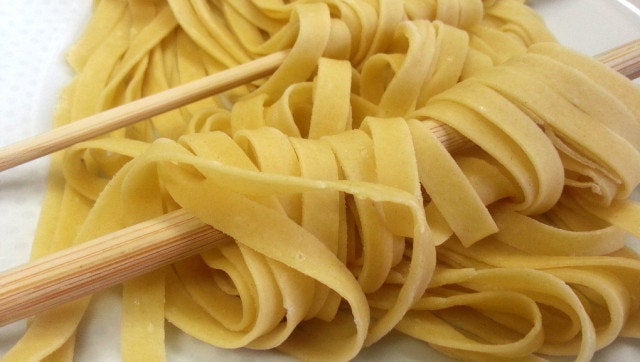 Too many of us think of food as something that comes from a box or a can, unaware of what it actually takes to make some of the most basic foods. When it comes to something as simple as chicken stock, many are left scratching their heads not sure how to start. And we don't even want to know how many people are unsure of the ingredients in pasta (the answer being nothing more than flour and water -- and sometimes eggs). This just isn't right.
We know that the convenience of packaged food has changed the way we live our lives, in many ways for the better. But at the same time, it's important to bring things back to the basics -- especially when it comes to cooking. Because while sometimes we're in a rush to get dinner on the table that we need a quick 10 minute meal, other days there is time to make dinner and it can be a rewarding experience to take the time to do so.
We're advocating that you take advantage of these days to slow down and really make a meal from scratch. It'll remind you of how fun cooking can be. The best place to start with this slow down cooking is to make fresh, homemade pasta.
The thought of making pasta from scratch may seem like too complicated a task to broach, but it takes two ingredients and a pasta machine -- it couldn't get any simpler. And with homemade pasta, you barely need to worry about a sauce because the pasta itself is the star of the show. It takes only minutes to cook when done, and if you make a big batch you can freeze it and have 10 minute dinners ready to go for those busy nights.
From start to finish, making fresh pasta won't take longer than an hour. It takes 10 minutes to make the dough, 30 minutes to let it rest (time you can take to prepare the rest of dinner) and 20 minutes to roll it out. Once all that's done dinner can be on the table in less than five minutes, since it only takes four minutes to boil freshly-made pasta.
With three and a half cups of flour in a heap on the counter, make a well in the center of the pile. Crack four eggs into that well and begin to mix the eggs into the flour with a fork, starting from the center (beating the eggs) and working your way out.
Begin kneading the dough by folding it onto itself, flattening, and folding again. If the dough is sticky, add up to a half cup more flour. The dough is ready to rest once it has formed a smooth elastic ball. This whole process should take about 10 minutes.
Place the dough in a bowl and let it rest, covered, for 30 minutes. With this time you can prepare a sauce, or set up the pasta machine.
Divide the dough into managable pieces, either in four or six sections. Starting with one piece, flatten the dough, run it through the thickest setting on your pasta machine and fold into into three onto itself, like a letter.
Run the folded piece into the pasta machine still on the widest setting. Then run it through a couple more times before bringing the pasta machine to a thinner setting to make sure it won't tear. Repeat this process on each thickness level until you've reached your desired thickness.
Once all the pasta sections have been rolled out, cut each long stretch of dough to the appropriate noodle length. This is usually about 12 inches. With the noodle cutter attachment on the pasta machine, run each sheet of pasta through carefully. Now, congratulate yourself because you just made pasta from scratch.
To eat your fresh pasta, bring water to a boil in a large pot and cook the pasta for no more than four minutes. Top with the sauce of your choosing -- though sometimes a drizzle of good olive oil is all you need -- and enjoy your delicious handy work.
This story appears in Issue 46 of our weekly iPad magazine, Huffington, in the iTunes App store, available Friday, April 26.
Check out these other pasta recipes.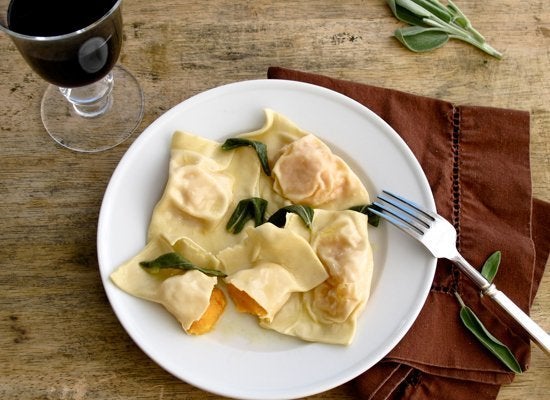 Fall Pasta Recipes
Popular in the Community