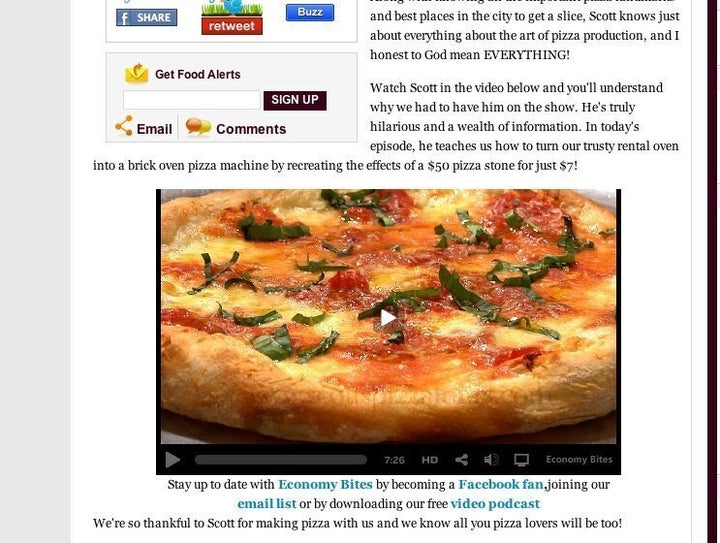 If you're traveling to New York and you check yelp.com for suggestions of activities in which to participate while you're here, the number 1 tour they suggest you take is Scott's Pizza Tour, led by Pizza Enthusiast, Scott Wiener. Along with knowing all the important pizza landmarks and best places in the city to get a slice, Scott knows just about everything about the art of pizza production, and I honest to God mean EVERYTHING!
Watch Scott in the video below and you'll understand why we had to have him on the show. He's truly hilarious and a wealth of information. In today's episode, he teaches us how to turn our trusty rental oven into a brick oven pizza machine by recreating the effects of a $50 pizza stone for just $7!
We're so thankful to Scott for making pizza with us and we know all you pizza lovers will be too!
-1 28 oz can crushed tomatoes
-1 lb fresh mozzarella
-1 large bunch Basil
-Olive oil
-Parmesan cheese
Dough (adapted from www.pizzaschool.com):
-21 oz all purpose flour
-14.3 oz water
-0.5 oz salt
-0.25 oz yeast
***You need 14 unglazed ceramic tiles for this recipe
-Mix dough ingredients and let rest for 30 minutes. Knead the dough for 4-5 minutes, then place it in a large bowl. Cover the bowl with a wash-cloth and let the dough rise for 1-2 hours. When done rising, split dough into 4 even pieces. Roll each piece into a ball and set in airtight container in refrigerator overnight. Remove 2 hours before baking.
-Set top oven rack on top oven rung. Set bottom rack about 6 inches below. Place 6 tiles upside-down in the middle of the top rack - it'll form a big rectangle. Set 4 tiles on bottom rack so they form a square. On either side of the oven, place 2 tiles so they're at a diagonal facing inward. You've now made your pizza stone!
-Turn oven to 500 degrees and give it about an hour to get hot.
-Fill a bowl with tepid water and lightly wash Basil leaves. Blot them on a paper towel.
-Slice about 10 slices of Mozzarella very thin and blot them with a paper towel to get rid of moisture.
-flour the back of a plate or cookie sheet and use it as a base to stretch out your dough.
-Place cheese on dough then add a few spoonfuls of tomato. Grate a little Parmesan cheese on top.
-To move the pizza to the oven: slide the pizza into the oven on top of the 4 tiles on the bottom rack. Bake pizza about 15 minutes or until it's golden and bubbly.
-Garnish pizza with ripped up basil and olive oil.
Support HuffPost
A No-B.S. Guide To Life
Related
Popular in the Community