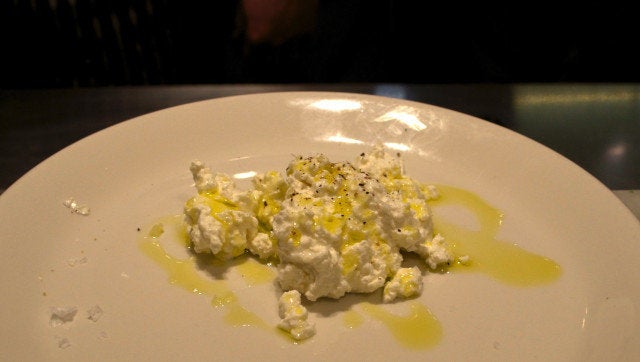 Justin Smillie knows he makes insanely good ricotta. Almost everyone who tastes the ricotta at Il Buco Alimentari & Vineria, the Italian restaurant where he's the chef, thinks it's some of the best fresh cheese in New York City. It tastes as far from the mealy, greasy glop that oozes out of bad calzones as it could get, while still being recognizable as the same substance. Sort of like a beautiful cross between a cloud and a stick of butter: at once light and creamy, delicate and rich.
So Smillie understandably takes great pride in his product. Asked to name the best ricotta he's ever tasted, he paused for a moment.
"Other than ours?" he asked, pausing again. "I guess it would probably have to be at some cheese making place in Italy."

Smillie has served a ricotta appetizer every night since the restaurant opened in September 2012. He uses it as a base for different seasonal vegetables in different parts of the year -- beets in winter, snap peas in spring, fava beans in early summer. It consistently ranks as one of three bestselling appetizers on the menu. The restaurant goes through 15 quarts every day.
Every time I've tasted this ambrosial ricotta, I've thought, "I could eat this every day." At $16 a plate, I can't afford to order it at Il Buco Alimentari all that often. So I decided to find out whether I could make it at home. I'm not a very skilled cook, but I'd heard ricotta was the easiest of all cheeses to make. I asked Smillie to teach me. He kindly obliged, inviting me down to the restaurant for a lesson in the open kitchen at the back of dining room. And, as he said several times throughout the lesson, it's easy. It just requires four things: milk, rennet, time and patience.
The milk should be whole, and as good as possible. Il Buco Alimentari uses Battenkill Dairy milk from upstate New York. The time and patience required are not inconsiderable: this recipe takes at least two hours to make from start to finish, and ideal results take closer to four hours. (If you need something quicker, Serious Eats has you covered.) But what's rennet?
"It's a natural enzyme from a cow's stomach that helps the milk curdle," Smillie explained. "You can also make ricotta with lemon juice or tartaric acid, but we use rennet because it gives us a higher yield and a cleaner taste. Lemon juice can sometimes taste too acidic and produce ricotta that's too firm. And tartaric acid makes the cheese taste chalky."
So if you want to make amazing ricotta, you need some rennet. You can buy it at good cheese stores or order from sites like The Cheesemaker. You don't need much to make a lot of ricotta, but a bottle keeps in the fridge for six months.
Once you've tracked down the rennet, the rest is pretty straightforward. Click through this slideshow to learn how to make it: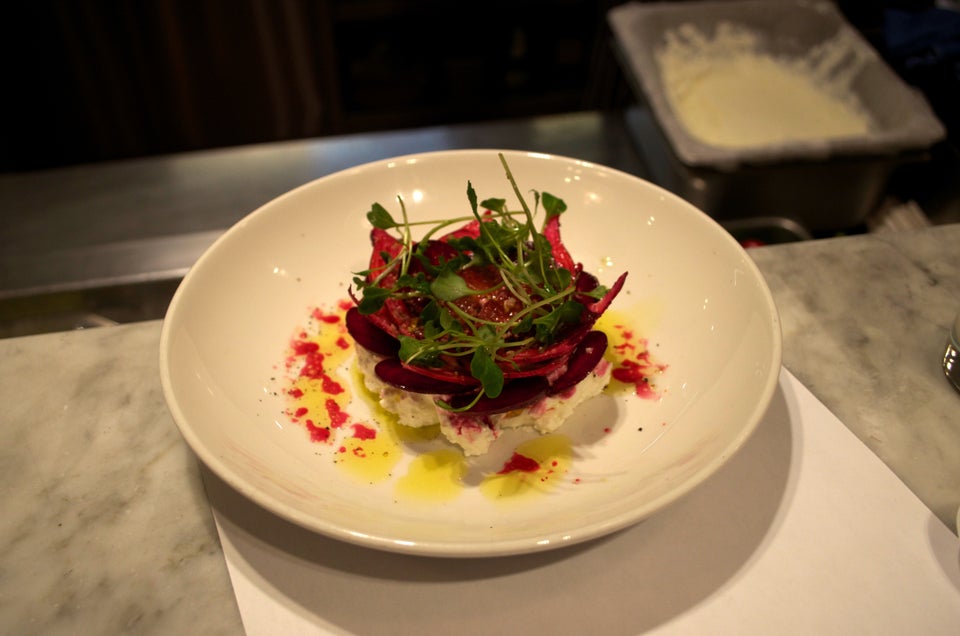 How Il Buco Alimentari Chef Justin Smillie Makes His Amazing Ricotta