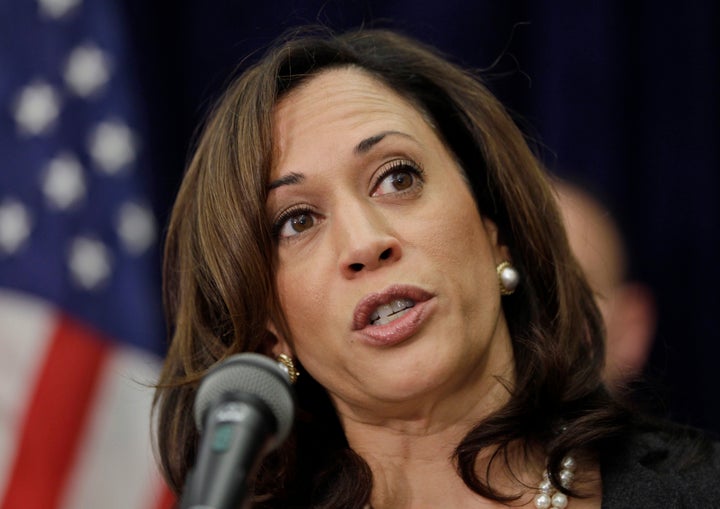 * Six bills to protect borrowers from mortgage fraud
* Follows settlement this month with big banks
Feb 29 (Reuters) - California's attorney general Kamala Harris on Wednesday proposed a homeowner bill of rights that she said will guard against a repeat of widespread mortgage abuses among America's lenders.
The move comes weeks after Harris played a key role in orchestrating a $25 billion settlement between states and big banks over illegal shortcuts in foreclosures.
Harris, a Democrat, announced six bills designed to protect homeowners and tenants against predatory lending practices and irregular or illicit foreclosures.
Her proposed legislation included one provision sure to be fiercely opposed by lenders - a $25 fee paid by loan servicers every time a notice of default is recorded. The fee would be deposited into a fund to finance the prosecution of real estate fraud in California, Harris said.
"California communities and families are being devastated by the mortgage and foreclosure crisis. We must ensure the deceptive practices that caused it will never happen again," Harris said at a press conference in Sacramento, the state capital.
Harris predicted a fierce lobbying campaign by lenders against her proposals. But the bill of rights should not encounter major legislative hurdles as both chambers of the California statehouse are in Democratic control, and the governor, Jerry Brown, is a Democrat.
Earlier this month Harris emerged as a central player in a $25 billion settlement between America's five major banks and federal and state officials over irregular and illegal foreclosure practices.
Out of the $40 billion in total benefits that are expected to flow from the $25 billion settlement, California is set to emerge with some $18 billion, Harris claims, although details of the settlement have yet to be released.
On Tuesday, Harris also intensified her fight against Fannie Mae and Freddie Mac, the government-backed mortgage giants, over their foreclosure procedures.
In California the entities control more than 60 percent of the mortgage market and were not part of the $25 billion national settlement announced earlier this month.
While the big banks suspended foreclosures for a period after it emerged that officials had been filing irregular paperwork to evict homeowners, Fannie and Freddie have refused to suspend any foreclosures.
Harris called on them to halt foreclosures until they had undertaken a study into whether reducing the size of loans, rather than forcing homeowners in mortgage arrears to leave their properties, was a better course of action.
Edward DeMarco, head of the Federal Housing Finance Agency, which regulates Fannie and Freddie, has resisted "principal reductions" for borrowers behind on their payments, despite the Obama administration's support for the idea.
Appearing before a Senate housing panel on Tuesday, DeMarco said writing down mortgages would not be beneficial to Fannie and Freddie and was the least effective way to help homeowners.
Harris has repeatedly called on him to resign, saying he has not done enough to help struggling homeowners.
Calling all HuffPost superfans!
Sign up for membership to become a founding member and help shape HuffPost's next chapter
BEFORE YOU GO