There's trouble in Springfield.
"Simpsons" producer Al Jean says Homer and Marge Simpson, the main characters of the long-running animated series, will "legally separate" in the upcoming season premiere in September.
"In the premiere, it's discovered after all the years Homer has narcolepsy and it's an incredible strain on the marriage," Jean told Variety. "Homer and Marge legally separate, and Homer falls in love with his pharmacist, who's voiced by Lena Dunham. We'll have cameos from the other women from 'Girls.'"
Jean didn't say how long the separation would last, but given the show's history, it's a safe bet the pair will be reunited by the end of the episode.
The Simpsons' marital woes were a topic of discussion on "The View" on Tuesday, as Whoopi Goldberg feigned outrage over the news.
"What the hell?" she said. "Homer, what about a sister? In the time that I've seen you, I've never seen you with a black woman. Or maybe Marge is just a light-skinned sister and they haven't said it. I don't know."
Jean told Variety about some of the other upcoming plot points and guest stars as well as the guest stars he wished he had booked. Read the full interview here.
"The Simpsons" is scheduled to return to Fox on Sept. 27.
As of now, it looks like the series will be without Harry Shearer, who voices Mr. Burns, Ned Flanders and a number of other iconic characters. Shearer said last month he would be leaving the show after failing to reach an agreement on a new contract.
Before You Go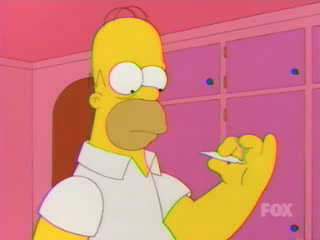 Most Controversial 'Simpsons' Moments
Popular in the Community