In a new couch gag for the famous "Simpsons" intro sequence, Homer Simpson stiff-arms through the "South Park" kids ― killing them all on impact as they're beheaded and dismembered by his yellow hand.
Seth Green, of "Robot Chicken" and "Family Guy" animation fame, created the segment for last week's episode, "Fatzcarraldo," which was uploaded online a few days later.
The premise for the intro is that the Simpsons' sailboat painting goes missing from its usual spot right above the family couch. After Homer asks where it went, Bart suggests, "Maybe another animated show stole it?"
Homer decides to go on a quest to retrieve the painting, which Lisa dismisses as a "derivative" work of art. After he leaves, Bart admits to the rest of the family, "Or maybe I sold it on Craigslist."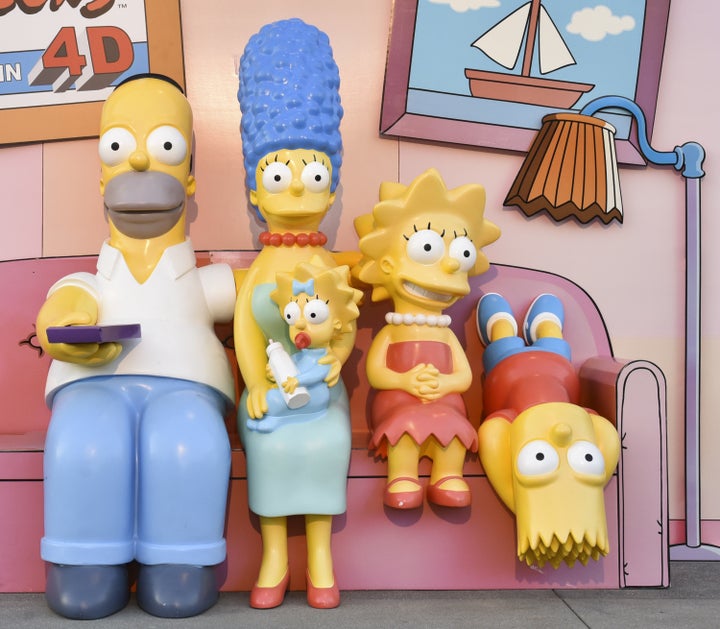 Homer's first stop in his search for the painting is a place that looks a lot like "South Park," inhabited by four children modeled after Kyle, Cartman, Kenny and Stan. Homer says mockingly, "Is this a TV show, or did I walk into a third grade shoebox diorama?"
The kids start shouting in indecipherable mumbles punctuated by multiple censor bleeps. Homer laughs and jokes, "Out of the mouths of babes."
Television's most recognizable father figure then goes on to find "The California Raisins" ― whom he accidentally murders in an Indiana Jones-style face-melting ― and a "Robot Chicken" character that ends up having the sailboat painting. Homer steals the painting back and runs through the raisin blood to return to the "South Park" world.
As he arrives, Homer runs through all the children with gritted teeth. "South Park" is, of course, famous for repeatedly killing off the Kenny character and then bringing him back as if nothing has happened. The kids are probably all right.
Back in the Simpson household, Lisa is hanging up "Girl with a Pearl Earring" in the sailboat's place. When Homer announces his triumph, Marge grumbles, "Oh [beeped curse word]." Perhaps the quest was for naught.
Here's a screengrab from the moment Homer starts his "South Park" massacre.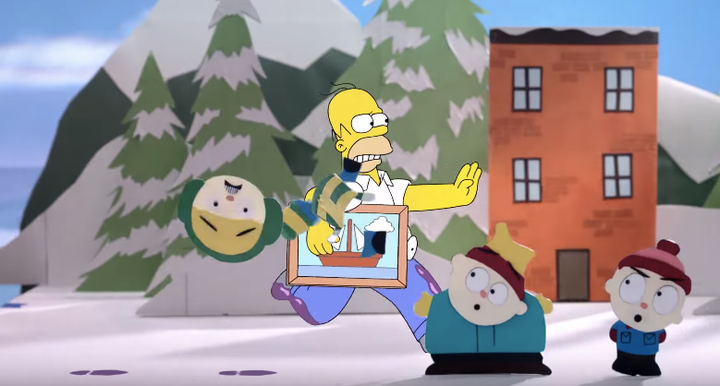 In 2006, "South Park" ran a two-part episode called the "Cartoon Wars," which was basically a full-out attack on "Family Guy." "South Park" creators Matt Stone and Trey Parker essentially skewered the "Family Guy" writing staff for creating jokes based entirely on randomness.
Bart Simpson also made an appearance in the special. "South Park" characters made fun of Bart for having an unearned badass persona, and Cartman told him about the time he made a kid eat his own parents.
"The day after that episode aired, we got flowers from 'The Simpsons,'" Parker told IGN at the time. "We got calls from 'King of the Hill,' saying we were doing God's work. It's not just our opinion."
Green, the creator of the new couch gag and the voice of Chris Griffin on "Family Guy" since 1999, may finally be getting revenge for the old "South Park" episode.
In 2014, "The Simpsons" and "Family Guy" had a crossover episode. They've shared Fox's Sunday night lineup for almost two decades.
CORRECTION: An earlier version of this article claimed the crossover episode between "The Simpsons" and "Family Guy" happened in 2017 instead of 2014.