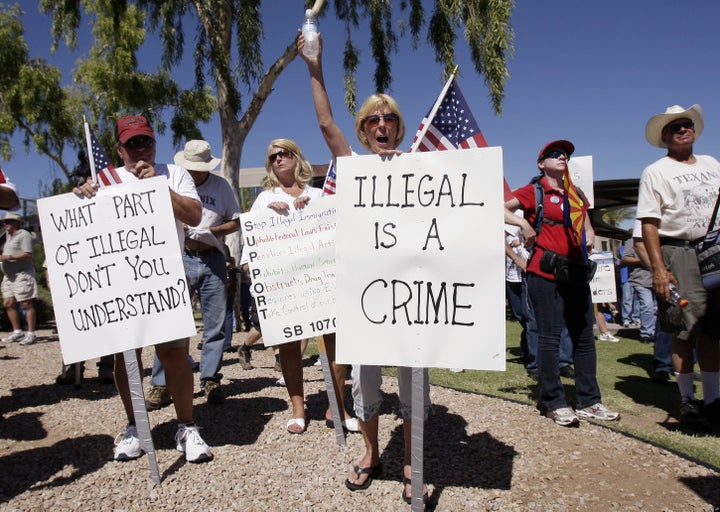 Many Chicagoans took to the streets to protest Arizona's tough immigration law when it was implemented in April, but some village trustees in Will County's Homer Township were trying to figure out how to emulate the Arizona law in Illinois.
Homer Township, a village of about 25,000 people roughly 35 miles southwest of Chicago, unanimously approved a resolution this week making English the town's official language, according to the Chicago Tribune. Was a problem with illegal immigration in the town to blame? Well, not really. The Southtown Star reports:
"Homer Township Board recognizes that there most likely (is) no serious problem with illegal immigration, in the township, but wants to make it policy to enforce the rule of law in Homer Township," the resolution read.

The resolution acknowledges English to be "the dominant language of Homer Township."
Steve Balich, the township's clerk and author of the resolution, said the resolution had nothing to do with race.
"It has nothing to do with race," Balich told the Southtown Star "It has to do with the law and whether or not a person is a legal immigrant."
Others disagree. Arab-American journalist Ray Hanania wrote about the Homer Township decision for the Southwest News Herald, saying the "law" argument is "cute language" to disguise their fear of immigrants.

Arizona has a huge illegal immigration problem. But the answer isn't to single out Hispanic looking people and ask them to produce citizenship papers. That suggests that all Caucasians are citizens, which is not true, though the real problem is the drug war in Mexico that is spilling over in to our borders.
...

It's all cute language to say that the leadership in Homer Township doesn't want you to speak any foreign languages when you stop at McDonalds to buy a Big Mac. They don't want you to count out your change in Spanish when you are filling up your car with gas. And they certainly don't want any people taking orders at Middle Eastern bakeries for falafel in Arabic.

Sounds a little paranoid to me. And it all sounds very un-American, too.
Some called the resolution a waste of time--considering the township doesn't have the authority to enforce it, but Balich stands by his decision.
"We want the people who come to this country to become official U.S. citizens and to learn to speak English," Balich told the Tribune. "It's really as simple as that."

Popular in the Community